Christmas Sparkle in Belle Isle Cookery School
If you are in search of a little sparkle to add to your Christmas this year then Belle Isle is just the place to find it. Join Chef Liz Moore for an evening of Christmas entertaining ideas for your friends and family.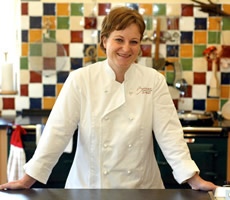 On Monday 6th December Liz will move the cookery school to Belle Isle Castle where you can sit in the splendour of the banqueting hall with a glass of wine in your hand soaking up fresh new ideas for Christmas glamour on a plate.

For anyone who would prefer to do a full day's hands-on cooking the Belle Isle School of Cookery has a number of great seasonal courses during November and December. Why not try your hand at "Christmas cakes and bakes " on November 30th, "Christmas starters and desserts" on December 8th or one of the three "Festive Food" days on December 13th, 14th and 15th.

Christmas Cooking at Ballymaloe House and Cookery School
Enjoy a night away in Ballymaloe House and learn all the tips for this year's Christmas Cooking on Monday 13th December. The rate includes bed and a full Irish breakfast along with a one day cookery course from Euro 325.00 per person.

'This course may only last a single day but it is life changing. For what it does is take a potentially fraught and tedious annual task – cooking for Christmas – and turn it into a stress-free and pleasurable experience. You'll learn dozens and dozens of seasonal recipes and we'll also explain how to plan ahead so that you can eat, drink and be merry for the whole holiday without worrying about how you are also going to feed everyone. For this reason many of the dishes to be covered are designed so that they can be prepared ahead of time.' The course covers both traditional and modern recipes including Darina Allen's favorites.

You will have the opportunity to taste all the dishes prepared during the course. A light lunch is included.

The course runs from 9:30am to 5:00pm on Monday, 13th December.

Rachels Festive Entertaining at Ballymaloe House & Cookery School.
14th December to 16th December
2 1/2 Day Course

Enjoy a few days away and learn to cook for Christmas with the lovely Rachel Allen. Rachel will be showing you how to make some wonderful Festive treats from her new book and then you''ll get a chance to try them out yourself with our very helpful and experienced teachers. Come and get yourself all geared up for Christmas. The rate includes a 2 ½ day cookery course with Rachel along with bed and a full Irish breakfast in cosy Ballymaloe House from Euro 799.00 per person.
Festive Cookery Courses at Dunbrody House
Dunbrody House will be running a number of Festive Cookery Courses in the run up to Christmas.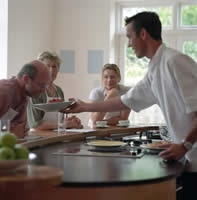 They will run their one day "Christmas Entertaining" course on November 13, November 27 and December 3rd.
1 Day Courses at €165 per person 9.30 - 4.30
All of the courses at the Dunbrody Cookery School have been personally designed by Celebrity Masterchef Kevin Dundon who can often be viewed on RTE's Afternoon Show, HEAT, BBC's Saturday Kitchen and the Market Kitchen. The cookery school has also received numerous excellent reports from magazines like Sainsbury's Food, Waitrose Illustrated, Olive, Food & Wine and many newspapers too.
You will find a full list of courses and description on the Dunbrody House website.
For further details contact Dunbrody on 051 -389600 or email info@dunbrodyhouse.com