10 Reasons to add Ireland to Your Travel Bucket List
Whether you're visiting friends, tracing your family heritage or looking to explore somewhere new, there are so many reasons to tick Ireland off your travel bucket list -from the stunning, unspoilt scenery and thousands of miles of beautiful coastline, to fine cuisine and warm, welcoming hospitality.
Whether you prefer to explore the great outdoors or hang out with the locals in a cosy, traditional pub, this little island has plenty to do and something for everyone…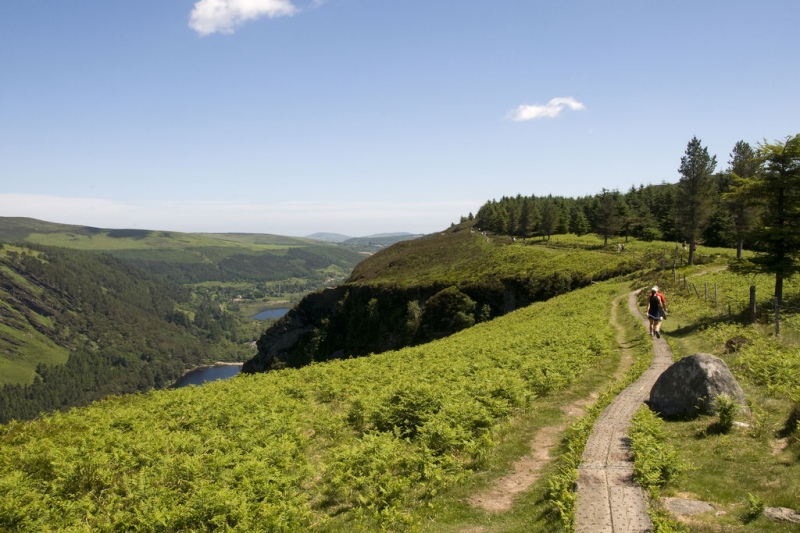 Glendalough, Co. Wicklow
1. Explore the Great Outdoors
Ireland is not typically known for its vast, towering mountain peaks. However, there are in fact many beautiful mountain ranges around the country with trails to be explored. Surely one of the most stunning spots in Ireland to explore by foot, is Glendalough, situated in the Wicklow Mountains National Park.
Translated as "The Valley of the Two Lakes", this is exactly what visitors will find here - two glittering likes surrounded by undulating hills. There are miles of trails to hike for all levels of fitness. The area is also abundant in wildlife such as deer and birds of prey.
If you're inclined towards less of an incline, why not try a cycling excursion on one of Ireland's many public greenways? These off-road trails have been developed all over Ireland for walking, running or cycling without having to worry about traffic or other obstacles. The Great Western Greenway stretches 42km from Achill to Westport in Co Mayo and there are plenty of things for walkers and cyclists to see along the way including The Céide Fields, Croagh Patrick and The Deserted Village at Slievemore.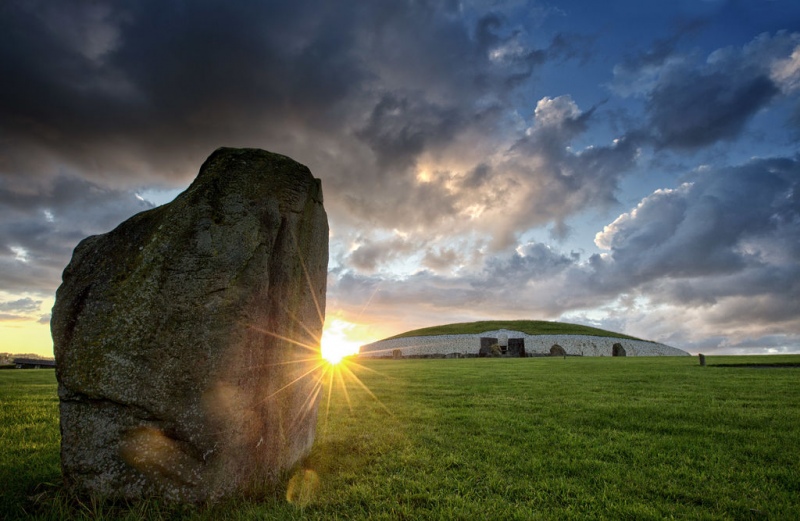 Newgrange, Co. Meath
2. Trace your Family History
The first evidence of human activity in Ireland dates back to around 12,500 BC and as such prehistoric monuments and ancient ruins are abundannt across the island. One of the most renowned historical sites in Ireland is Newgrange in Co. Meath - an ancient religious monument, which, having been built in 3500BC, is older than both Stonehenge and the Great Pyramids of Giza.
The structure is an incredible feat of building ingenuity considering its age. Every year on the winter solstice, the sun aligns perfectly with the long stone passageway, flooding the inner chambers with light.
More recent history connects Ireland with the sinking of the Titanic back in 1912, which was built in Northern Ireland, and also made its last port of call in Cobh (formerly Queenstown) in County Cork. Visit the ship's construction site in Belfast as well as the fascinating Titanic museum, and learn about the great ship's history on a local guided tour in Cobh.
Ireland also has a long history of emigration, with many millions of Irish emigrating to places like North America and Australia. These maritime towns are can be fantastic places for tracing your Irish heritage, with many places holding records of passengers lists dating back hundreds of years.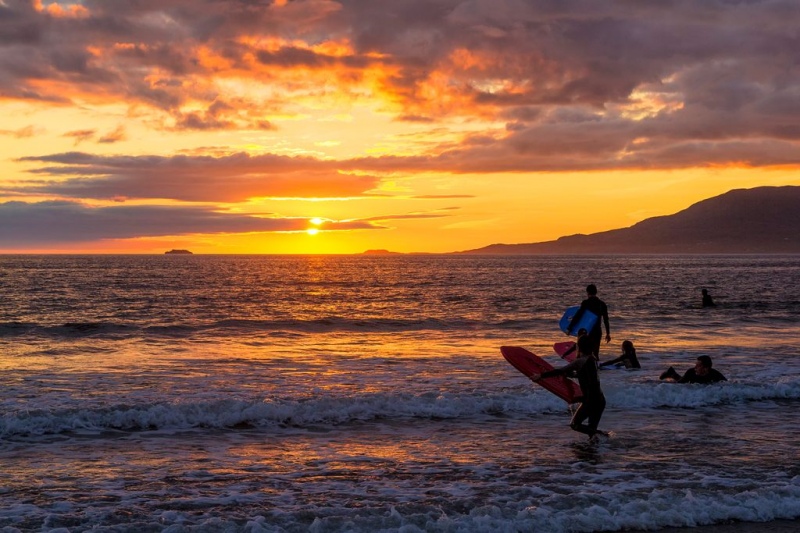 Carrowniskey Beach, Mayo
3. Enjoy the Ocean, Lakes and Rivers
As a country surrounded by water, it should come as no surprise that there are ample opportunities to enjoy water sports and other activities around Ireland. However, you might want to don your wetsuits for some of these, as the seas around Ireland are notoriously cold!
Try surfing on Ireland's west coast. Visit Bundoran in County Donegal or Lahinch in County Clare for some of the best waves. Or, if you'd prefer remain on dry land, you could also give paragliding or kite surfing a go. And make sure to spend some time in the colourful and vibrant small towns - go shopping in the small and colourful boutique shops or tap your toes to some traditional music over a pint of Guinness. in a local pub.
In addition to the thousands of kilometres of beautiful coastline, Ireland is also abundant in lakes and rivers. Potential fun activities include rafting on the river Liffey, sailing around the Hodson Bay or wakeboarding or water-skiing on the river Shannon. For something gentler, there are also plenty of places to enjoy a tranquil fishing expedition such as Caragh Lake or Lough Corrib.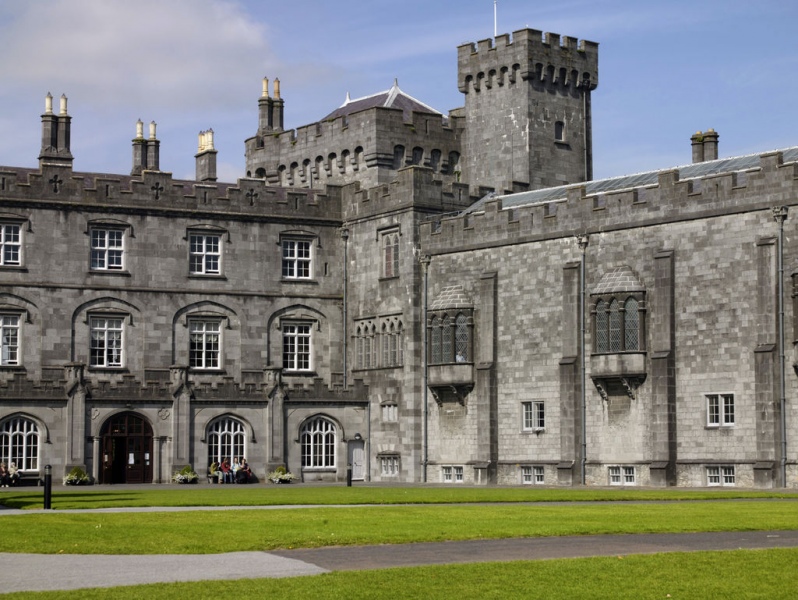 Kilkenny Castle, Kilkenny
4. Visit the Crumbling Castles
Ireland is home to hundreds of castles. From imposing, medieval fortresses to elegant stately homes. Some of these are still private residences, some are crumbling ruins and some are magnificently restored and open to the public as museums - many with fascinating histories and legends to discover.
Visit the ruin of Blarney Castle in Cork where you can kiss the Blarney Stone and have the gift of eloquence bestowed on you, or take a guided tour of the magnificent drawing room and Long Gallery at Kilkenny Castle.
A few of Ireland's castles have even been converted into luxury hotels. Barberstown Castle, in Straffan, Co. Kildare is one example. This 13th century castle was originally built as a fortress to protect the people of Barberstown from Vi Faelain, who tried to burn the town to the ground in 1301.
Now a luxury hotel, you can live like a king or queen for a night or two, dining in a medieval banquet hall before retiring to your regal four poster bed. If you're a rock and roll fan you'll also be interested to learn that Barberstown Castle is the former home of guitar legend Eric Clapton.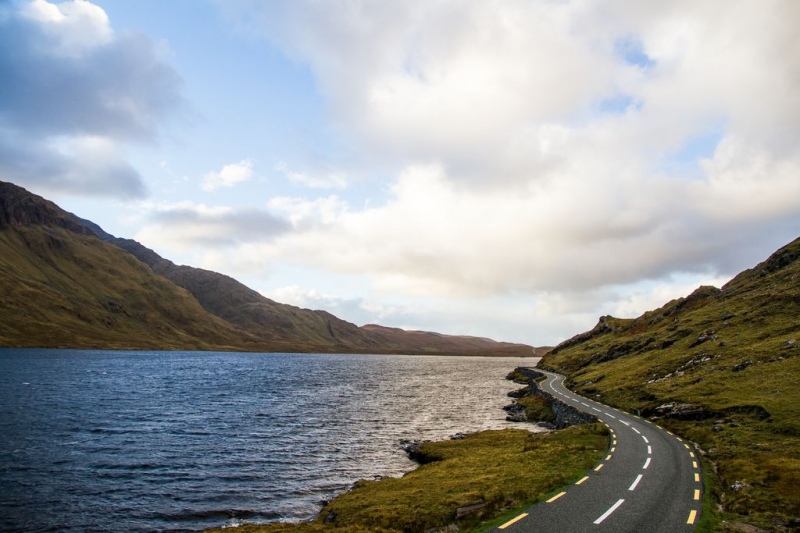 Wild Atlantic Way
5. The Convenience
One of the most attractive things about Ireland as a holiday destination is its size. Hire a car and you can easily drive across the whole country in a number of hours. A drive from Dublin to Cork typically takes about 3 hours, while Galway can be reached in less than 2 and a half.
Take the breath-taking Wild Atlantic Way, which winds its way along Ireland's west coast, through small, picturesque villages, stopping off at lighthouses, awe-inspiring cliffs and beautiful sandy beaches. Go off the beaten track and discover more history at every turn.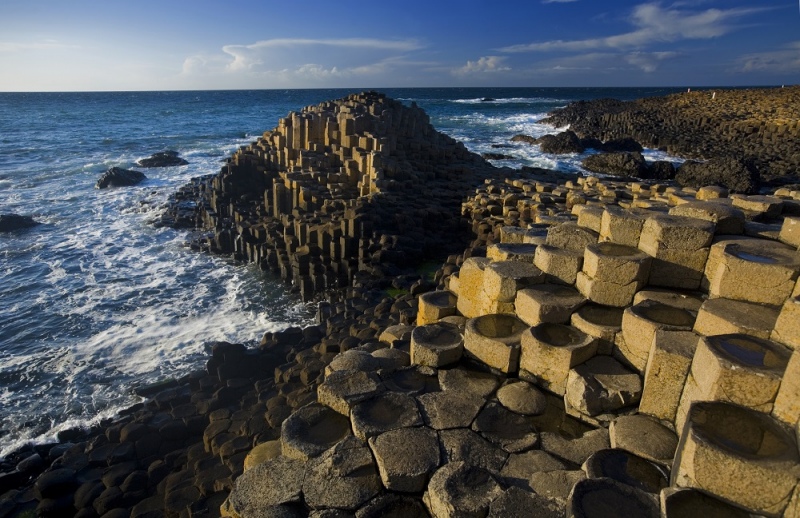 Giant's Causeway, Co. Antrim
6. Uncover the Stories and Mythology
It is said that there is something magical about Ireland, and this might be due to the wealth of stories and legends about giants, fairies and other mythical beings that have been passed down through hundreds of years
Visit the Giants Causeway in Northern Ireland and hear the story of the Irish giant Fionn mac Cumhaill, who, according to legend, built the magnificent causeway as a passage from Northern Ireland to Scotland so that he could meet Scottish giant Benandonner, who had challenged him to a fight.
However, hearing of Benandonners legendary size, Fionn quickly regretted his decision to accept the challenge. As Fionn Mac Cumhaill hid in his own home, Fionn's wife disguised him as a baby to fool Benandonner when he came looking. Benandonner saw what he thought was a baby and panicked, thinking if the baby was this big, then the father - Fionn – would surely be enormous! Benandonner fled, terrified, back to Scotland, destroying the causeway in his wake.
Most historical Irish landmarks will have stories of this kind attached to them. Explore the country and learn about the myths and legends of each place.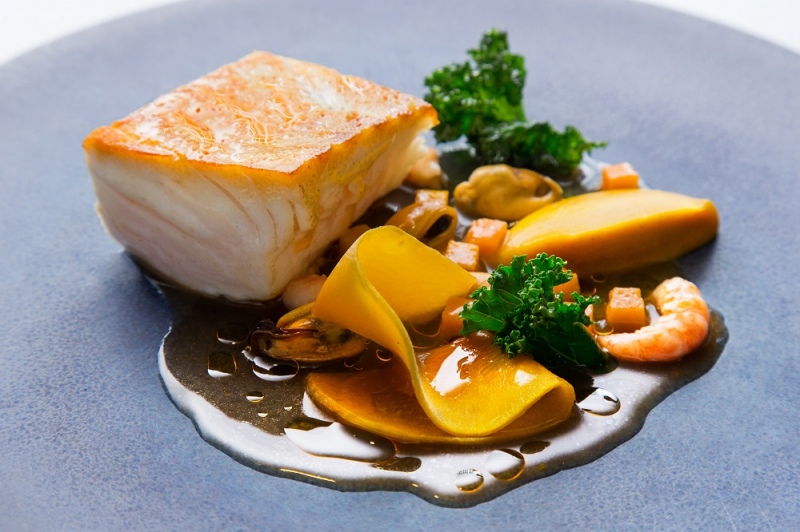 7. Dine on on traditional cuisine with a twist

Ireland is not generally a place highly regarded for its cuisine. Typically, when asked about what they consider to be classic Irish dishes, most will say bacon and cabbage, hearty stews and of course, potatoes.. And while these traditional staples still have their place in modern Ireland, the country has undergone something of a culinary revolution in the last decade or so.Ireland has truely become a food destination with foodies travelling from all over the world to experience Ireland's superb produce.
Visit the King Sitric in the small and picturesque fishing village of Howth in County Dublin for the best locally-caught, fresh seafood. In fact, much of their seafood is caught just across the road from the restaurant in Balscadden Bay.
For connoisseurs of fine dining, Ireland has famed Michelin Starred restaurants around the country. Visit Chapter One in Dublin, where renowned chef Ross Lewis has lovingly crafted decadent dishes that put a modern, creative twist on traditional Irish cuisine.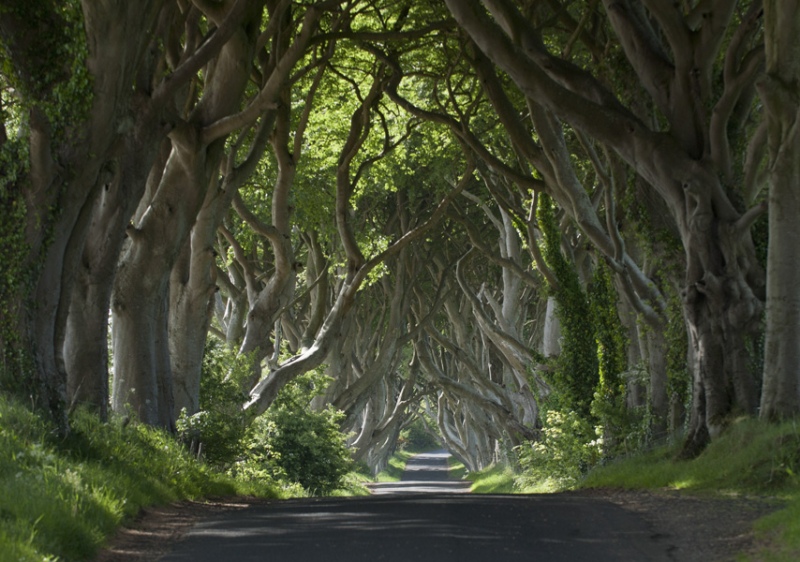 The Dark Hedges, Co. Antrim
8. Explore the Hollywood Film Locations
The lush countryside and dramatic landscapes of Ireland have caught the attention of many a film or television location scout over the years and everything, from small budget, independent productions, to big Hollywood blockbusters has been filmed here.
The fictional land of Westeros is the setting of most of the action from the Game of Thrones series, with many scenes being filmed on location in Northern Ireland. The many ruins, castles and dense forests provide the perfect backdrop for this iconic series.
Head south to the coast of Kerry and look across to imposing Skellig Islands, one of the key filming locations from the most recent film in the Star Wars franchise – The Last Jedi. You can even take a boat tour around the islands for a close-up view. Other filming locations for this blockbuster film include Malin Head in Co. Donegal, Loop Head in Co Clare, and Ceann Sibheal in Co. Kerry. Click here to read more about film locations in Ireland.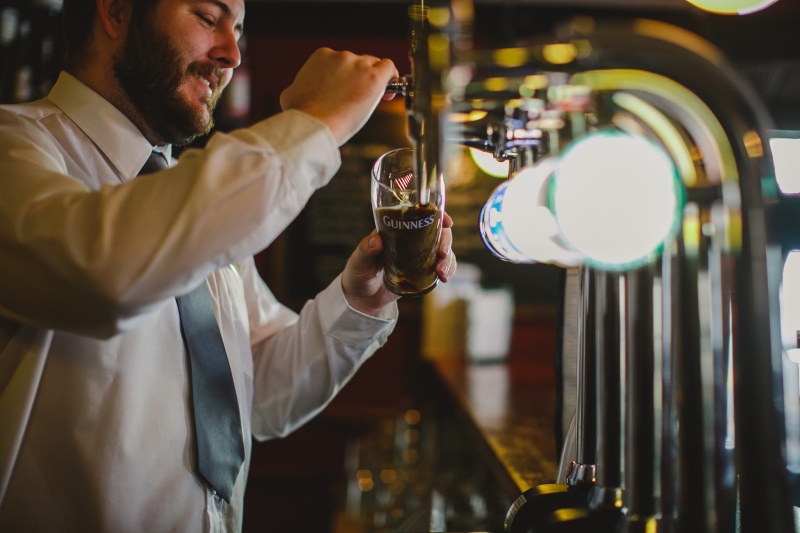 9. Drink in the Culture
Ireland, traditionally, is a land of storytellers, and some of the most world-renowned poets, authors and playwrights were born on these shores. In fact Dublin was named the UNESCO city of literature in 2010, and its easy to see why…
Take a trip way back in time and visit the Book of Kells in Trinity College in Dublin City Centre, one of the world's most lavishly decorated ancient manuscripts. Next, stop off at the Dublin Writers Museum and discover the works of literary greats such as James Joyce, Bernard Shaw and Oscar Wilde. Head further afield and explore the rolling hills and rugged landscape of Connemara known as Yeats country, so called because it inspired so much of the romantic poetry of William Butler Yeats.
No cultural tour would be complete without a stop off at a true hub of Irish culture – the traditional Irish pub. Soak up the warm and convivial atmosphere, chat to the locals and enjoy the craic (Irish word for fun) that the "land of a thousand welcomes" is so well known for.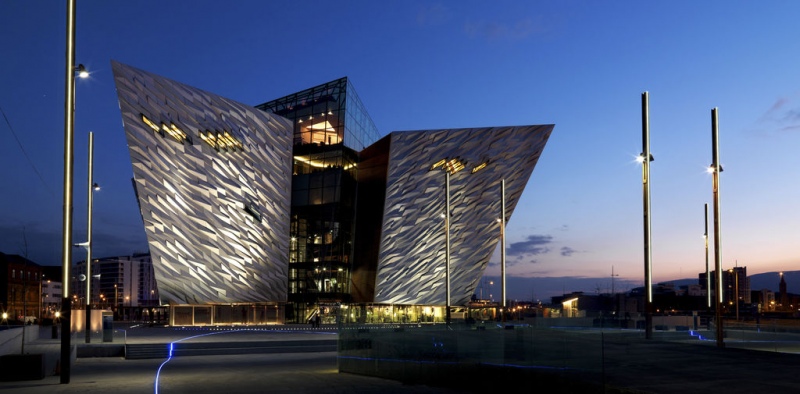 10. Get Two Countries in One
Get two countries for the price of one by adding Northern Ireland to your travel itinerary. Northern Ireland is part of the UK but shares a land border to the south and west with the Republic of Ireland. The vibrant city of Belfast is just over an hour from Dublin and if you continue north you'll reach The Giant's Causeway, the Carrick-a-Rede Rope Bridge and many other beautiful historical sites and places of interest.
It might be a small country, but you're not going to run out of things to do in Ireland. From the cosmopolitan cities of Dublin and Belfast to tiny hamlets on the west coast, from castles to old fashioned railway inns, crashing waves on rugged coastlines to rolling mountains divided by glittering lakes, there's something for everyone in this beautiful country....
If you're looking for somewhere to rest your head on your travels throughout Ireland, Ireland's Blue Book is a unique collection of country houses, historical manors, castles and restaurants located across the island. Learn more
You Might Also Enjoy:
The Blue Book Summer Bucket List
12 Great Ways to Use your Blue Book Voucher
Exploring Northern Ireland - 7 Tips for an Unforgettable Trip