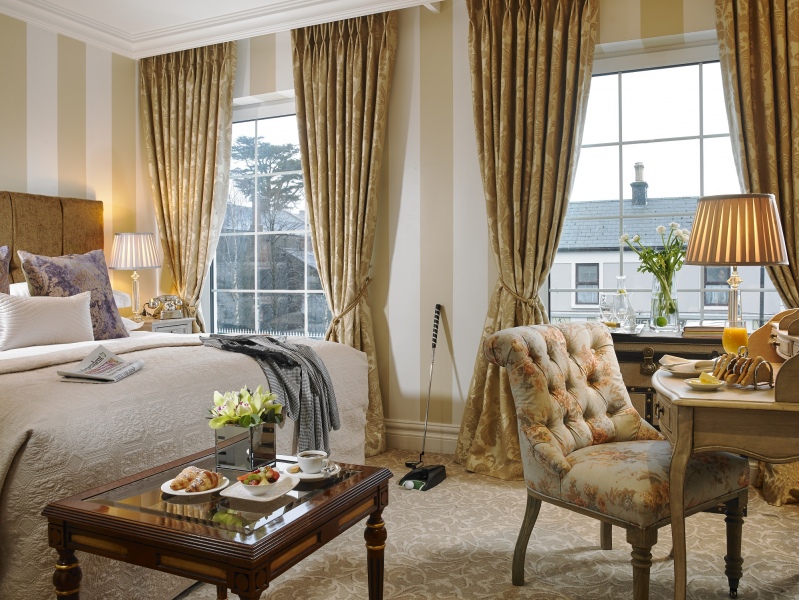 As Killarney Town's most charming boutique hotel, Killarney Royal provides luxurious and spacious accommodation, designed with your comfort in mind. All rooms are enhanced with antique furnishings while also featuring modern comforts such as complimentary Wi-Fi and air conditioning. Killarney Royal offers outstanding dining options providing the highest quality of food and service.
Killarney Royal is centrally located in the heart of the vibrant and charming town of Killarney and is optimally located very close to Killarney Station allowing you to travel to the hotel with the greatest of ease. Providing luxurious accommodation, exceptional and innovative cuisine and a town centre location, Killarney Royal is the ideal abode from which to explore the bustling town of Killarney.
To book click here: Killarney Royal
Telephone Number: 064 6631853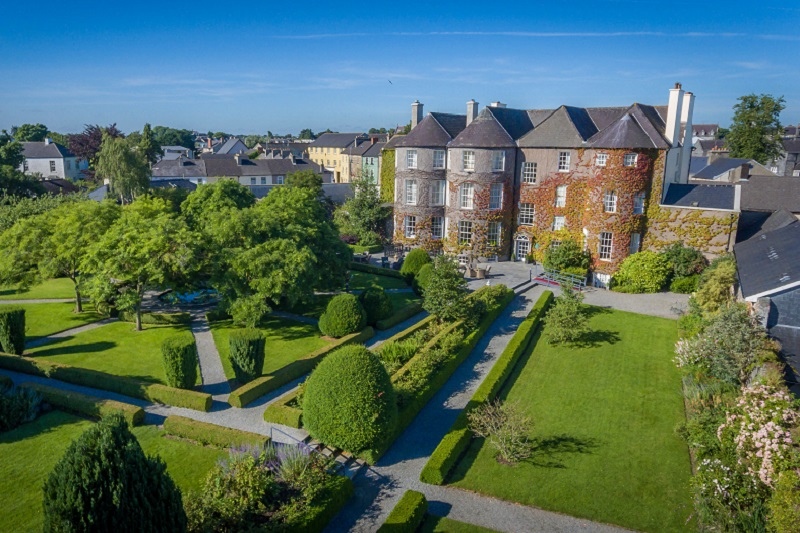 Butler House is the charming Dower House of Kilkenny Castle, since 1786. Nestled in the centre of vibrant medieval Kilkenny, Butler House offers history, charm, romance, and a warm welcome to all who visit. Butler House is only a 15 minute walk from Kilkenny Station
Butler House boasts seventeen unique bedrooms and suites, each with its own individual character. Designed to provide maximum comfort, each room has a modern bathroom and is decorated with soft coordinated fabrics and furnishings. Butler House offers a range of delightful dining options, serving breakfast, lunch, afternoon tea, and dinner in the restaurant.
To book click here: Butler House
Telephone Number: 056 7722828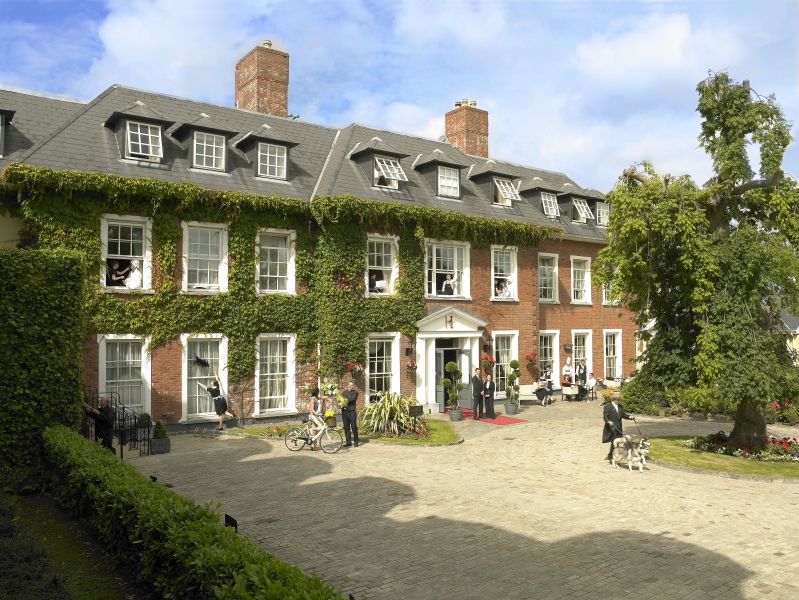 Reside in truly elegant surroundings at Cork's premier 5-star hotel. Nestled within a private walled garden, Hayfield Manor provides the charm of a country house with all the amenities of Cork City on your doorstep, while popular tourist attractions such as Blarney, Kinsale and Cobh are just a short distance away. Hayfield Manor is 3km from Cork Kent Station which is a short taxi journey of approximately 15 minutes from the hotel.
Hayfield Manor offers a choice of luxurious accommodation. Beautiful antique furnishings and exquisite fabrics make each room a pleasure in which to reside. Hayfield Manor offers two award-winning and distinctive restaurants; Perrotts Garden Bistro and Orchids restaurant. Guests with a penchant for fine food will adore Orchids Restaurant for its contemporary Irish cuisine.
The Beautique Spa at Hayfield Manor is a warm & comforting sanctuary away from the hustle and bustle of everyday life and is partnered with Elemis Spa Therapy and Cork brand GROUND Wellbeing.
To book click here: Hayfield Manor
Telephone Number: 021 4845900
No. 1 Pery Square, Co. Limerick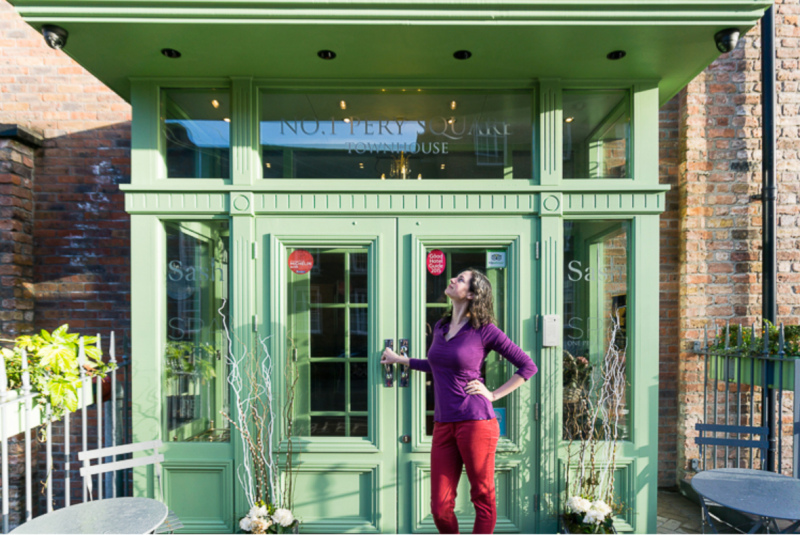 Overlooking the handsome, tree-lined People's Park in Limerick's historic Georgian Quarter, No.1 Pery Square is a luxurious and intimate boutique townhouse situated just a five minute walk from the city centre and train station. The house comprises of 20 bedrooms all individually named and styled, the Park Room lounge, and their restaurant Sash, where you'll find delicious food and wine. No 1 also houses an organic VOYA spa tucked away in the basement vaults, as well as their own kitchen garden and a boutique wine shop.
To book click here: No. 1 Pery Square
Telephone Number: 061 402402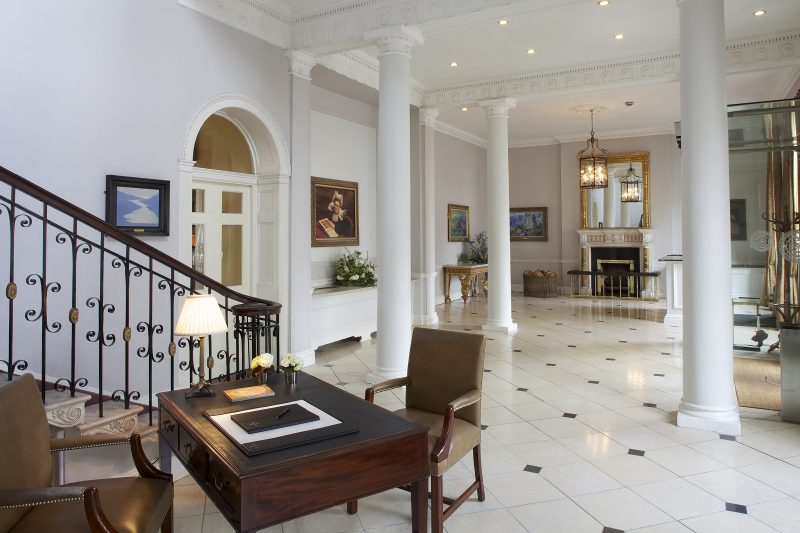 The Merrion Hotel, Dublin's most stylish 5-star hotel, is situated opposite government buildings in the city centre, less than 10-minute walk from Pearse Station. Comprised of four Georgian townhouses and a contemporary garden wing, the 142 bedrooms and suites are arranged around two 18th century-style gardens. Stunningly restored interiors provide the perfect backdrop for one of Ireland's most impressive private art collections.
Guests have the choice of two restaurants: the 2 Michelin-starred Restaurant Patrick Guilbaud, offering formal gourmet dining, and The Garden Room restaurant, with a menu designed for sharing tastes and flavours and whimsical combinations. The award winning Merrion Spa boasts an 18m pool, steam room, sauna, fully equipped gymnasium, and private treatment rooms.
To book click here: The Merrion Hotel
Telephone Number: 01 6030600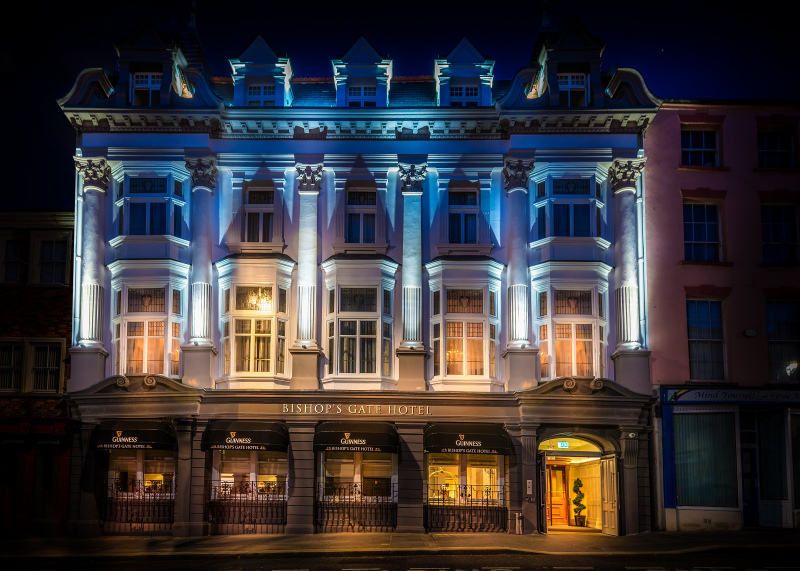 Perfectly positioned within the historic city walls, nestled in the heart of the 'Cathedral Quarter' and only a 15 minute walk from Derry Station, this iconic landmark is the epitome of Edwardian elegance; an intimate urban oasis featuring 30 luxurious guestrooms including 2 suites, a resident's lounge, fitness area, restaurant and champagne bar.
Bishop's Gate Hotel blends stunning Edwardian architecture, stylish appointments and luxurious facilities, sensitively restored to pay homage to the rich heritage of the building, whilst exceeding the contemporary needs and desires of its guests.
To book click here: Bishop's Gate
Telephone Number: 028 71140300