Healthy Duck Stir-fry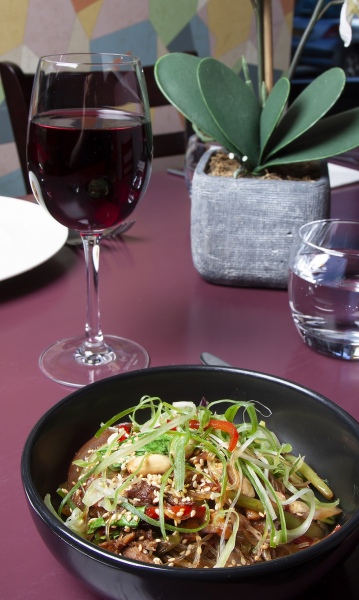 By Ian Orr of Ardtara Country House
Serves 4
Ingredients
1 tbsp of groundnut oil or a few pumps of olive oil spray
4 skinless duck breasts sliced
1 tsp of Chinese five spice
1 tbsp chilli powder
1 tbsp of cornflour
2 tbsp of light soy sauce
1 tbsp of honey
1 onion sliced
2 red peppers sliced
4 pak choi rough chopped
2 carrots cut into match sticks
3 spring onions sliced
1 tbsp of Sesame seeds Optional
1 zest of lemon and juice
600g of cooked egg noodles or rice noodles
1 bunch of chopped coriander
Method
To make the marinade combine the Chinese spice, chilli powder, cornflour, soy sauce and honey. Coat the duck in the marinade and leave to sit for one hour.
In a hot pan add the oil or spray and stir fry the vegetables for about 2 minutes, add little seasoning, take the vegetables out of the pan and set aside (you want the veg to be crunchy).
In the same pan add a little more oil or spray and cook the duck for approx. 1 minute, then add the vegetables back in and mix. In the same pan add about 100ml of water (this will start to make the sauce), add the cooked noodles and mix, add more water as required. Finish by adding the lemon zest and juice, sprinkle with chopped coriander and sesame seeds (optional).
Top Tips
This recipe also works well with chicken or prawns.
For some extra heat add chopped fresh red chillies when cooking the vegetables.