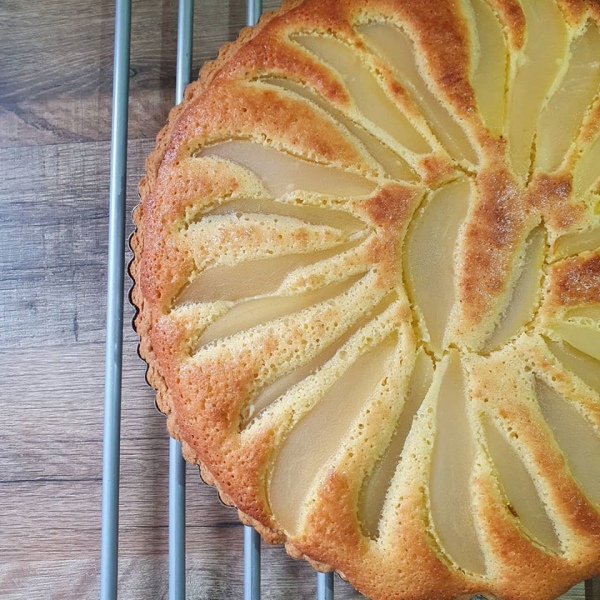 What could go together more than pear and almond and in this tart they work perfectly. This classic French tart is easier to make than you would think and a lot more forgiving too!
Sweet pastry
Ingredients:
225g plain flour.
110g butter.
80g icing sugar.
1 egg.
Method:
1. Crumb together the flour and butter with finger tips or in a food processor.
2. Add in sugar and gentle mix.
3. Add egg and work to a soft dough.
4. Cover and leave to rest.
Poached pears
Ingredients:
4 ripe william pears.
200ml white wine.
400ml water.
1 lemon (juice and zest).
300ml caster sugar.
Method:
1. Peal and quarter pears removing core.
2. Place liquids, lemon juice and zest and sugar in a pan and bring to a simmer to dissolve sugar.
3. When sugar dissolved add pear and gently poach on low heat for 6-8 minutes till tender.
Frangipan
Ingredients:
225g butter (soft).
225g caster sugar.
5 free-range eggs.
225g ground almonds.
Method:
1. Cream together the sugar and butter.
2. Add the egg one at a time and beat in.
3. Gentle fold in the almonds.
To Assemble
1. Roll out the sweet pastry to fit a 28cm tart ring, prick with a fork and trim off the excess.
2. Cut a piece of grease proof paper that is larger than the inside of the tart mould, scrunch it up twice to make it more pliable, place inside the pastry and fill with baking beans (use rice if you have no baking beans).
3. Blind bake the pastry at 150'c for 20-25 minutes till cooked but not too heavily coloured.
4. Leave the pastry to cook.
5. Once the pastry is cooked pour in all the frangipan, gently place the pears in a nice pattern before topping with some flaked almonds.
6. Place in the oven and bake at 170'c for 20-25 minutes till the frangipan is cooked
through.
7. Leave to cool and enjoy with some fresh Irish pouring cream, creme fraiche or sweetened mascarpone.