At the heart of Ireland's Wild Atlantic Way is Mayo, a bright and beautiful county which acts as a natural outdoor playground.
From Ireland's sacred mountain of Cough Patrick to the award winning town of Westport, to Ballina, the salmon capital of Ireland, there's something to excite every type of visitor in this beautiful county.
We've put together 5 ways to spend your days in county Mayo.
Where to Visit in County Mayo
Greenway
The Great Western Greenway is Ireland's longest off-road walking and cycling trail. The Greenway helps visitors escape the hustle and bustle of urban life by following the 42km route of the renowned Westport to Achill railway which closed in 1937. This trail stretches from Westport to Achill, with stops Newport and Mulranny along the way. The Greenway can be completed as one, or visitors can complete smaller sections of the trail.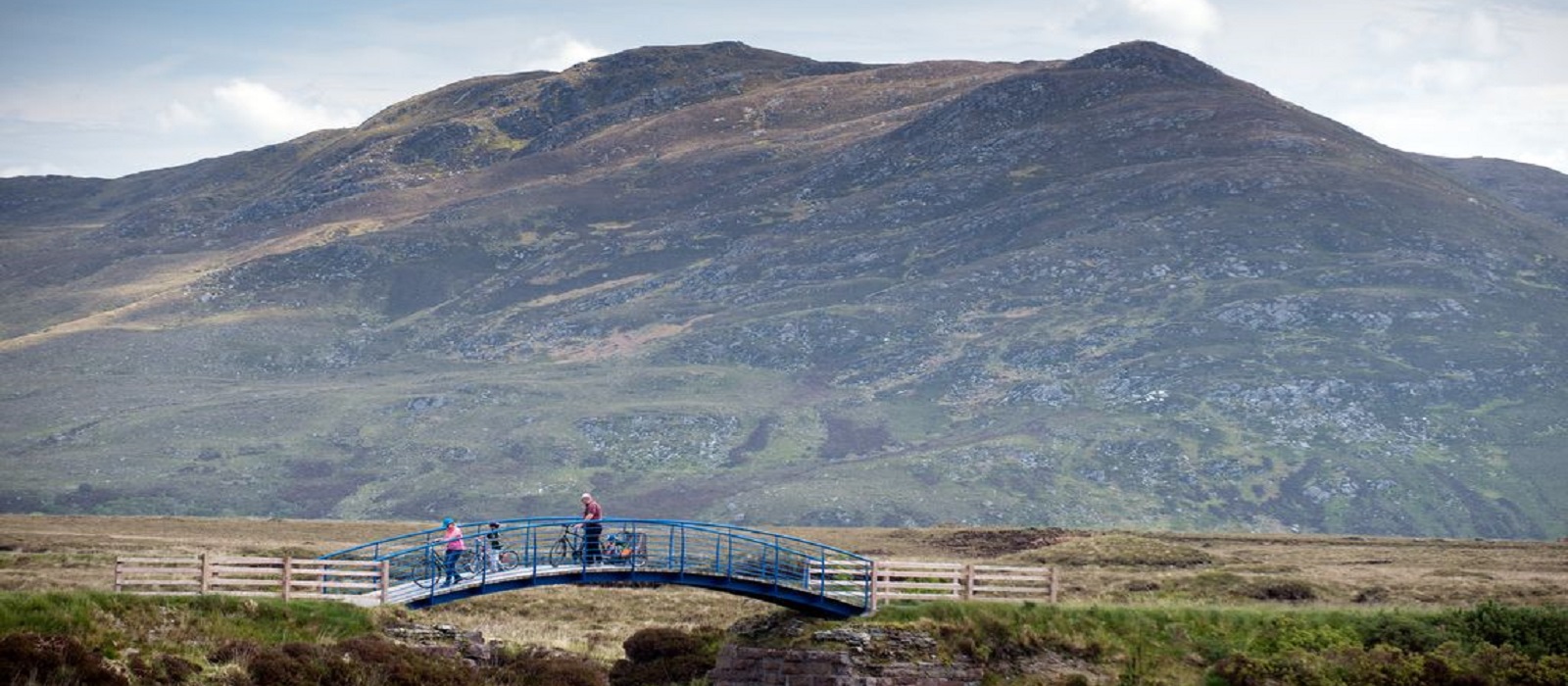 Blueway
Ireland's Blueway might be more appealing to fans of water. It is an inviting network of water trails along the west coast, stretching from the Nort West of Mayo to South Galway. The beautiful Blueway trails offer a host of water based activities like kayaking and snorkelling. County Mayo is home to three Blueway sites; Keem Bay on Achill Island, Old Head in Louisburg and Killary Fjord which sits right on the Mayo Galway boarder.
Downpatrick Head
Sitting out in the wild Atlantic Ocean, Downpatrick Head is an area of coastal beauty and historical importance. Downpatrick head's rich history comes from a time when St Patrick founded a church there. The church's ruins are still there to this day along with a holy well and a stone cross. Alongside these ancient ruins is an old lookout used in WWII.
Downpatrick's natural beauty comes from the extraordinary sea stack standing close to the edge of the cliffs. The sea stack Dún Briste (broken fort) is beautiful to look at as you can see layers upon layers of multi-coloured rock strata.
Mountain Climbing
For those a little more adventurous, why not see Ireland from above?
Croagh Patrick, which overlooks Clew Bay in County Mayo, is considered the holiest mountain in Ireland. Although it is a beautiful mountain on its own, Croagh Patrick is renowned for its Patrician Pilgrimage in honour of Saint Patrick, Ireland's patron saint. The mountain allows for magnificent views of Clew Bay and the surrounding south Mayo countryside from all stages of the ascent.
Nephin sits in County Mayo overlooking Enniscoe House. Nephin stands at 806 meters and is the second highest peak in Connacht. The name Nephin comes from the Irish Néifinn which can be loosely translated to 'heavenly' or 'sanctuary' both words truly reflect the views which can been seen form the top.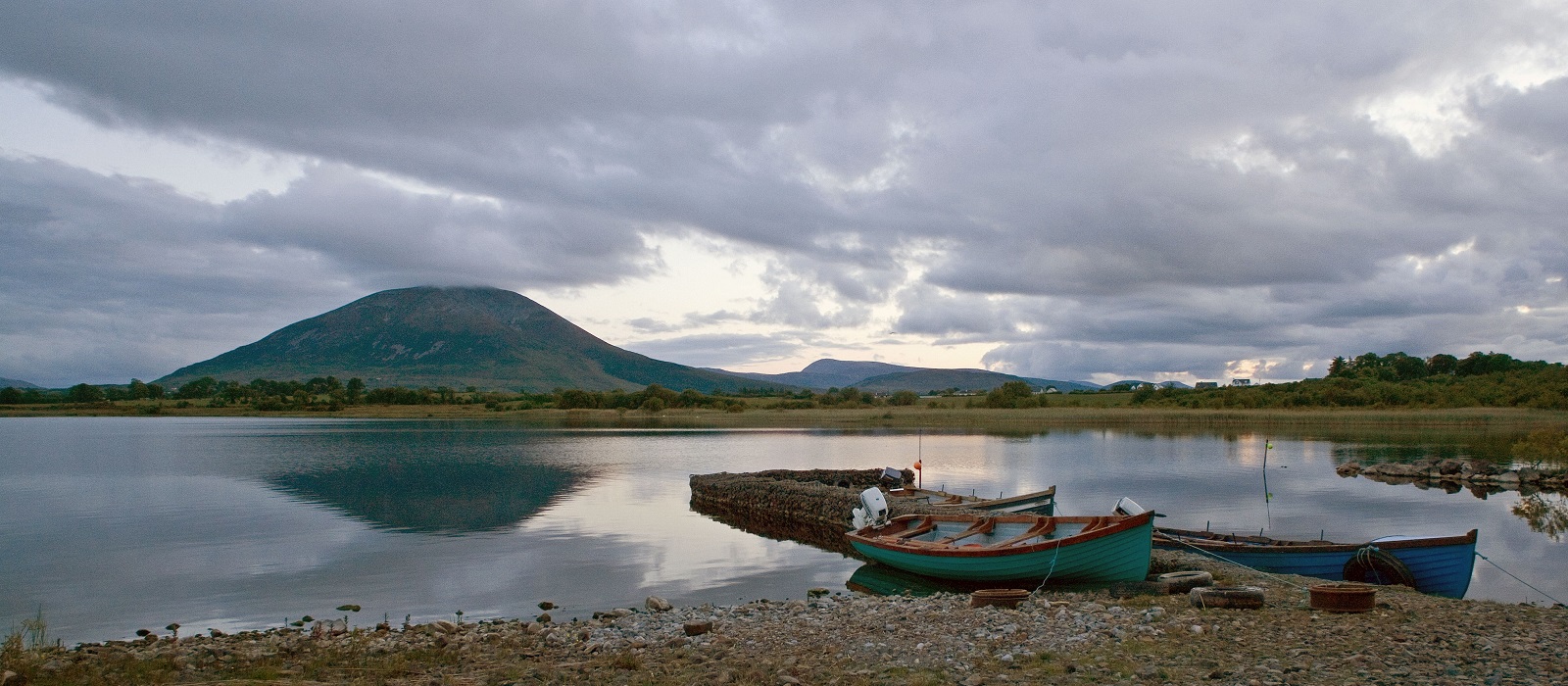 Explore Achill Island
A trip to Mayo isn't complete without a visit to the wonderfully scenic western island of Achill Island. Achill is known for its breath-taking sea cliffs and clean beaches. It is marked by rugged mountains and peat bogs while its breezy shoreline makes it a popular spot for water sports. The Atlantic Drive and The Deserted Village are our top not to miss spots on the island.

Blue Book Properites in Mayo
Belleek Castle
Built on an Abbey dating from mediaeval times, the 1820's neo-gothic Castle is informal, cosy, warm and friendly, rich in decor and antiquities, with open log fires to light your steps back through this cultural adventure.
Enjoy a contemporary dinner, with generous portions, in the unique dining room. The team at Belleek Castle have developed a new food philosophy, the spirit of which is to search for more "depth of flavour", exercising both classic and imaginative cooking techniques.
More Information on Belleek Castle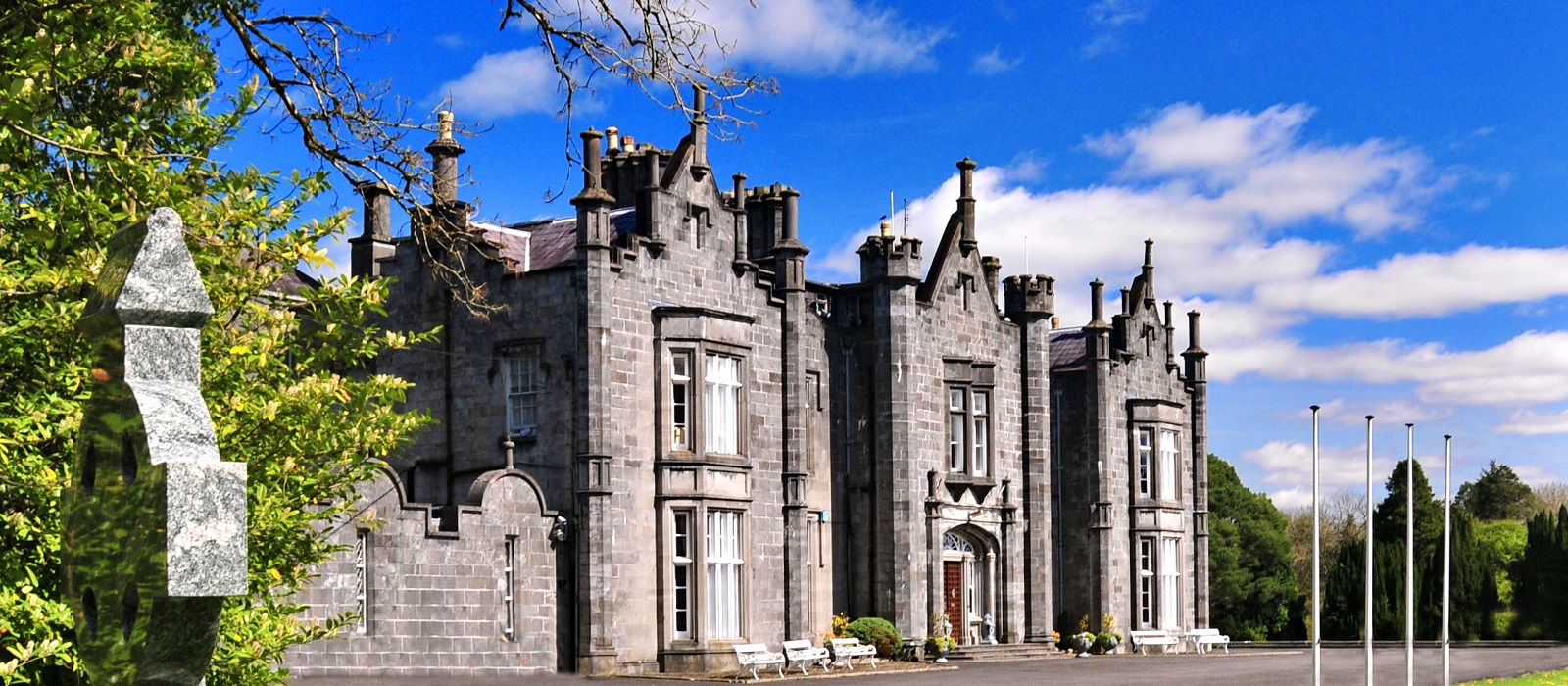 Ice House Hotel
Ice House is located in a truly iconic building overlooking the spectacular and ever-changing River Moy, at the Quay, Ballina, Co Mayo. Funky furnishings, eclectic styling and stunning architectural design at the Ice House combine to make you feel like you're in the heart of the city. However, just one look at the unrivalled view from all rooms and you'll immediately know you're not.
Dining in the restaurant, overlooking the River Moy is an essential part of the Ice House experience. Chef Anthony Holland from Achill Island works with the finest seasonal local produce served up by the friendly staff, with alfresco dining on the terrace a real treat.
More Information on Ice House Hotel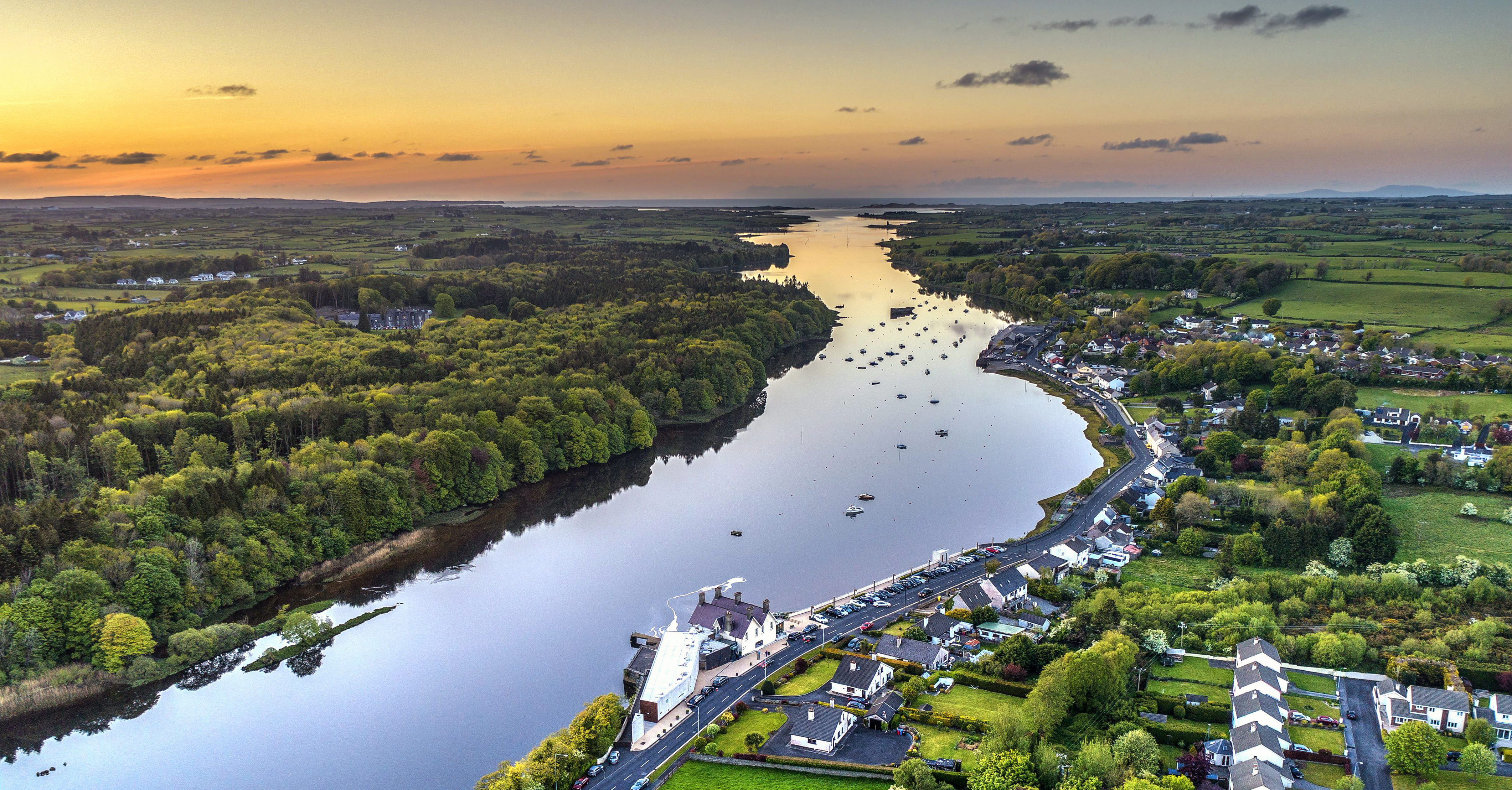 Enniscoe House
Hidden among the woods at the foot of Nephin is Enniscoe, 'the last Great House of North Mayo' overlooking the waters of Lough Conn. The estate has been in the family since the 1650s and the classical Georgian house dates from the 1790s.The house is situated on the shores of Lough Conn, with attractive views of the lake across the parkland. The old walled garden has been restored, and another garden produces organically grown vegetables. One farmyard now houses a small agricultural museum, tearoom and shop, and the genealogy centre that researches names and families of Mayo origin.
More Information on Enniscoe House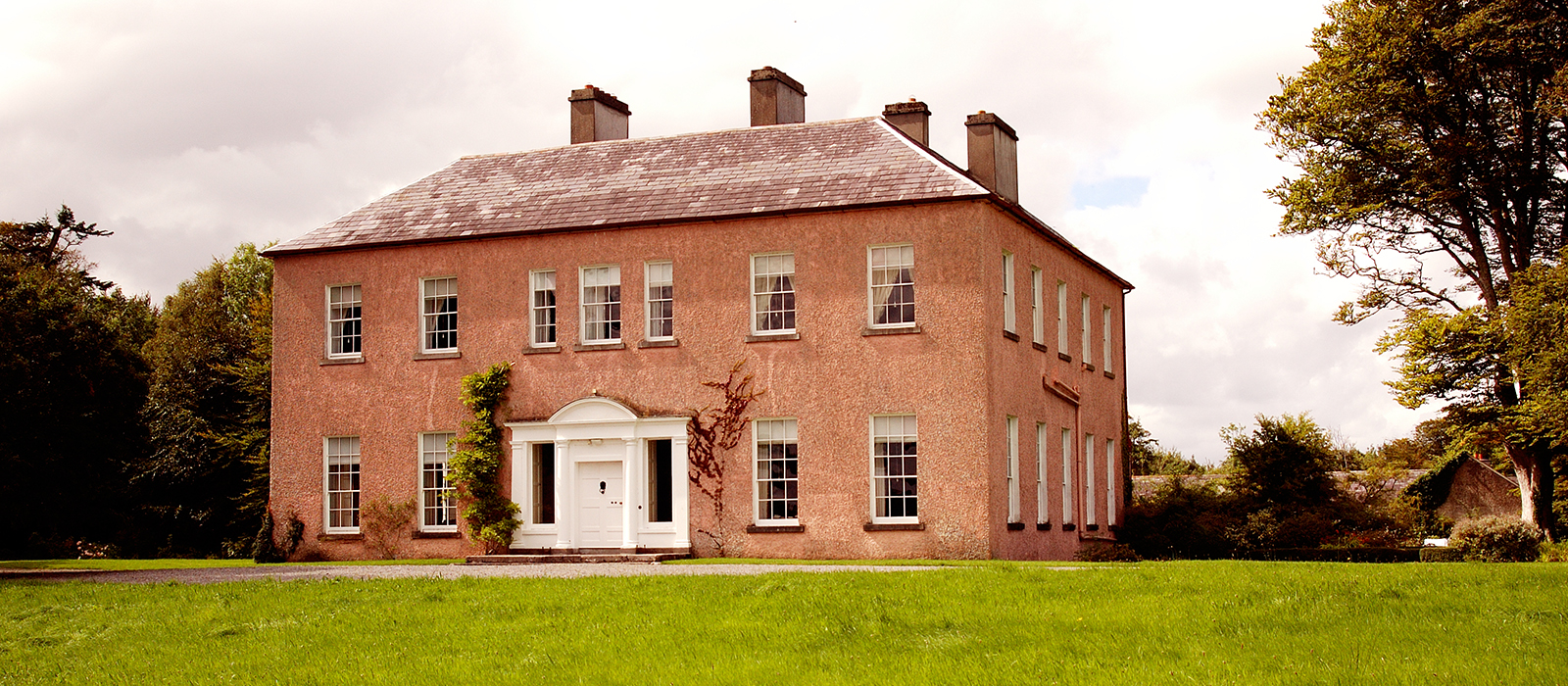 Clare Island Lighthouse
Clare Island stands guard at the entrance to Clew Bay, off Ireland's western Atlantic coast. For almost two centuries, the island's Lighthouse has been a nautical landmark perched high on the craggy cliffs, watching over Achill, Westport and beyond. Once a safe haven for sailors, this heritage property now offers a sanctuary of a different kind. This architecturally majestic, listed building has been lovingly transformed into fully catered, luxury accommodation, complemented by magnificent sea views and an inspiring, natural environment.
More Information on Clare Island Lighthouse