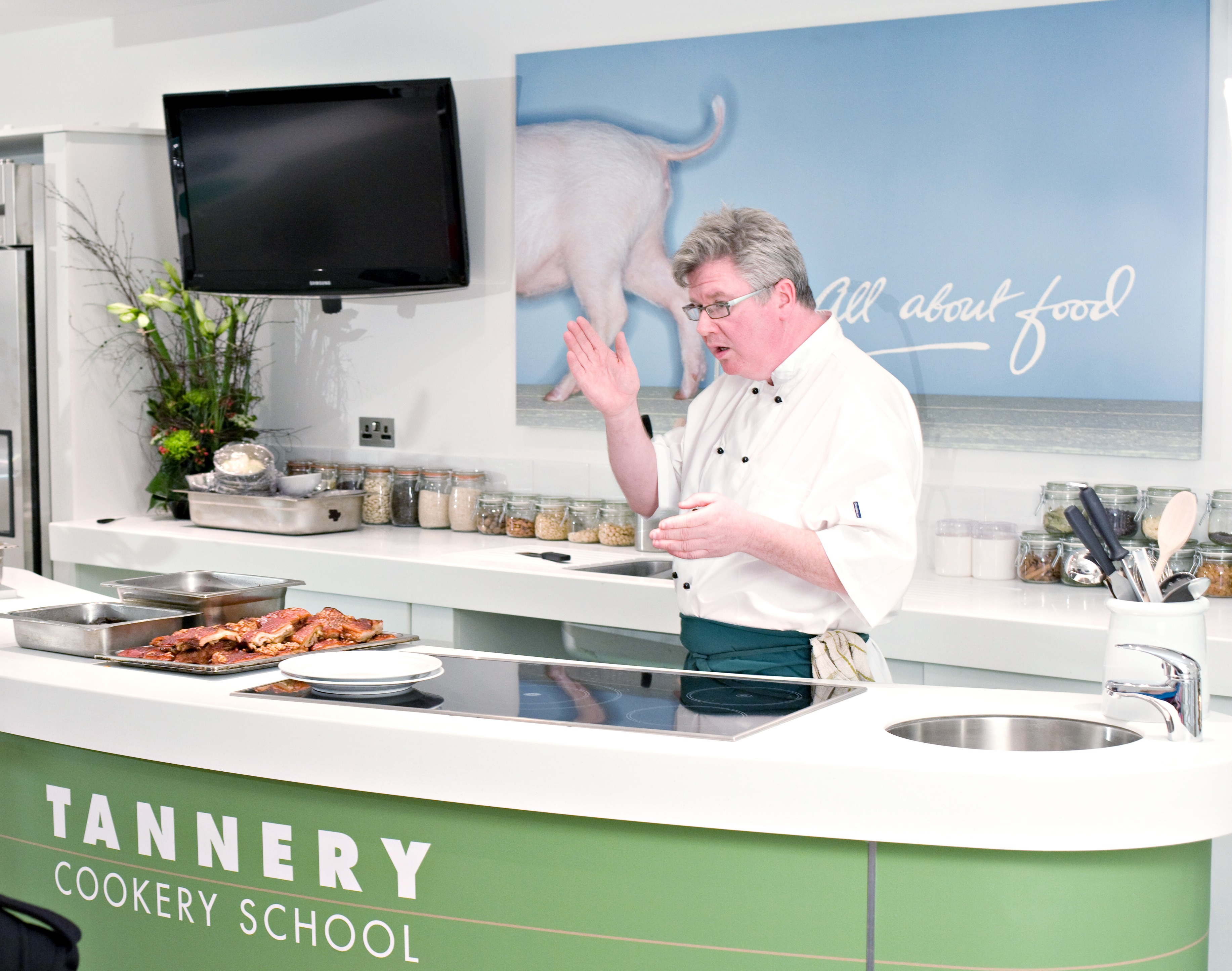 Looking to improve your skills in the kitchen or perhaps your a complete beginner starting from scratch.
Whatever level you're at, the Tannery Cookery school has the perfect course for yor abilities. Taught by world renowned chef, Paul Flynn, courses range from everything from how to prepare for a lavish dinner party, to practical cooking for the everyday.
Courses:
September 7th: Hearty Wholesome Family Cooking - All Day Demo
For those who feel they are stuck in a cooking rut, repeating the same recipes over and over and need some new inspiration for family cooking at home. Getting the balance right between what the kids like and what the adults want is always tricky. This course will demonstrate tray bakes, slow cooked casseroles, a beef rib Sunday lunch and the perfect dauphinoise potatoes that the whoel family will love.
Followed by lunch
Date: September 7th, from 10am to 4pm
Course price: €150


September 30th - October 2nd: 3 Day Intensive 2019
An annual three day intensive course where Paul guides you through various disciplines of cooking in an intimate setting. This course is not for a beginner, but for the competent home cook who wants to further their skills. It may also be of interest to those who might want to take their cooking out of the home kitchen and into a more commercial area, such as small café. Paul will focus on how to make the best of seasonal ingredients. How to elevate simple dishes to make them restaurant quality. Secrets of the professional kitchen will be shared along with the recipes that can be adapted for home. Special Rates in the Tannery Townhouse for participants on this course.
Date: September 30th to October 2nd
Course price: €590


October 5th: Kitchen Confidential - The Insider Knowledge - Practical
Learn the tricks that make a restaurant kithen work and in doing that impress your friends with your insider knowledge. This one day practical course with Paul will be an inspiring day of cooking for those who are already good home cooks and want to improve their skills.
Date: October 5th - 10am to 4pm
Course price: €190


October 19th: Aga Demo 2019
The perennial favourite Aga – October is here and its time to crank up those Agas. This course is one of the most popular at the Tannery Cookery School every year. Helen Manning is now a familiar face at the school as she assists Paul in the finer points of Aga cooking. From hearty stews and casseroles to baking and slow cooking, this is the course that shows you how to make the most of your Aga. Followed by lunch.
Date: October 5th - 10am to 4pm
Course price: €150


November 9th: Cooking for Christmas - Morning Demo
Cooking for Christmas doesn't just mean the traditional roast turkey. Why not shake things up a bit with this cookery course to make sure your Christmas spread is the envy of all your friends and family over the festive season. Learn how to cook Paul's favourite seasonal recipes, perfect for entertaining and also for your own family. Followed by lunch.
Date: November 9th - 11am to 2pm
Course price: €75