8 DAY NORTHERN GOLF TOUR

Day 1 & Day 2:
Arrive in Dublin airport, pick up your hire car and head straight for Barberstown Castle, Straffan, Co. Kildare.
Base yourself here for 2 nights to play the famous K Club, home of the 2006 Ryder Cup, 2016 Dubai Duty-Free Irish Open, and 13 European Opens. Whilst this is a parkland golf course, it will set you up for some exhilarating golf on some of the country's best links courses.
Overnight: Barberstown Castle
Barberstown Castle is a unique 13th-century castle, just 30 minutes outside of Dublin. Once the former home of guitar legend Eric Clapton, the castle is now an award-winning luxury hotel offering the best in food and Irish hospitality in magnificent historical surroundings.

Day 3 & Day 4:
Drive to the most northern part of the country and arrive at Rathmullan House, near Letterkenny in Co. Donegal. This is a wonderful base for golfers who want to play at Port Salon and also Ballyliffin Golf Club.
Port Salon is a true test of links golf, nestled under the Knockalla mountains and stretching along the magnificent Ballymastocker beach.
Ballyliffin Golf Club consists of two outstanding, contrasting links courses and 36 wonderful holes, making up one of the finest golf resorts to be found anywhere in the world. The expansive panoramic views of the countryside, coastline and ocean savoured by these magnificent links courses will not easily be forgotten.
Your hosts, The Wheelers, are used to looking after golfers and you can leave your clubs in a special 'dry room' so that all your clubs and gear will be nicely dry and ready for the next day of action on the golf course.
Overnight: Rathmullan House
Rathmullan House is idyllically situated on Ireland's Northern coast, just metres from the beach. A peaceful retreat after a busy day, offering both fine dining and relaxed options, including local craft beer and stone-baked pizzas in the charming Tap Room restaurant.
or
As you make sure way back west towards your next golfing destination, make a quick stopover in the historic walled city of Derry/Londonderry, where you can enjoy a night of urban elegance at Bishop's Gate Hotel. Dine in style in the Gown restaurant, before putting your tired feet up in front of a crackling fire to recharge before another day on the fairways.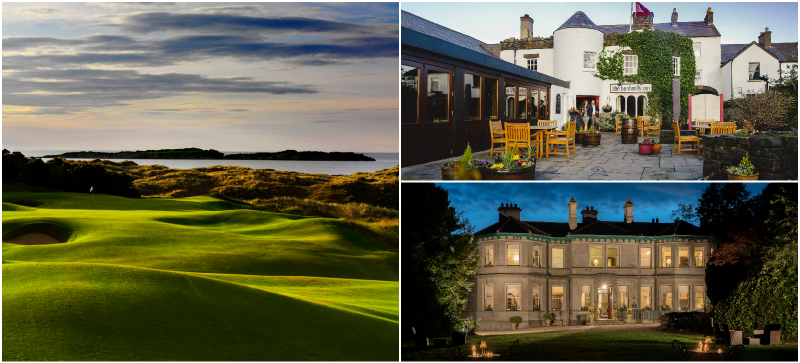 Day 5:
Not too far to drive today so you can play your next round of golf at the famous Royal Portrush Golf Club. Royal Portrush Golf Club is home to one of the best and most challenging links golf courses in the world, the Dunluce Links, host of the 148th Open Championship in 2019.
Overnight: Bushmills Inn
Bushmills Inn is located on the coast of Co. Antrim, where they have specially designed walk-in wardrobes for your golf equipment. Bushmills Inn is also the ideal place to explore the Causeway Coast of Ireland, or just to relax in cosy surroundings with a pint of Guinness and good company.
or
Ardtara Country House is also conveniently located close to Royal Portrush. This elegant Victorian Manor House is surrounded by 10 acres of woodlands and has just 10 bedrooms.
Day 6:
Up early today as you have a bit of ground to cover before you arrive at Royal County Down Golf Club, another of the world's top-ranking links courses.
Royal County Down is located in one of the world's most naturally beautiful links settings in the Murlough Nature Reserve. Against the magnificent backdrop of the Mountains of Mourne, the links course stretches along the shores of Dundrum Bay, zigzagging back and forth to provide a different vista from virtually every hole.
Overnight: Newforge House
A warm welcome and elegant rooms, with both family antiques and modern luxuries, await you at Newforge House. With only 6 bedrooms Newforge offers an intimate home from home experience, perfect for kicking back after a day on the golf course.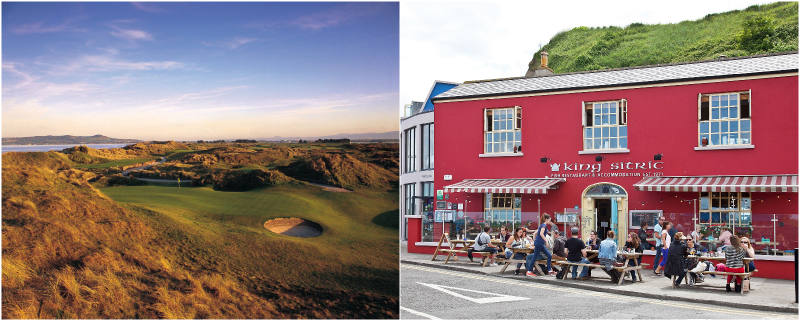 Day 7:
Portmarnock Golf Links, originally the Jameson family's private golf course, developed in 1858, was one of the earliest courses in Ireland. The links is consistently ranked amongst the top golf courses in the world. With a rich history closely aligned to the progression of golf in Ireland, Portmarnock has hosted many major professional and amateur events including multiple Irish Open Championships, the Walker Cup, the Irish Amateur Close Championship and the British Amateur Championship.
Overnight: The King Sitric
The King Sitric is located in the picturesque, historic fishing village of Howth, and is home to some of the best and freshest seafood to be found in the country, with much of the catch coming from just across the road in Balscadden Bay.
Day 8:
Depart from Dublin Airport
No guarantees are given, but should you take this tour there is a good chance that your game will have improved enough for you to drop at least 4 shots!!