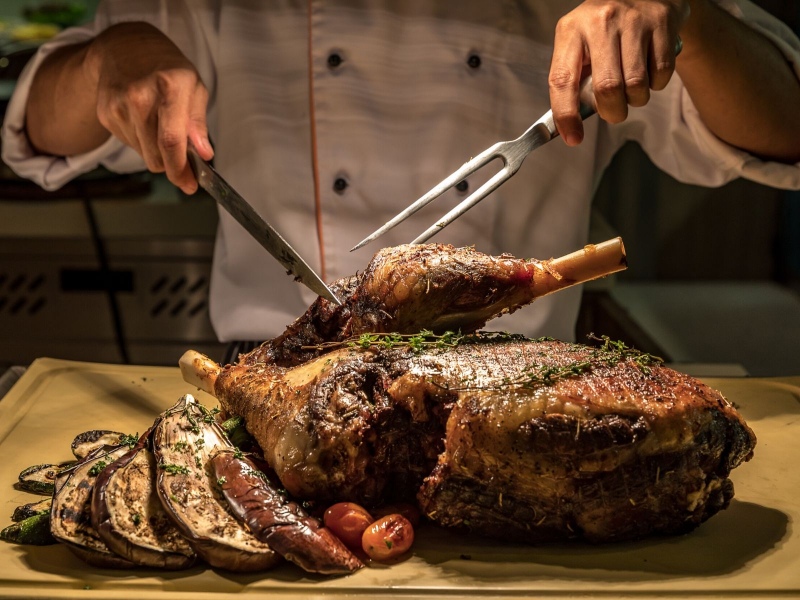 Serves 6
1 leg of lamb – ideally Connemara Hill Lamb
2 whole heads of garlic, cut in half horizontally,
8 garlic cloves, sliced
5 sprigs of fresh rosemary
8 carrots, peeled and cut in half lengthways
4 tbsp olive oil
Salt and black pepper
Salsa Verde Dressing
1 clove of garlic
4 anchovies (tinned are fine)
2 tbsp capers
2 tbsp gherkins
4 tbsp olive oil
½ bunch parsley, leaves only
1 tbsp red wine vinegar
Salt and black pepper
Method
Preheat the oven to 220C/gas mark 7.
Make slits all over the lamb with the point of a sharp knife. Place a few slices of garlic and a
few rosemary needles in each cut. Season the lamb all over with salt & pepper.
Pour the olive oil into a large roasting tin. Add the garlic bulbs, remaining rosemary and
carrots and toss to coat in the oil. Sit the lamb in the tin and roast in the oven for 15
minutes. Then turn the heat down to 180C/gas mark 4 and cook for a further 45-60 minutes
(basically it's 20 minutes per 450g, plus another 20 minutes, depending on how pink you like
your meat).
Remove the lamb from the oven, and allow to rest for 10–15 minutes. With a spoon, take out
any excess fat from the roasting tin and discard.
Salsa Verde Dressing
Blend the garlic, anchovies, capers and gherkins in a food processor. Add the oil and parsley,
then blend until smooth. Add the vinegar and stir, and more oil if too thick. Season with salt
and pepper to taste.
Carve the lamb and serve with the cooked carrots and juices poured over, some buttery
mash, roasties and a drizzle with the salsa verde! Delicious...