Chocolate Irish Black Stout Cake
Ingredients:
For the Cake:
250g softened unsalted butter, plus extra for greasing
200g soft dark brown sugar
100g good-quality dark chocolate, melted
2 large free-range eggs
200ml McGrath's No.4 Black Stout (or Guinness)
275g self-raising flour
30g cocoa powder
1 tsp baking powder
1 tsp bicarbonate of soda
For the Icing:
200g tub cream cheese
75g icing sugar
1 tsp vanilla extract
4 tbsp soured cream
125g white chocolate, melted
Method:
Preheat the oven to 180°C/fan160°C/gas 4. Grease and line a 23cm loose-bottomed cake tin. In a bowl sift together the flour, cocoa powder, baking powder and bicarbonate of soda. In a separate bowl cream the butter and sugar until pale and fluffy. Gradually beat in the melted chocolate until smooth. Then beat in the eggs one at a time. Gradually whisk in the Guinness to make a smooth batter. Then carefully fold in the dry ingredients.
Pour into the prepared tin and bake for 35-40 minutes until a skewer comes out clean. Leave to cool in the tin, then turn out onto a cake plate.
For the icing, beat the cream cheese, icing sugar and vanilla extract together until smooth, then mix in the soured cream and melted chocolate. Spread evenly over the cake and serve
White Soda Bread & Spotted Dog
Ingredients (makes one loaf):
450g (1lb, 31/2 cups) plain flour
1/2 teaspoon sugar
1/2 teaspoon salt
1/2 teaspoon bicarbonate of soda
300-600ml (1/2 - 1 pint, 1 1/4 - 2 1/2 cups) sour milk or buttermilk
Method:
Preheat the oven to 250deg C
Sieve the dry ingredients. Make a well in the centre. Pour in all the milk at once. Using 1 hand, with your fingers stiff and outstretched like a claw, stir in a full circular movement from the centre to the outside of the bowl in ever-increasing circles. The dough should be softish, not too wet and sticky. When it all comes together, turn it out onto a well-floured work surface. Wash and dry your hands. Tidy it up and flip over gently. Pat the dough into a round, about 4cm deep.
Cut a deep cross on the loaf and prick in the four corners.
Bake in the oven for 15 minutes then turn down to 200deg C for 30 minutes until
cooked. If you are in doubt, tap the bottom of the bread, when it is cooked it will
sound hollow. Cool on a wire rack.

Soda bread is best eaten on the day they are made but are still good for a day
or so more.
Spotted Dog:
Follow the recipe above adding: 1 dessertspoon of sugar, 100g sultanas and 1 egg.
Add the sugar and the sultanas with the flour and drop the egg in with the milk before mixing.
Spotted Dog is also called Railway Cake in some parts of the country as it has a 'currant for each station'.
Stripy Cat:

Follow the Spotted Dog recipe replacing the sultanas with 75g of roughly chopped
best quality chocolate.
Armagh Apple Tartlets with Caramel Sauce
A caramelised apple tart inspired by the "Orchard of Ireland" – County Armagh. Brandy could be used instead of Calvados if preferred.
Ingredients:
For the Tartlet:
3-4 eating apples
4 thin rounds puff pastry – approximately 6 inch/15cm in diameter
1oz / 25g / 2 US tablespoons unsalted butter, melted
a little icing sugar
For the Frangipane:
3oz / 75g / 1/3 cup caster sugar
1 large egg, beaten
4oz / 110g / 1 cup ground almonds
1oz / 25g / 2 US tablespoons plain flour
½ fl oz / 15ml / 1 US tablespoons milk
A dash of Calvados
For the Caramel Sauce:
14oz / 400g / 1 ¾ cups caster sugar
16fl oz / 500 ml/ 2 ¼ cups cream
Garnish:
A little crème fraiche
Fresh mint leaves
Method:
Preheat a moderately hot oven, 180 degrees Celsius / 350F / gas mark 4. First, make the frangipane: Beat the butter and sugar till light and fluffy, then fold in the egg, ground the almonds, flour, milk, and finally the Calvados. Chill in the fridge until required.
To make the pastry bases: Place the puff pastry discs onto a floured baking tray and prick with a fork, then bake in the preheated oven 8-10 minutes or until golden brown and slightly rising. While still warm, and to keep the disc quite flat, place another baking sheet on top and push down slightly to expel the air from the pastry.
For the caramel sauce: In a heavy-based pan, heat the sugar and water gently until it forms a rich golden coloured syrup. Remove from heat and allow to cool slightly, then heat the cream and carefully add to the syrup. Return to the heat for a few seconds; strain through a fine sieve if necessary.
To complete: Arrange the cooled pastry discs on a baking sheet and spread a layer of the frangipane on each one, leaving a narrow margin around the edge. Peel, core and thinly slice the apples and arrange neatly on top of the tarts; brush with melted butter and bake for 10-12 minutes. Finally, dust the tart with icing sugar and place under the grill until the sugar starts to caramelise.
To Serve: Place the tartlets on warmed dessert plates and drizzle the caramel sauce around them. Garnish with a little crème fraiche and a sprig of mint, finally dust the icing sugar.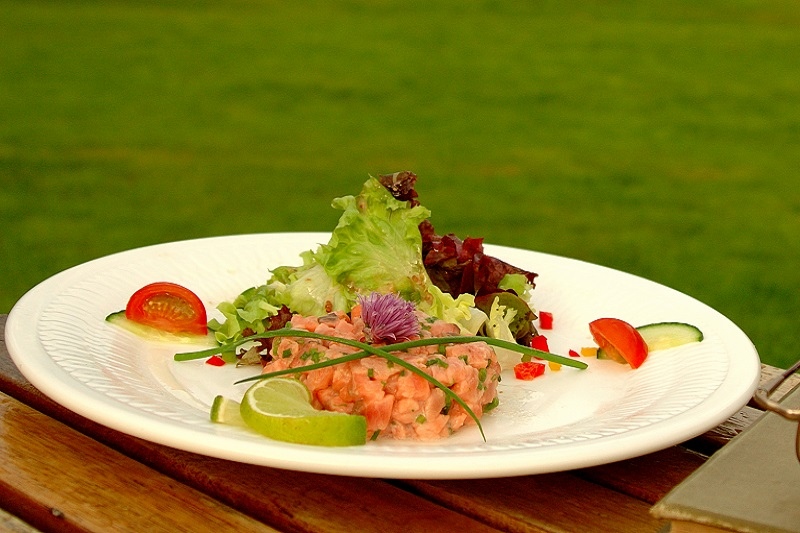 Wild Connemara Salmon Tartare
Simple is as simple does in a magnificently understated starter that owes its success to the exceptional quality of locally sourced ingredients.
Ingredients (serves 4):
9 oz / 250g wild salmon fillet
Juice of 1 lemon
1 tbsp/ 1 ¼ US tablespoon fresh coriander, chopped
1 tbsp/ 1 ¼ US tablespoon Olive oil
1 tbsp/ 1 ¼ US tablespoon fresh parsley, chopped
A dash of Tabasco
a little salt and cayenne pepper
Method:
Skin the salmon and check that there are no bones in it, then chop finely, then mix all of the other ingredients with the salmon, seasoning to taste with a little salt and some cayenne pepper
Serve immediately, with toasted brown bread.
Mary's Boiled Fruit Cake
This is a lovely moist cake which would be lovely for afternoon tea or packed in with a picnic lunch. It keeps very well for up to 3 months.
Ingredients:
8oz / 225g / 2 ¼ sticks butter
1 bottle / 300ml / 1 1/3 cups Guinness (stout)
1lb / 450g / 3 cups raisins
1lb / 450g / 3 cups sultanas
4oz / 110g / 1 cup candied peel
12oz / 350g / 3 cups plain white flour
1 tsp bicarbonate of soda (bread soda)
1 tsp allspice, 4 eggs
Method:
Line a deep 8 inch / 20 cm cake tin with buttered greaseproof paper.
Put the butter, Guinness, sugar, raisins, sultanas and candied peel in a heavy-bottomed saucepan. Bring slowly up to the boil, stirring to dissolve the sugar. Boil for about 10 minutes. Then remove from the heat, turn into a mixing bowl and leave to cool until it is warm rather than hot.
Meanwhile, preheat the oven, 165 degrees Celsius / 325 F / gas mark 3.
When the fruit and Guinness mixture has cooled enough, sift together the flour, bread soda and allspice. Beat the eggs lightly, then slowly add half of the eggs to the fruit and Guinness mixture. Next, fold in some flour, and add the remaining eggs and the flour mixture, folding gently all the time until all is incorporated and thoroughly mixed, with no flour showing. Turn into the prepared tin, smooth the top and bake in the preheated oven for 2 hours or until nicely browned and springy to the touch. To check if the cake is ready, test with a skewer, which will come out clean when it is cooked. Remove from oven and allow to cool in the tin; turn out when cold, then wrap in greaseproof paper and store in an airtight tin until required.
Beef and Guinness Stew
Ingredients:
2.25 lb / 1kg of stewing beef, e.g. shin, flank or rib, trimmed & cut into 1" / 2.5 cm cubes
1oz / 25g flour
1 onion, peeled and sliced
2 carrots, sliced thickly, about 1cm
Half a celeriac or 3-4 stalks celery, trimmed and cubed
1 large or 2 small parsnips, peeled & cubed
1 large or 2 small parsnips, peeled & cubed
Bouquet Garni or mixed herbs & seasoning as required
1 pint/ 600ml Guinness, or beef stock
Quarter bottle / 225ml prune juice or to taste (optional)
Half an orange left whole (optional)
Method:
Preheat the oven to 150c / gas mark 2. Season the beef and toss in the flour to coat. Heat a little oil and butter in a heavy pan and brown the meat in batches, then transfer to a casserole. Add the onions and other vegetables and sweat gently for a few minutes in the same pan. Transfer to the casserole.
Add any remaining flour to the pan, stir to absorb whatever fat is left, then cook for a minute before stirring in the Guinness or stock and prune juice if using; add liquids to the casserole (enough to cover the main ingredients) also the bouquet garni or mixed herbs and the orange; season, stir to mix well, cover and cook in the oven for about 2 hours until the beef is tender.
Remove the orange and bouquet garni, check the seasoning and serve with mashed potatoes, 2 prunes soaked in Guinness (optional) and chopped parsley.
You might also enjoy:
5 Sumptuous Spring Lamb Recipes from Ireland's Blue Book
Kevin Dundon's Wild Forest Mushroom Chowder Recipe
Ballymaloe's Sticky Toffee Pudding Recipe