Walking in a Wooded Wonderland at Belleek Castle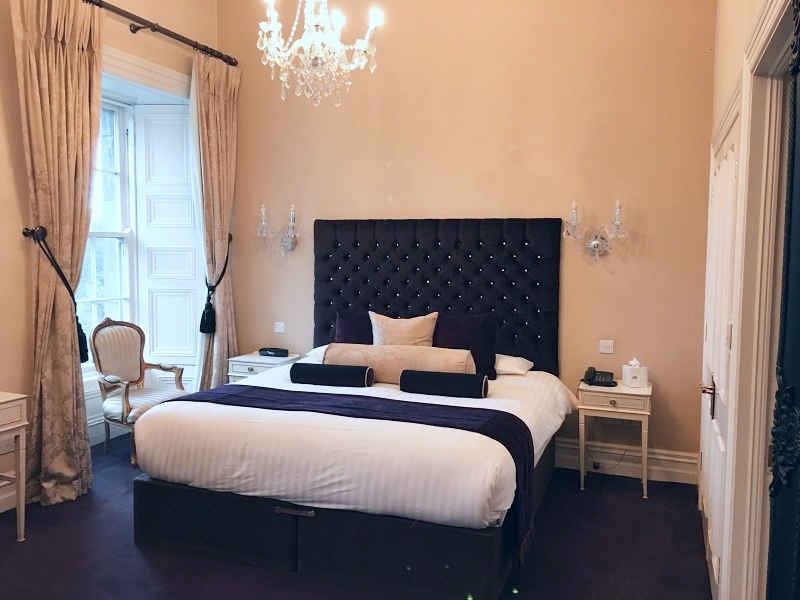 November is perhaps not the most optimal time of year to travel to the west of Ireland, however, Mayo is one of those places that looks good, even romantic, in that drizzly rain typical of that time of year – dark clouds enveloping gentle rolling hills, or black waves crashing dramatically over the rugged coastline.
The road from Dublin to Mayo does tend to drag on a bit. You start off driving with four lanes, which gradually reduce to three, then two and culminate with 2 hours of windy, bumpy single-lane driving where it is all too likely you will get stuck behind a tractor doing a leisurely 50km/h, oblivious to your frustration. This impediment does, at least, give you ample opportunity to appreciate the beauty of the surrounding countryside as you bump along.
Belleek Castle – our final destination, is perched atop a hill so that it gazes imposingly down at you as you approach up the long driveway. The castle was built in the late 1800s, on the site of an old Medieval abbey, in an elegant neo-gothic style, and the iron-grey exterior contrasts sharply with the verdant green countryside surrounding it.
Stepping across the threshold, we found ourselves in a grand-looking foyer, dimly lit and appointed with dark wooden furniture and a large, iron chandelier hanging overhead. Despite the iron fittings and towering suits of armour standing at attention in various places, the castle nevertheless gives off a feeling of warmth, with fires crackling away in the grates, and Christmas decorations already decking the halls. The property is an interesting blend of theatrical museum and elegant, luxury hotel. Bedrooms are equipped with every modern comfort as well as chic, modern bathrooms. However, the halls are adorned with medieval swords, shields, tapestries and suits of armour and are begging to be explored.
As it was approaching evening time when we arrived in the castle, we began our night in the hotel's Armada bar – half luxurious living room with a grand piano, and half charming thematic-bar designed to look like the interior of an old rough-hewn wooden ship. Again, one is faced with an interesting contrast between theatre and luxury. We sat down on royal blue velvet armchairs and sipped our drinks while we looked at the dinner menu, before ordering and being brought through to the dining room.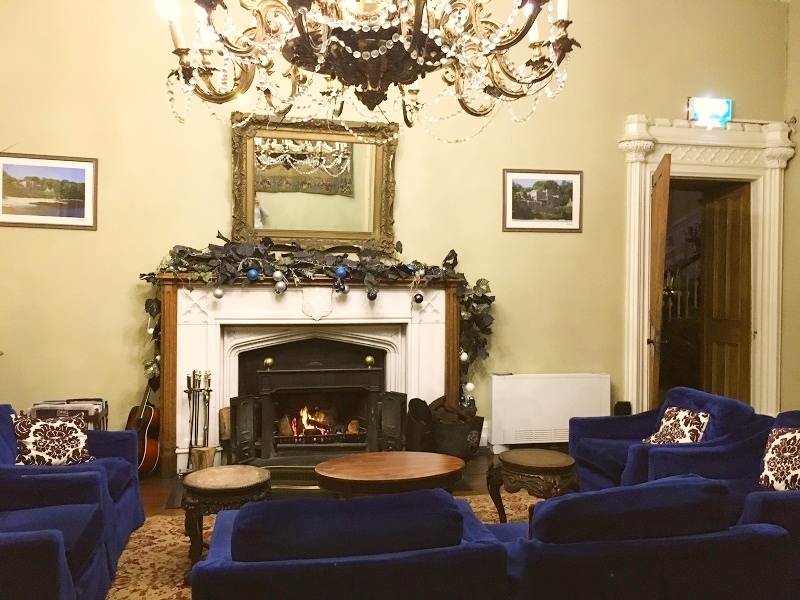 The food in the restaurant was superb. We were treated to yet more theatre when the fillet steak was brought out of the kitchen impaled upon a 15th-century sword and then set alight - the whiskey-fuelled flames illuminating the whole room and the delighted faces of the diners. However, it must be said that these embellishments in no way distract from the quality of the food, as everything from bread to dessert was delicious.
The following morning, after a delicious breakfast which we weren't really able for, we took to the outside world for a little exploration. Belleek Castle is situated on the edge of Belleek Woods, which themselves run alongside the River Moy. As we began our walk down towards the woods, a dog, which had been lazing by the fireside at the bar the evening before, decided to join us on our walk.
She turned out to be an excellent tour guide. She brought us down narrow winding lanes from which we emerged to stunning viewpoints over the river. The water of the river reflected back the blue of the sky, the cold breeze stung our cheeks and the leaves crunched under our feet as we walked. The woods are not overwhelmingly large, but perfect for getting out for a couple of hours. It is also very flat, so not taxing even if you come without the right footwear. There are plenty of interesting things to stop and look at as you stroll along, including ruins, monuments and graves with historical significance, including the grave of Frances Arthur Knox Gore and an old crumbling ice house. There was also a pond with ducks that was like something straight out of a poem.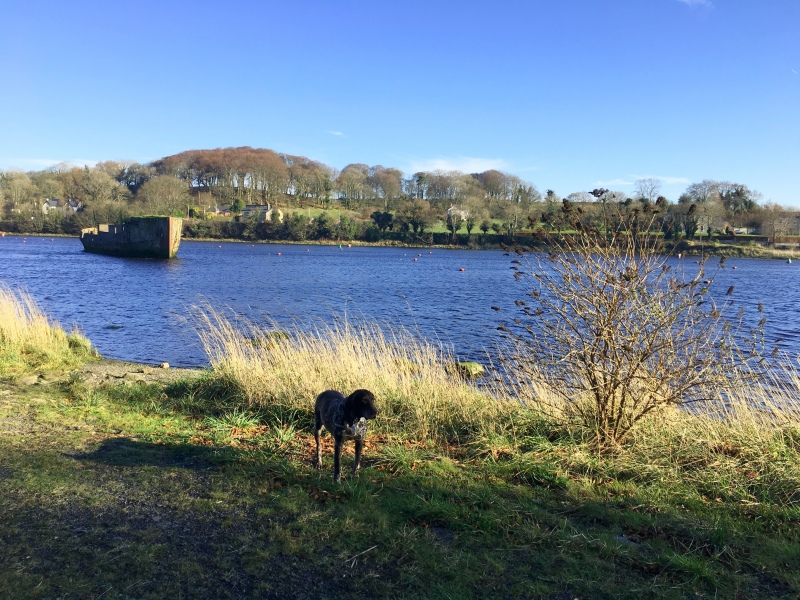 After a couple of enjoyable hours, it was time for us to head back to the hotel. In spite of the fact that we were still full from a marathon of eating, we still had to try Belleek's new café – the Jack Fenn - before we left. Having only opened in 2017 the café's reputation as a foodie destination has built quickly and for good reason.
As we had had a huge breakfast only a couple of hours before neither of us was able for lunch, although the steaming bowls of hot soup and towering sandwiches were definitely enough to tempt us. We went for a couple of homemade cakes to share and coffee. The café was almost full when we arrived, but we managed to squeeze into one of the remaining tables. All their cakes are home-made and it was difficult to choose just two, but we went for a sumptuous orange-flavoured sponge as well as a pear and almond tart. The Jack Fenn café also makes delicious quality coffee that would satisfy the harshest coffee- critics!
Belleek Castle is ideal for a couple of nights break away to the countryside. There is enough to do on the estate that there is no need to stray further, but if you're looking for shops or pubs, then the town of Ballina is just minutes down the road. Whether you decide the curl up in an armchair in the drawing-room and read, take a walk in the woods, or work your way steadily through the Jack Fenn menu – Belleek might be the perfect destination for any time of year.
You might also enjoy:
A Sunny Staycation at Aherne's
A Chilled out Visit to the Ice House