Wild Garlic, Onion & Potato Soup from Newforge House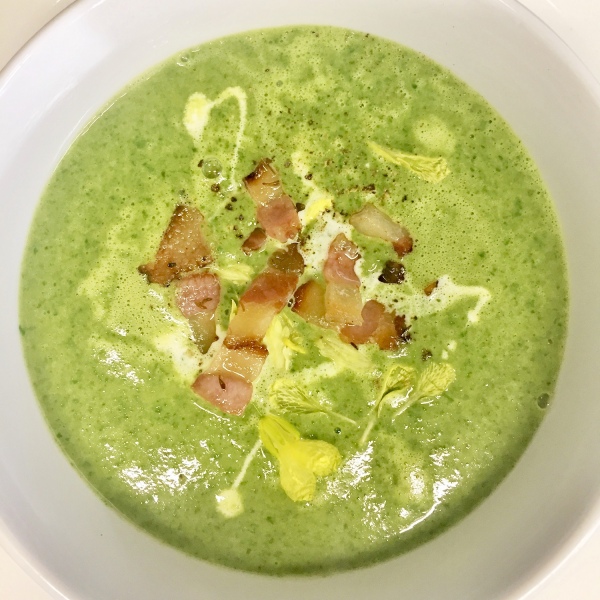 (John likes to garnish his with Guanciale Lardons & Wild Garlic Flowers)
Ingredients:
· 2 tbsp Rapeseed or Olive Oil (we like to use Broighter Gold Rapeseed Oil)
· 1 Large Onion, Chopped
· 2 Sticks of Celery, Chopped
· 350g Floury Potatoes (such as Maris Piper), diced
· 1 litre Chicken or Vegetable Stock
· 1 bouquet garni (bay leaf, thyme and parsley)
· 4 Large Handfuls of Wild Garlic, Finely Chopped
· 60ml Double Cream
· To taste Season with salt, pepper and a good squeeze of lemon juice
Method:
1. In a large pan, over a medium heat, sauté the onion and celery with a pinch of salt in the oil for 5-10 minutes until soft.
2. Add the potatoes and continue to cook for a couple of minutes.
3. Add the stock and bouquet garni, bring to a simmer and cook until the potatoes are soft: 15 minutes, approximately.
4. Add the wild garlic and simmer for a further two minutes.
5. Remove from heat and blend with a stick blender or in a liquidiser. Stir in cream, season to taste with salt, freshly ground pepper and lemon juice.
To serve:
Sprinkle with wild garlic flowers.
Optional: Lardons of Guanciale or bacon, pan fried or grilled until crispy.