The Wild Atlantic Way is set to be Ireland's first long-distance driving route for tourists, featuring a 2,500km driving route from Donegal in the north to West Cork in the south.

Donegal
The rugged Donegal coast has a shoreline etched with a multitude of beautiful bays and glorious sandy beaches. Donegal promises wild landscapes blanketed in bog and heather, isolated white sandy beaches and a roughly hewn coastline. And when all of the cobwebs have been blown away, thriving little towns with cosy pubs, excellent seafood and a friendly welcome awaits. This county will certainly force you to kick back, slow down and admire the view.
Highlights in this region include a visit to Glenveagh National Park, Inishowen Peninsula or the cliffs of Sliabh League
Perfect Place To Stay:
Rathmullan House or Castle Grove Country House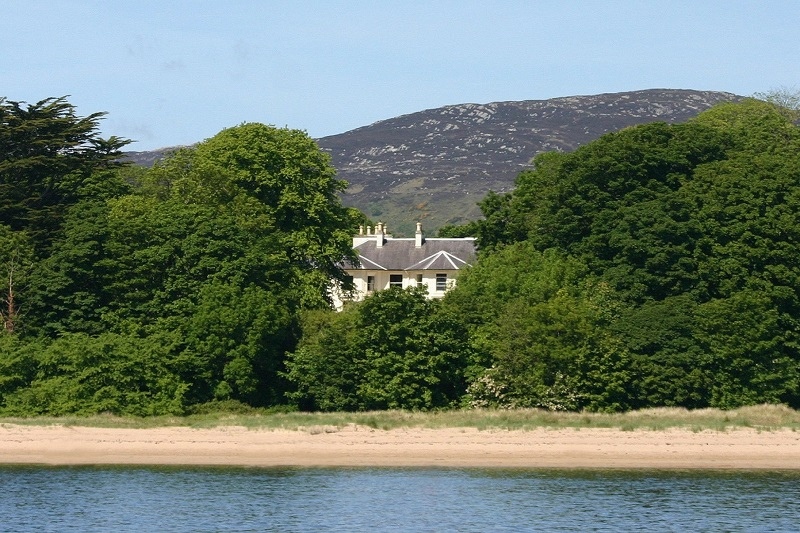 Sligo
Sligo offers a unique destination with the dramatic backdrop of Benbulben, glimmering beaches, rolling green hills, and magical woodlands, with unsurpassed leisure activities. From water sports and golf to seaweed baths and horse riding or even some leisurely fishing, the county has so much to offer you whatever your interests may be. From the myths and legends of ancient Ireland to the poetry of Yeats and the music of Coleman, Westlife and Dervish, Sligo's cultural and literary heritage is world-famous and still actively celebrated.
Perfect Places To Stay:

Mayo
From brilliant Blue Flag beaches to spectacularly bleak bogland, Mayo musters up one wow-moment after another. Mayo is also home to Achill Island, at once the largest of Ireland's offshore islands and the easiest to get to (it's connected by a short road bridge at Achill Sound). Achill boasts five Blue Flag beaches, wild walking and surfing opportunities, and a deserted village in the foothills of Slievemore Mountain.
"Achill... called to me as no other place had ever done," wrote Belfast-born artist Paul Henry, who set many of his famous paintings on the island.
Beyond Achill, coastal Mayo is home to over a dozen more Blue Flag beaches, Clew Bay, staging post of the legendary 16th-century pirate queen, Grace O'Malley and Croagh Patrick – an absolute must-see known as 'the crowned mountain of Ireland'. Thousands of pilgrims journey to the top of Croagh Patrick each year.
Places to visit on this part of the drive include Achill Island, Croagh Patrick, Ceide Fields, Foxford Woollen Mills to name but a few.
Perfect Places To Stay:

Connemara
Discover the awe-inspiring landscapes, flora and fauna, heritage, culture and people of one of Ireland's most iconic destinations.
Situated in the west of Ireland in County Galway, Connemara National Park covers some 2,957 hectares of scenic mountains, expanses of bogs, heaths, grasslands and woodlands. Some of the Park's mountains, namely Benbaun, Bencullagh, Benbrack and Muckanaght, are part of the famous Twelve Bens or Beanna Beola range.
Places to visit on this part of the drive include Kylemore Abbey, Roundstone and Clifden Villages.
Perfect Places To Stay:
Rosleague Manor, Glenlo Abbey Hotel, Cashel House , Currarevagh House and Delphi Lodge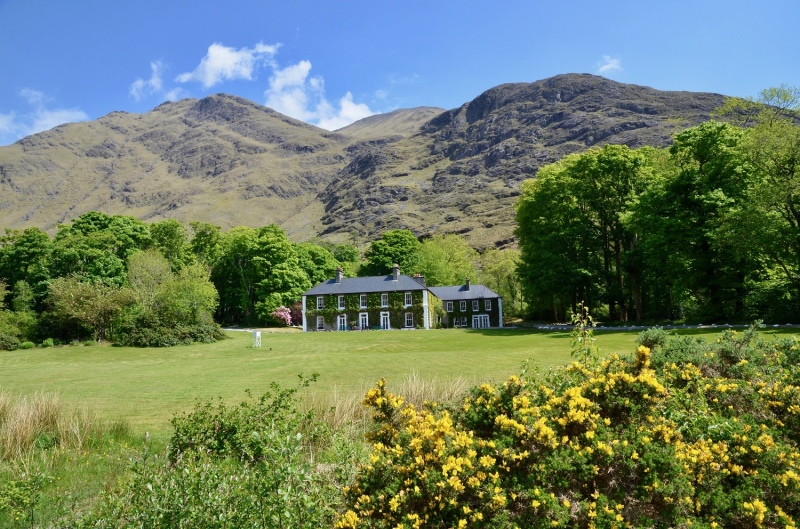 Cliffs of Moher & The Burren Region in Co. Clare
The majestic Cliffs of Moher are 214m high at the highest point and range for 8 km. over the Atlantic Ocean on the western seaboard of County Clare. O'Brien's Tower stands proudly on a headland of the majestic Cliffs. Spectacular views await the visitor. The Cliffs of Moher take their name from a ruined promontory fort "Mothar" which was demolished during the Napoleonic wars to make room for a signal tower.
Also in Clare, a visit to the Burren is a must. It is an area of limestone rock covering imposing majestic mountains, and tranquil valleys with gently meandering streams. With its innate sense of spiritual peace, an extraordinary array of flora and wildlife, and megalithic tombs and monuments older than Egypt's pyramids, the Burren creates a tapestry of colour and a seductively magical aura which few people leave without wanting to experience again.
Perfect Places to Stay: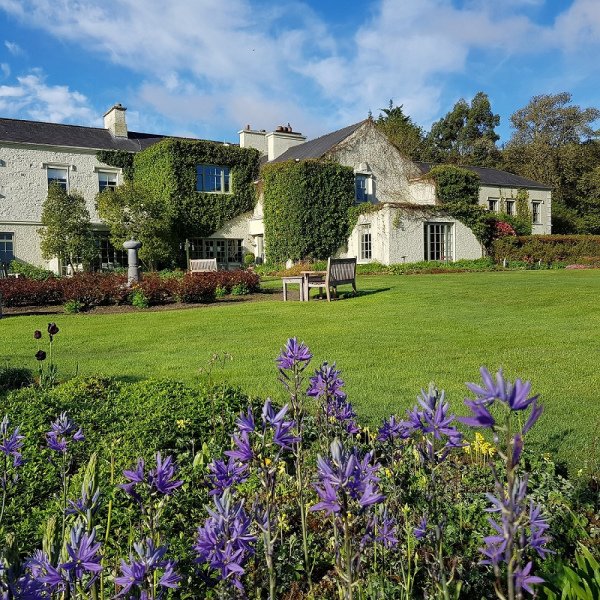 Ring of Kerry
Cinematic sea views, secluded white-sand beaches and mountains shrouded in mist. Believe the hype: the Ring of Kerry has earned its reputation as one of the most beautiful regions in Ireland. The route, a 179km loop starting and ending in Killarney, also passes through lively villages with bustling pubs, charming bookshops and pretty cafés. Feel the need for even more scenic showstoppers? Explore the Killarney National Park, sitting pretty beneath the rugged summits of Kerry's highest mountains.
Perfect Places to Stay:
Park Hotel Kenmare, Carrig Country House, Cahernane House Hotel, The Hideaway at Dromquinna Killarney Royal or The Lansdowne Kenmare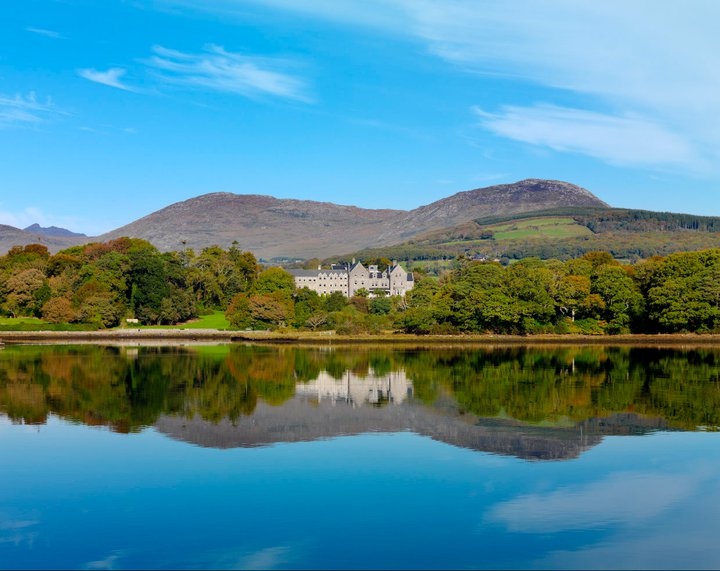 West Cork
It's no wonder they call West Cork "A Place Apart". Nature sets the pace in this beautiful south-west corner of Ireland – stretching from smart south-coast Kinsale to three rugged westerly peninsulas reaching into the wild Atlantic: Mizen Head, Sheep's Head and Beara.
Mizen Head Signal Station & Visitor Centre is located on the most Southwesterly Point in Ireland. Cross the iconic Mizen Footbridge to see the most breathtaking sea views.
Hundreds of inlets, tiny coves, safe harbours and beaches are just right for long active days in the salty air – learning to sail, surfing, diving, whale watching, island-hopping, bird spotting, kayaking on a salt-water lake in the moonlight, messing about in boats. Or simply eating a fresh crab sandwich on a quayside.
Perfect Places To Stay:
Blairscove House, Dunowen House Liss Ard Estate Perryville House or Fernhill House and Gardens