Cork is the largest county in Ireland by land area, surrounded by undulating land that is interrupted by long ridges of sandstone with picturesque river valleys in between. To the west, these ridges increase in size until they amass in peaks along the Kerry border, whilst the long coastline juts into the Atlantic Ocean enclosing deep island-strewn bays. Cork is home to the reputed 'most talkative people of the nation' with their characteristic sing-song cadence akin to the rising and falling hills of the county.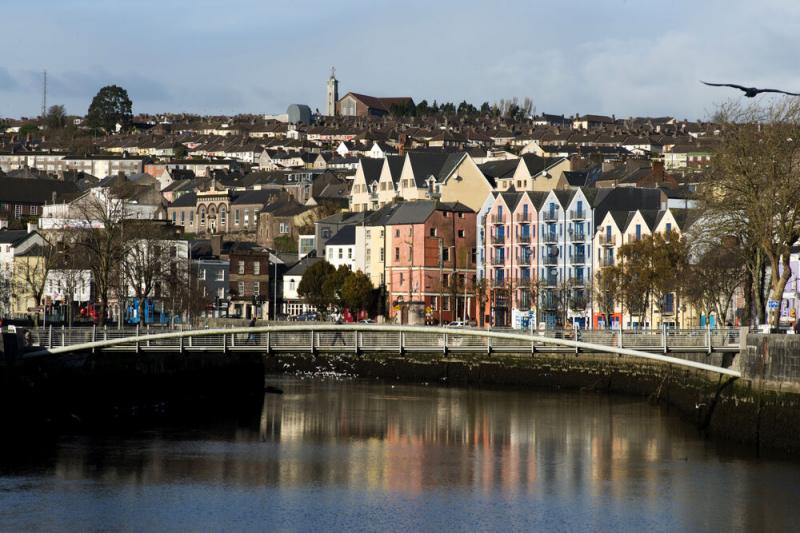 10 Top Tips for visiting Cork City :
1. Cork City is situated on the banks of the River Lee, which flows through the city in two main channels, so prepare to find yourself constantly crossing bridges! A wonderful city with an eclectic mix of chic artisan coffee bars and cosmopolitan restaurants along with more traditional tea rooms and snug pubs
2. Cork is home to the oldest yacht club in the world dating back to 1720, sailing continues to be a popular pastime, thanks to the magnificent coastline. Regattas take place from May to August all around the coast.
3. Cork has a reputation as a culinary paradise, where food is increasingly a cause for celebration. The region's artisan food producers join forces with the county's many famous restaurants to showcase Cork's tradition of fine food.
4. Known by the locals as 'the covered market', the English Market in Cork City is famous for the 'artisan' food which is sold there. Everything from bread, cheeses, organic fruit & vegetables, to tripe and drisheen! After wandering through this haven of food, few will leave empty-handed.
5. For art lovers, Cork offers the Crawford and Glucksman Art Galleries. Also recommended is a walk through the grounds of University College Cork to see the biggest collection of Ogham stones in Ireland.
6. Widely acknowledged as an architectural gem, St Fin Barre's Cathedral stands on perhaps the oldest site in Cork. This three-spired Gothic Cathedral was completed in 1879 on the site where St Finbarre is believed to have founded his monastery in the seventh century. Sense the history; join in worship in this spiritual building.
7. For evenings in Cork the choice of entertainment is varied. For theatre options consider the Cork Opera House, the Cork Arts Theatre, Triskel Arts Centre and the Half Moon Club. Cork also offers great traditional pubs with live music
8. Cork would really give Venice a run for its money when it comes to bridges, so to avoid any confusion and to get your bearings whilst learning all about the "History and Hotspots", climb aboard the Cork "Hop on, Hop off" City Tour and see Cork from on high. Join the open-top bus at Grand Parade. Tel: 021 4309090. Or, for the more energetic take a Walking Tour of the city, either in English or as Gaeilge! 087 700 4981
9. If you're feeling adventurous you might even like to do a boat trip out to Cork Harbour - regarded as the second-largest natural harbour in the world after Sydney Harbour. Ribs leave from the city centre throughout the summer months. Or better still, arrange a private charter and you can stop off at little towns along the way such as Cobh, Kinsale and Crosshaven. It is even possible to sail right out to Roches Point which is the mouth of the harbour, where you might spot dolphins or even the occasional whale.
10. Cork Harbour is also last docking place of the RMS Titanic before it continued on its fateful journey, as well as the resting site of the RMS Lusitania, which was torpedoed by the German military in 1915, and reportedly sank in just 18 minutes.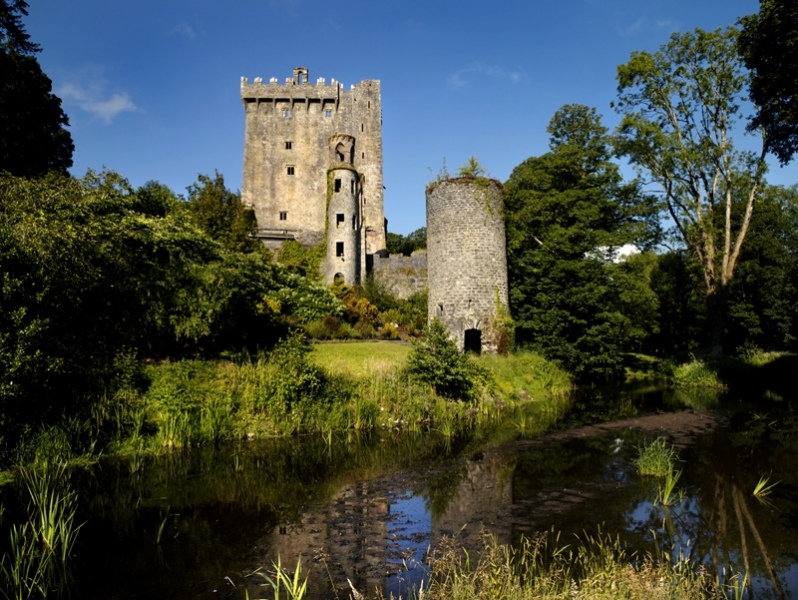 10 Top Tips for visiting Cork County:
1. Just 8km from Cork City is the picturesque town of Blarney. Visitors to Blarney Castle have the chance to kiss the Blarney Stone which, according to legend, confers eloquence or "the gift of the gab" on all who kiss it. If you want to get a word in edgeways in this 'chatty county' of Cork, be sure and get in line!
2. Bantry House & Gardens - Bantry House is not only one of the finest historic houses in Ireland, but it also commands one of the best views overlooking Bantry Bay in West Cork.
3. The Beara Peninsula is simply one of the most beautiful tourist routes in Ireland, and possibly the world. Dramatic scenery with small fishing villages. The Beara Peninsula is steeped in myths and legends. The mountains and valleys are rich in archaeological sites such as stone circles, wedge graves and other relics from the past. The scenic lakes cradled by gorgeous mountains and a rugged coastline with lots of great fishing spots
4. Follow the trail of the Jameson Distillery in Midleton through mills, maltings, corn stores, still houses, warehouses and kilns and view the largest 'pot still' in the world and see how the amber nectar is created. Better still, why not finish off with a taste of Jameson Whiskey?
5. One of the most progressive wildlife parks in Europe, Fota Wildlife Park is a great day out for all the family. With more than ninety species wandering in open natural surroundings, you have to keep your eyes peeled or you'll miss something. Be sure and bring a picnic to complete your outing.
6. Cobh – sometimes still referred to as Queenstown, as it was formerly called, is a colourful coastal village south-east of Cork city. It was here that the ill-fated Titanic made its last port of call. Retrace the steps of the 2.5 million adults and children who emigrated from Ireland via Cobh on Coffin Ships, early steamers and finally on the great ocean liners. Visit the Cobh Heritage Centre and discover the Queenstown Story.
7. Hold on to your hats on your visit to the Mizen Head Signal Station. Mizen Head is Ireland's most south-westerly point and the location of a dramatically–sited lighthouse above the Head's treacherous rocks. On the way descend the famous 99 steps and cross over the Arch Bridge where you may see dolphins, whales, kittiwakes & gannets. In the 17th century, Charles Fort was built on the eastern bank of Kinsale Harbour to protect the town. This was to provide cross-fire from a number of directions against any potential aggressor. Unfortunately, it was finally taken over when someone took advantage of it's weakest point, by firing down upon it from above.
8. Sheep's Head is a peaceful, unspoilt peninsula that has some of the most beautiful scenery in all of Ireland. Because of its proximity to the gulf stream, the area also has perhaps, the mildest climate in Ireland.
9. Glengarriff & Garnish Island - For generations, Glengarriff has appealed to visitors. The following compliment is attributed to Thackeray: "Within five miles around the pretty inn of Glengarriff there is a country of the magnificence of which no pen can give an idea". He was not exaggerating. You get a boat from Glengarriff to Garnish Island, the fabulous garden island, also known an Ilnacullin, snugly rests in Bantry Bay about a mile (11/2km) from Glengarriff pier.
10. Baltimore & Cape Clear Island - Cape Clear is a Gaeltacht area (Irish Speaking) and its wild romantic scenery, sparkling harbours, cliffs, bogs and lake all contribute to the island's unspoilt charm. Heather, gorse and wildflowers cover the rugged hills. Myriad stonewalls create a patchwork effect on the varied landscape. A wonderful place for walkers/hikers/adventurers.
Where to eat and stay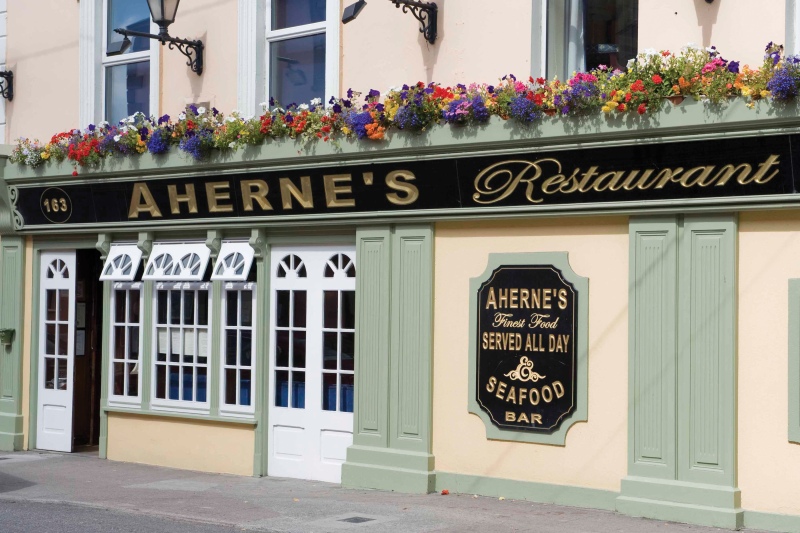 Aherne's Townhouse & Restaurant
A small luxury hotel in the heart of the pretty seaside town of Youghal (pronounced Yawl) Aherne's has a world-famous reputation for both its welcome, accommodation and for serving only the finest locally caught seafood.
Email: info@ahernes.net
Phone: +353 (0) 24 92424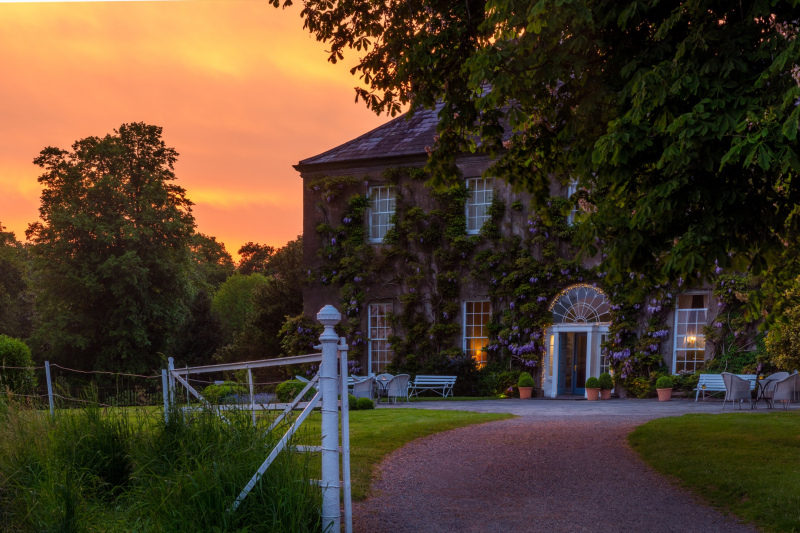 The beautiful Ballymaloe is a large farmhouse situated on a 400-acre farm about 20 miles east of Cork city. Ballymaloe is very well known for its fantastic food and is a great place to holiday with all the family, with its small golf course, tennis court and small outdoor heated pool (summer only).
Email: res@ballymaloe.ie
Phone: +353 (0) 21 465 2531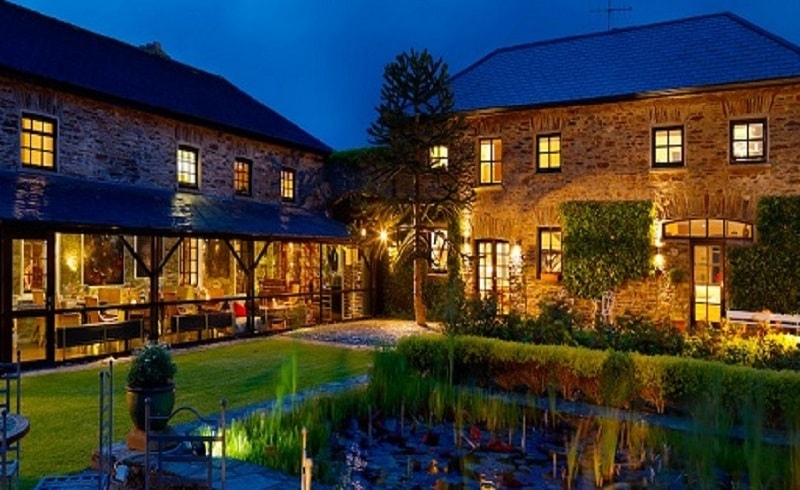 Tucked away in the corner of West Cork, this 250-year-old Georgian house comprising 3 beautiful suites and the restaurant converted from an old stable block all situated in the courtyard. Blairscove is famous for its buffet-style starters and open wood-fired grill.
Email: mail@blairscove.ie
Phone: +353 (0) 27 61127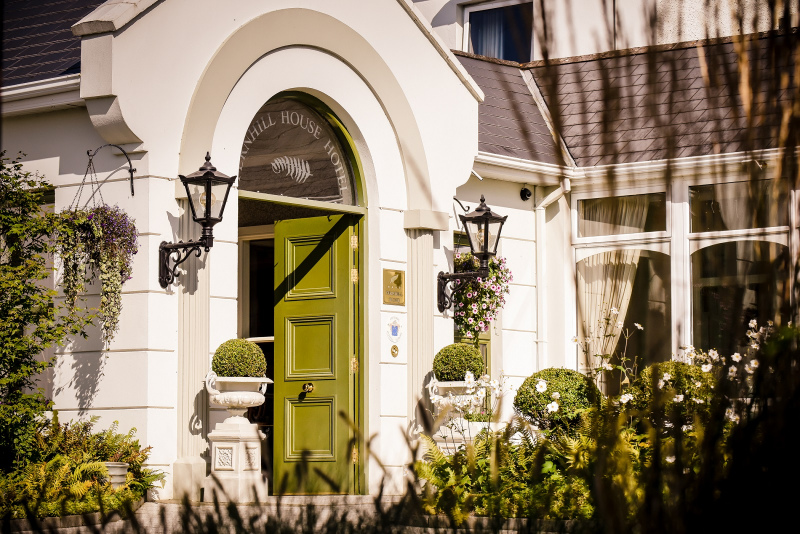 Adorned by acres of stunning gardens and overlooking Clonakilty's rolling countryside is the historic Georgian Mansion House of Fernhill. Fernhill's gardens are among the finest in Ireland and were designed by Chelsea Gold Medal winner Mary Reynolds. The gardens inspire everything at Fernhill including their own gin and food which features produce from their Victorian Walled Kitchen Garden. Sustainability and biodiversity are part of the experience at Fernhill which has led to their efforts being recognised nationally. The estate features a permaculture forest, bee meadow, protected ancient forest glen, growing its own produce, making its own gin, community tree planting projects, solar panels, its own well water for guests and many more. Fernhill is currently ranked as the 7th best hotel in Ireland on Tripadvisor and won the award for 'Irelands Best Wedding Venue' at the Gold Medal Awards this year.
Phone: +353 (0) 23 883 3258
Email: info@fernhillhousehotel.com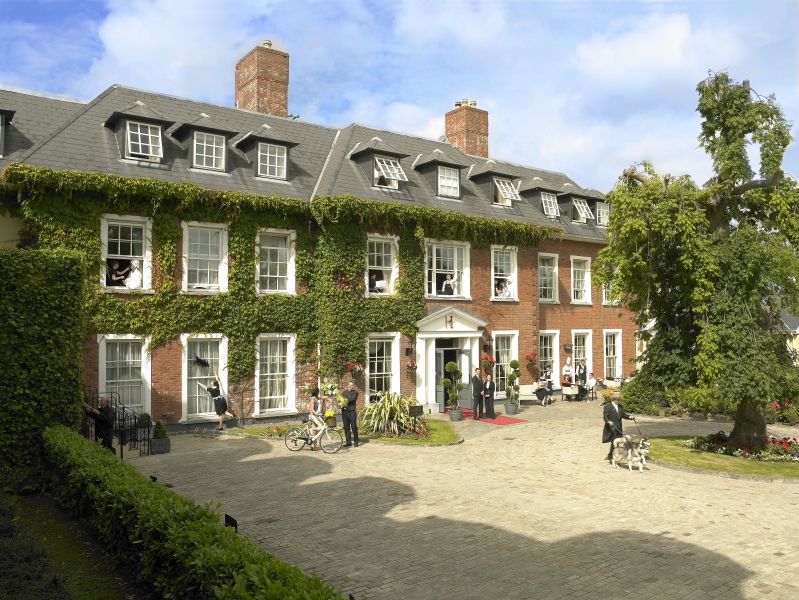 Heading back into Cork city whilst still retaining a touch of the countryside as Hayfield is tucked away in a leafy corner of mature gardens. With every modern convenience available in luxurious surroundings, life will be very pleasant here during your stay.
Email: enquiries@hayfieldmanor.ie
Phone: +353 (0) 21 484 5900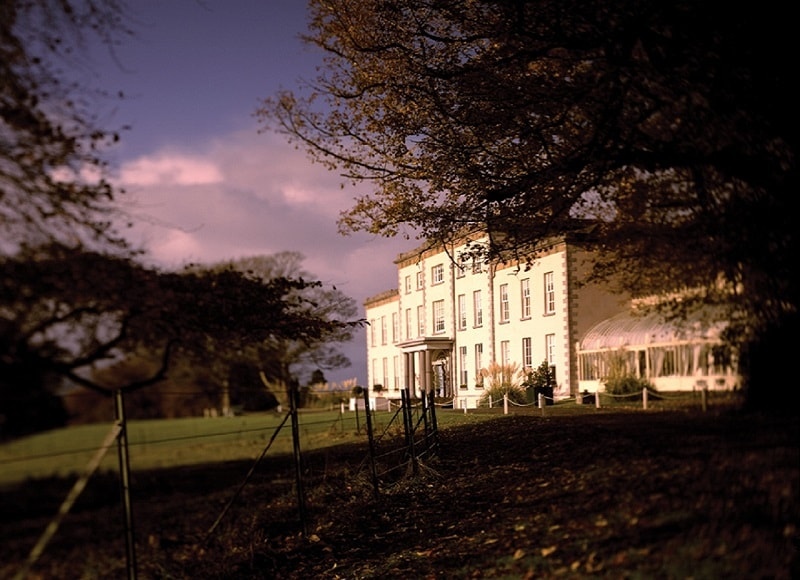 In the heart of the Blackwater Valley sits Longueville House owned & run by the O'Callaghan family. Take in a spot of fishing or shooting on the estate or go racing at the County Cork Racecourse just down the road. Dine in the Presidents Restaurant and try one of Michael's wines!
Longueville is also available for exclusive private rental, perfect for family or friend get togethers!
Email: info@longuevillehouse.ie
Phone: +353 (0) 22 47156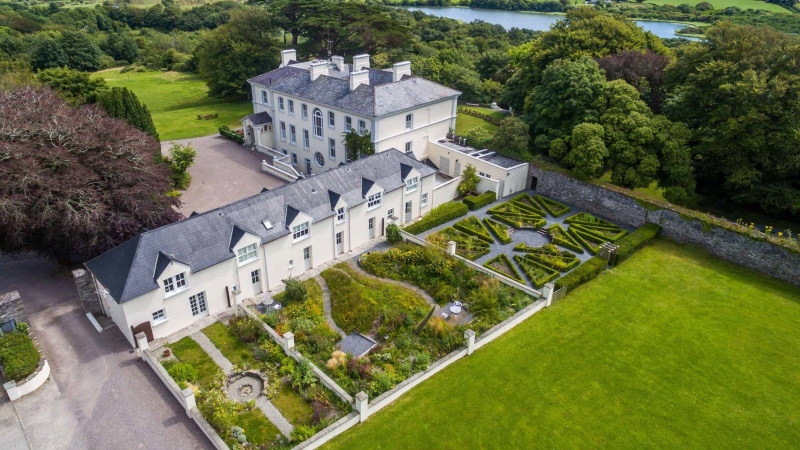 Protected by acres of greenery, Liss Ard Estate dates back to Victorian times. Nestled on 200 acres of undulating Irish countryside dotted with beautiful woodlands and a private 50-acre glittering lake, Liss Ard Estate is a place of enchantment and relaxation. Situated just one mile from Skibbereen village in beautiful West Cork, Liss Ard Estate is full of character and personality. It is the perfect Irish rural escape and offers a magical setting in which to respite. Liss Ard Estate offers a variety of accommodation to suit all tastes. Within this magnificent estate, we offer The Victorian Country House with its contemporary design, the adjacent Garden Mews and the Liss Ard Lake Lodge, a Victorian Dower house. In total there are 25 bedrooms, each one unique and welcoming and waiting to be explored. Whatever your choice of accommodation, a warm Irish welcome awaits you.
Email: reservations@lissard.com
Phone: +353 (0) 28 40000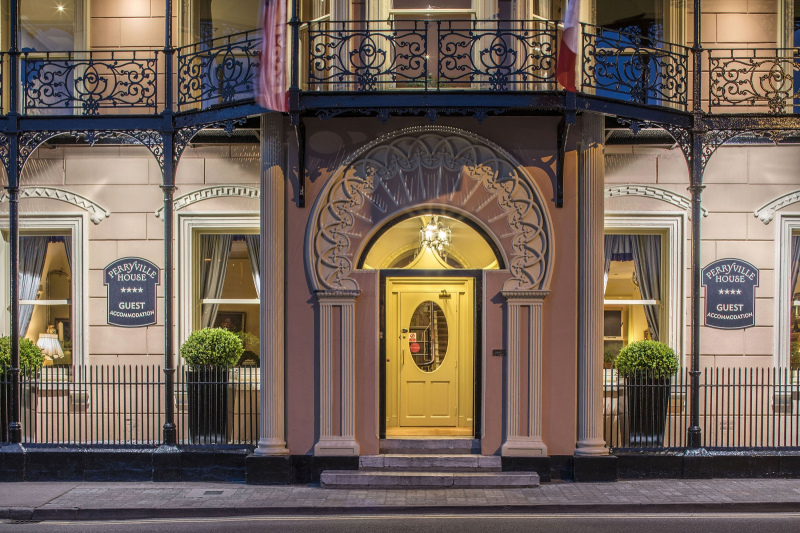 Perryville House is an elegant, period townhouse overlooking Kinsale Harbour. Built in 1820 and lovingly restored by the Corcoran family, Perryville House is now a warm, and light-filled boutique guesthouse. True to its original role as a private residence, Perryville House welcomes guests to enjoy the finest Irish hospitality & luxury accommodation – your first stop on the Wild Atlantic Way. Enjoy all the culinary delights Kinsale has to offer - all within walking distance.
Phone: +353 (0)21 477 2731
Email: sales@perryvillehouse.com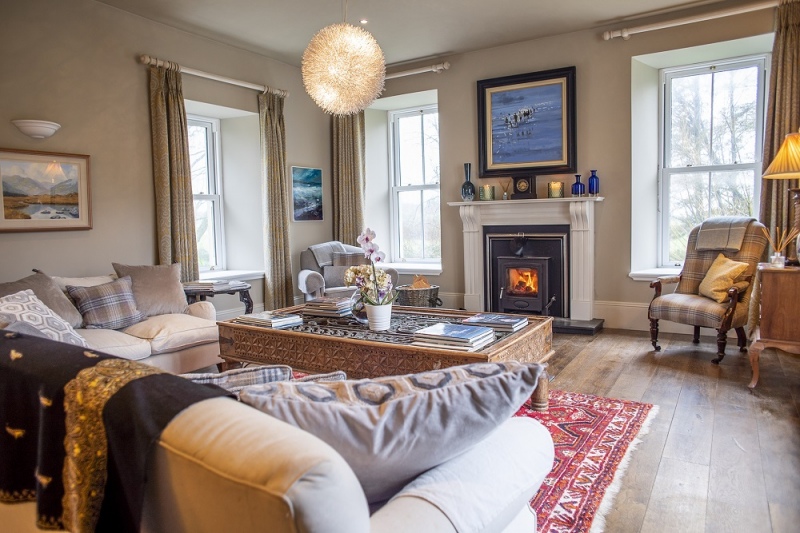 Dunowen House is a luxury 18th-century property on the Wild Atlantic Way, just ten minutes from vibrant Clonakilty town. Set in a stunning coastal headland location, the property is surrounded by private coves and unspoilt sandy beaches.
As a private rental property, when you book Dunowen House it is yours exclusively featuring six luxuriously appointed bedroom suites, a formal drawing room, dining room and large music and memorabilia room,
Email: info@dunowenhouse.ie
Phone: +353 (0) 23 886 9099