The art of falconry enjoys a rich heritage in Ireland, dating back to the arrival of the Normans in the 12th century. On a global scale, however, the sport can be traced back over 4000 years ago to 2000 B.C. In some parts of the world, the art of falconry evolved merely as a means of survival, however, in Europe, it was a sport associated with nobility, and hugely popular among the large family estates around Ireland. In fact, such was the popularity of the sport here that the export of hunting birds became a lucrative venture for breeders, and Ireland became renowned for providing some of the best hunting-birds in the world.
While the sport of falconry used to involve hunting game with trained birds of prey, today the attraction of the sport lies much more in close contact with the birds. Here are our favourite places around the country where you can enjoy your own falconry experience and learn more about these fascinating birds.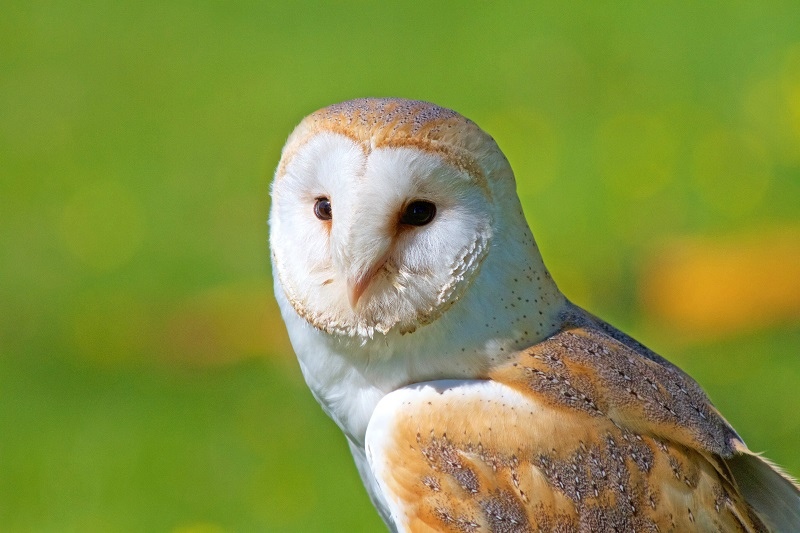 The 5 Star Mount Juliet Estate offers a selection of up-close-and-personal birds of prey experiences, depending on what you are interested in.
Hawk Walk
The Hawk Walk takes place over an hour, where guests can learn about the fascinating history of falconry, and then learn how to recall and catch the hawks while taking an easy stroll through the trees. After the Hawk Walk guests can get up close with the owls during the Owl Encounter, where they will learn how to handle the owls and have the opportunity to take some amazing photos and videos.
Falconry Experience
The Falconry Experience includes a simulated hunt, a hawk walk and an owl encounter. Experts will demonstrate the ancient art of falconry, showing how the hawks dive and snatch food out of the air. The "hunt" is simulated using a dummy "rabbit" which the hawk will chase and catch. Guests will then enjoy a hawk walk. Guests will also be taught how to recall the hawk from the trees, and then take over themselves. And finally, the experience will finish with an Owl Encounter.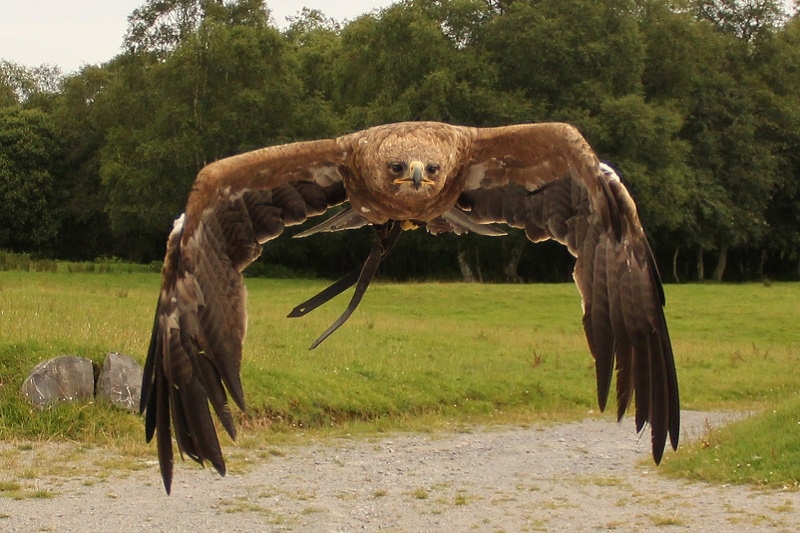 Coopershill offers two different falconry experiences, depending on the level of interaction you wish to have with the birds.
Hawk Walks:
An expert instructor will teach you how to cast your hawk into trees and recall it to land on your gloved fist as you walk through the ancient woods at Coopershill. As you walk, your hawk will follow you from tree to tree. The duration of the walk will be a minimum of 1 hour and is designed for two people per walk.
Flying Demonstrations:
If you are with a larger group, or if you simply prefer to experience the sight of these magnificent birds without the close contact, then the Flying Demonstrations at Coopershill might be for you. Experience some of the largest birds of prey in the world swooping low and hunting on prey-dummies in their natural environment. During the flying demonstrations, scientists discuss the biology of the raptors and their important role in nature and are on hand to answer your questions.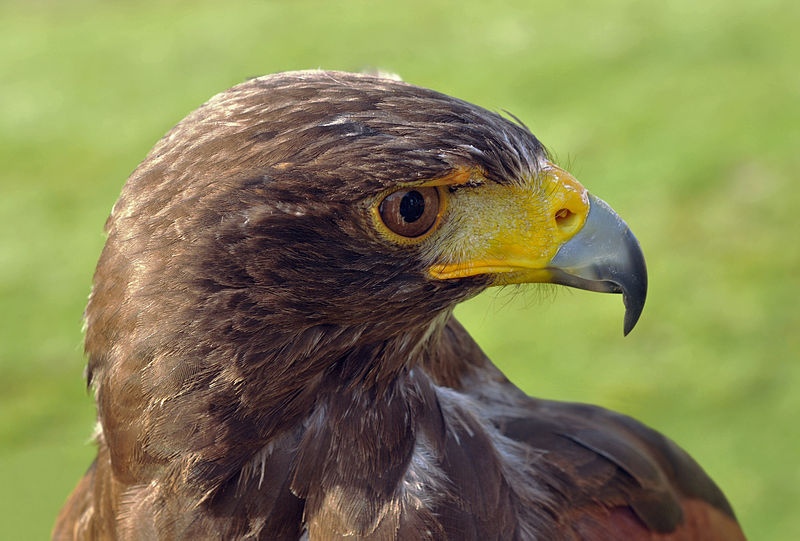 Ballyfin's Falconry experience is an exhilarating activity for people looking to do something a little bit different during their stay, get up close and personal with amazing, majestic birds of prey, and even learn a new skill. Guests will work with an experienced guide in learning the art of falconry, including how to handle the different birds and how to recall them from tree to fist.
Some of the different birds that guests will encounter include the Harris Hawk, Peregrine Falcon and Eagle Owl - all of this without even having to leave the beautiful grounds at Ballyfin Estate.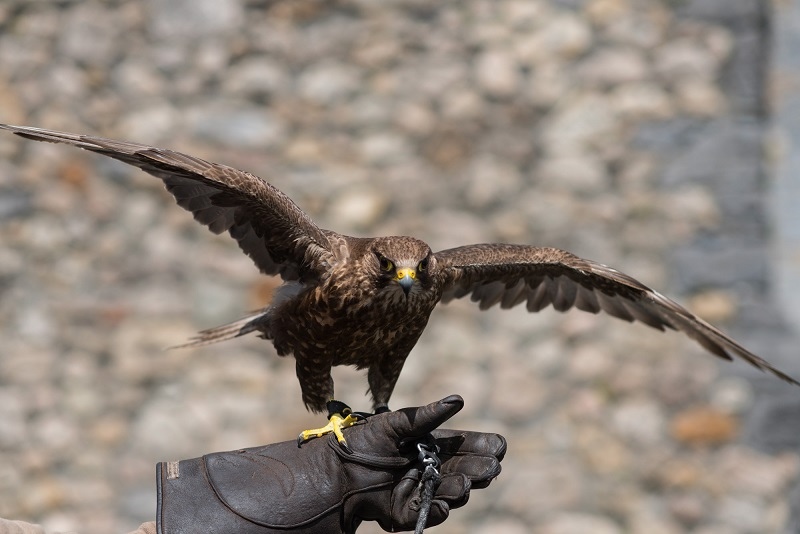 Enjoy an exhilarating close encounter with a range of beautiful birds of prey at the 5 Star Glenlo Abbey hotel, just outside of Galway City. You can get up close with hawks, eagles and owls within the beautiful grounds of the hotel, all with an expert guide to help you.
Why not take advantage of Glenlo's Fantastic Falconry Package, which includes a 2-night stay, cooked breakfast each morning, and dinner on the evening of your choice, as well as a one-hour falconry experience in the Walled Gardens with a trained and experienced falconer? You can also book your falconry experience separately if you inform Glenlo in advance.
5. Castle Leslie Estate, Co. Monaghan
Experience a unique insight into the noble and ancient art of Falconry at Castle Leslie Estate for a stimulating, unique, and memorable experience. The majestic, beautiful birds are captive-bred both in Ireland and abroad. They include different species of falcons, hawks, owls, and the magnificent golden eagle. With three different packages to choose from, there's somethig for everyone, from younger children and those who'd rather watch than interact to those who'd like to get up close and personal with these magnificent creatures.
6. Longueville House, Co. Cork
For a 90-minute Falconry Experience that makes for a lifelong memory, visit Longueville House in Cork. Beginning with an interactive 'meet the birds' session, where guests get to hold and photograph several species of Hawks, Falcons, and Birds of Prey, the experience ends with an opportunity for free-flying some of these facinating birds of prey. Static and flying falconry displays on the lawn can also be organised for resident parties and corporate groups.
7. Park Hotel Kenmare, Co. Kerry
Encounter the wild up close & personal on the Park Hotel lawns overlooking Kenmare Bay. This is an once-in-a-lifetime opportunity to interact first hand with one of nature's top predators while viewing their aerial acrobatics & maneuverability in free flight against the backdrop of Kenmare Bay & The Caha Mountains.
You might also enjoy:
Getting around on the Greenways
Summer Swimming - 6 Serene Spots for Wild Swimming