Wild Connemara Salmon Tartare From Rosleague Manor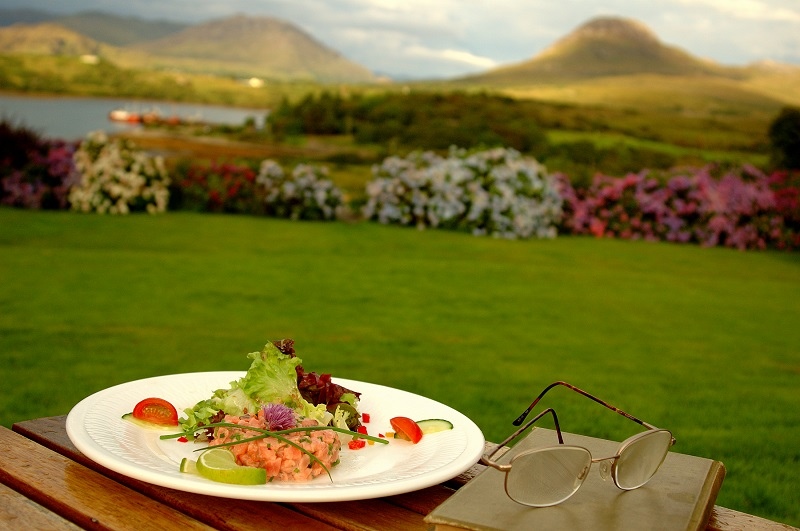 Simple is as simple does in a magnificently understated starter that owes its success to the exceptional quality of locally sourced ingredients

Serves 4:

Ingredients
9 oz / 250g wild salmon fillet

Juice of 1 lemon

1 tbsp/ 1 ¼ US tablespoon fresh coriander, chopped

1 tbsp/ 1 ¼ US tablespoon Olive oil

1 tbsp/ 1 ¼ US tablespoon fresh parsley, chopped

A dash of Tabasco

A Little Salt

A little cayenne pepper
Method:

1. Skin the salmon and check that there are no bones in it, then chop finely.

2. Mix all of the other ingredients with the salmon, seasoning to taste with a little salt and some cayenne pepper.

3. Serve immediately, with toasted brown bread
Cod with a Parmesan & Chive Butter Crust From Aherne's Townhouse in Co. Cork

Aherne's is renowned for the quality of the seafood served, which is landed at the harbour in Youghal and other nearby fishing ports. This is a simple dish for the home cook to make, and David likes to serve it with a provencal style fresh tomato sauce.

Ingredients - Serves 4
2oz/ 50g / ⅓ cup parmesan cheese, cubed
2oz/ 50g /1 cup chives, chopped
3oz/ 75g /¾ stick butter, cubed
2oz/50g/1 cup breadcrumbs
Salt and Pepper
4 x 7oz / 200g fillets of cod
Method
Place the parmesan cheese in a food processor, and process until the cheese is finely chopped, then add the chives and process again briefly to mix. Add the butter and breadcrumbs, then season to taste with salt and pepper.
Refrigerate for 1-2 hours until quite firm-like a green-speckled butter.

When ready to cook, preheat a hot oven 200°C/400°F/gas mark 6.

Pat the cod fillets dry with kitchen paper, then spread the mixture evenly over each one and place in a greased baking tin. Bake in the preheated oven for about 10 minutes, or unitl the fish is just cooked through-this will depend on the thickness of the fillets, which will be opaque when cooked, and flake when tested with a fork.

Serve with fresh seasonal vegetables.
Roast hake wrapped in Parma ham scented with lemon & herbs and parmesan butter from l'Ecrivain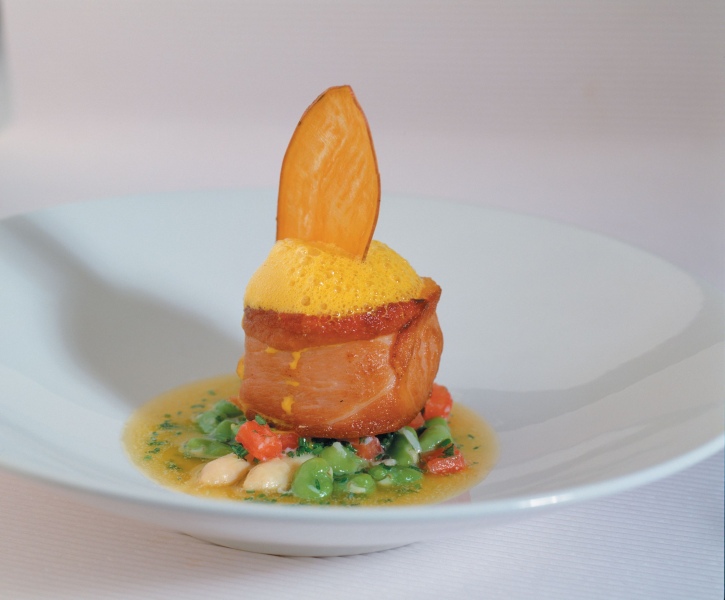 Roast hake wrapped in Parma ham scented with lemon & herbs ingredients
640 g fillet of hake, skinned,
pin bones removed
1 tablespoon salt
1 lemon, washed
1 tablespoon flat leaf parsley,
chopped
1 tablespoon coriander, chopped
½ clove of garlic, peeled &
crushed
4 slices of Parma ham
salt & freshly ground white pepper
25 g butter
1 tablespoon olive oil
Parmesan butter ingredients
100 g broad beans,
podded salt
50 g butter, softened
20 g Parmesan cheese, finely grated
juice of ½ lemon
½ clove of garlic,
peeled & crushed
1 tomato, skinned, deseeded
& chopped 1 small bunch of
mixed herbs (flat
leaf parsley, chervil, chives),
chopped
pinch of freshly ground
black pepper
Method

Roast hake wrapped in Parma ham scented with lemon & herbs
Bring a medium-sized saucepan of water to the boil, add 1 tablespoon of salt and the lemon. Cover the saucepan and simmer the lemon for 1 hour to make a lemon confit. Cool the lemon, remove the skin and
pith, and chop the flesh. Mix the chopped lemon with the parsley, coriander and garlic.

Lay a strip of clingfilm 65 cm x 25 cm on a work surface. Cover with a layer of slightly overlapping Parma ham. Lay the hake across the Parma ham and make a 1 cm incision left to right across its middle. Rub the lemon and herb mix into this and season with salt and pepper. Roll up the hake and Parma ham, securing with the clingfilm and tying both ends as tightly as possible. Refrigerate for 1 hour.

Preheat the oven to 190°C/375°F/gas mark 5. Remove the clingfilm and cut into four equal cylindrical portions. Heat an ovenproof frying pan. Heat the butter and olive oil in the pan and sear the ham-wrapped hake for 1 minute each side, then transfer the pan to the oven and roast for 10 minutes.
Parmesan butter method
Blanch the beans in a medium-sized saucepan of boiling salted water for 1–2 minutes. Drain the beans and skin them, using a small, sharp knife. Stir all the ingredients together in a bowl.

Method - Garnish
Make the crisp sweet potato from the Seared fillet of beef recipe on page 172.

To serve
Place a portion of cooked hake in the centre of each warm plate and top with a teaspoon of softened Parmesan butter. Insert a slice of crisp sweet potato into each piece of hake.