Situated on the edge of Deerpark Forest, these bespoke handcrafted luxury Shepard huts are a real back to nature experience without forgetting the luxury necessities. These huts overlook a wildflower copse, and each comes with full bathroom facilities, and open plan living area and a wood-burning stove in the corner so that your warm and cosy even on the most inclement of Irish days!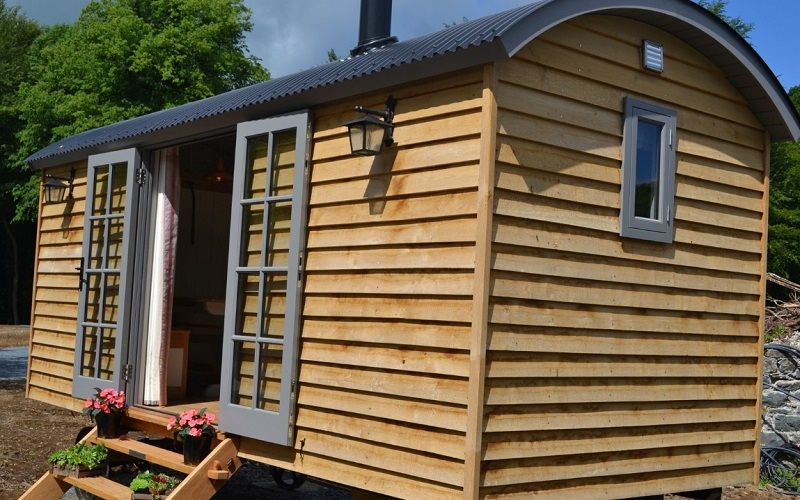 Take a walk down to the Lough Ramor, mosey gently through the walled gardens and enjoy your welcome hamper whilst taking in the stunning views. The Virginia Lodge staff will deliver a nutritious & hearty breakfast each morning of your stay, with all ingredients are sourced locally.
From: €140 per hut, Bed and Breakfast
For more information please see www.virginiaparklodge.com/woodland-huts or contact Virginia Lodge directly on +353(0)49 854 6100
2. The Hideaway at Dromquinna Manor, Co Kerry
The Hideaway is the ultimate in luxury camping. In reality, it is not camping at all but a luxurious en-suite bedroom in its own private grounds on an estate like no other. BBQ or dine in The Boathouse for dinner while a breakfast basket is delivered to your door each morning. Leave everyday life as you know it behind and reconnect with yourself and a loved one for an experience unlike any other.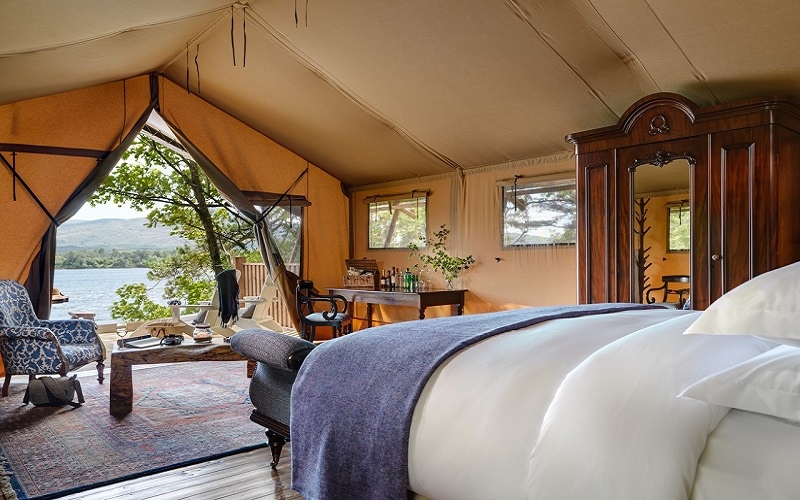 The view from your veranda is simply breathtakingly gorgeous. The blue waters of the Atlantic Gulf Stream lap the shoreline beneath as you sit in your Adirondack chair where the only, occasional interruption is a graceful flyby by your resident neighbour, the heron. Everyday life is on hold like never before. Your stay includes breakfast delivered to your Hideaway Tent each morning which includes yoghurt, granola, croissants, juice, and your choice of tea or coffee.
€350 per night, Bed and Breakfast
For more information please click here or contact Dromquinna directly on +353(0)64 66 42888
3. The Cosy Cabin at Dunbrody House, Co. Wexford
This cosy cabin offers guests a back-to-nature woodland retreat, perfect for those seeking to get away from urban life and experience a more relaxed private option. Set in the woods near the Dunbrody herb garden the only sounds that can be heard are the birdsong and cattle lowing.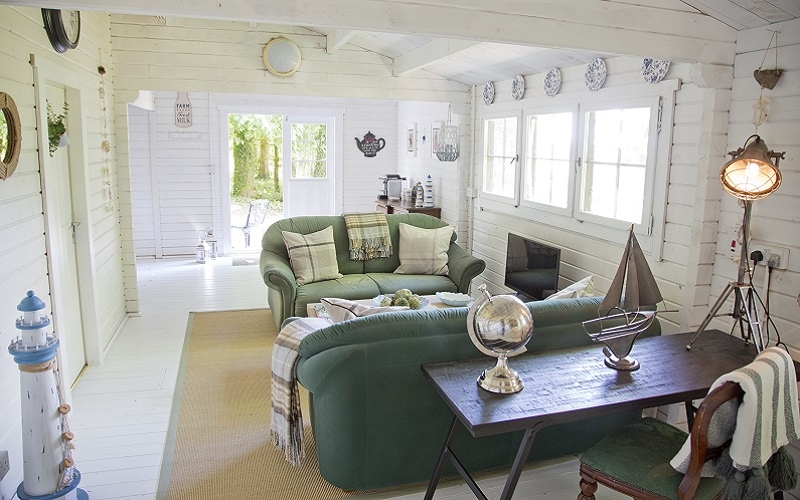 Overlooking the valley down to Arthurstown Harbour the cabin is decorated New England style with one double room and two singles, a lovely open space to sit and relax and a gorgeous terrace from where you can watch the sunset through the trees. Only a stone's throw from the main hotel you can still enjoy all the facilities and choose to dine in the restaurant, sip cocktails on the terrace of the seafood bar or head to the pub for a more casual vibe.
Although the cabin is not self-catering, you can choose to have breakfast in the Harvest Room Restaurant of the main house. Breakfast is offered as an additional extra.
For more information click here, or contact Dunbrody House directly on +353(0)51 389600
You might also enjoy:
4 Stylish Venues for your Next Family Get-Together