Slow-Roasted Leg of New Season Spring Lamb from Butler House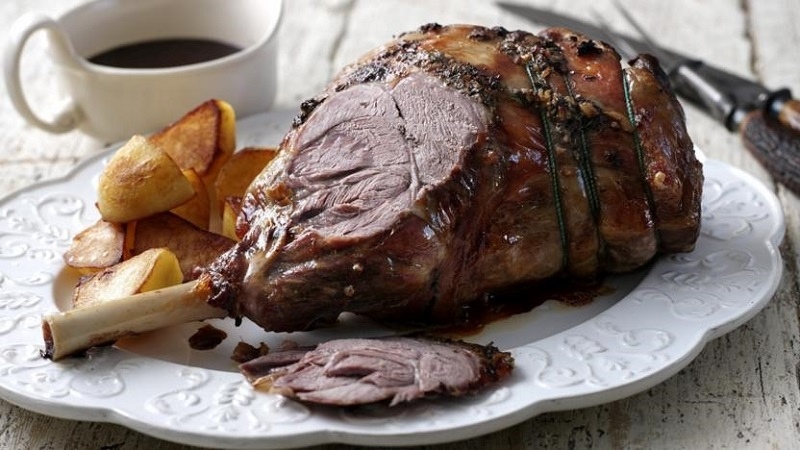 Ingredients:
For the Spring lamb
2kg/4½lb leg of spring lamb on the bone Grogan and Brown artesian butcher's Kilkenny.
For the Garlic and Rosemary Butter
3 large garlic cloves
25g/1oz butter softened
4–5 stalks fresh rosemary, plus extra for garnish
salt and freshly ground black pepper
For the Gravy
125ml/4½fl oz red wine
15g/½oz knob of butter
1 tbsp plain flour
Method
Preheat the oven to 200C/400F/Gas 6. Remove the lamb from the fridge and allow it to get to room temperature.
Make the garlic and rosemary butter. Peel the garlic cloves and grate them finely. Place into a bowl with the butter.
Strip the leaves off the rosemary stalks and chop finely. Add to the bowl with the garlic and butter. Season with salt and freshly ground black pepper and mash to a paste with a fork.
With a sharp thin knife or a metal skewer, make between 30 and 50 small incisions into the flesh of the lamb. They should be large enough for you to stick just your fingertip into.
Work the butter and garlic mixture into the lamb by massaging it into the meat, trying to work it into the holes that you've created.
Place the lamb in a roasting tin, cover loosely with foil and place in the preheated oven. As it heats up, the butter will melt and help the rosemary and garlic to work their way into the holes and really penetrate the lamb.
After 30 minutes, remove the foil and leave to roast for a further 50-60 minutes (for medium) or until cooked to your liking.
At the end of cooking time, remove the lamb from the oven and leave it to rest in the roasting tin for 10-15 minutes, with some foil on top to keep it warm.
Make the gravy. Heat a heavy-based frying pan on the hob. When hot, pour the pan
juices from the roasting tin into the pan (be careful as it may splatter). Add the red wine. Turn the heat down and leave the sauce to reduce.
To thicken the sauce, make a roux by mixing together the flour and butter in a clean bowl to make a paste. Add about a teaspoon of the roux to the pan and whisk well, until the sauce has the desired consistency.
To serve, slice the lamb and pour over the gravy. Garnish with a couple of stalks of fresh rosemary. This would be good with potatoes dauphinoise and fresh vegetables, for an Easter Sunday lunch.
Lamb Ragu with Rosemary Gnocchi from The Tannery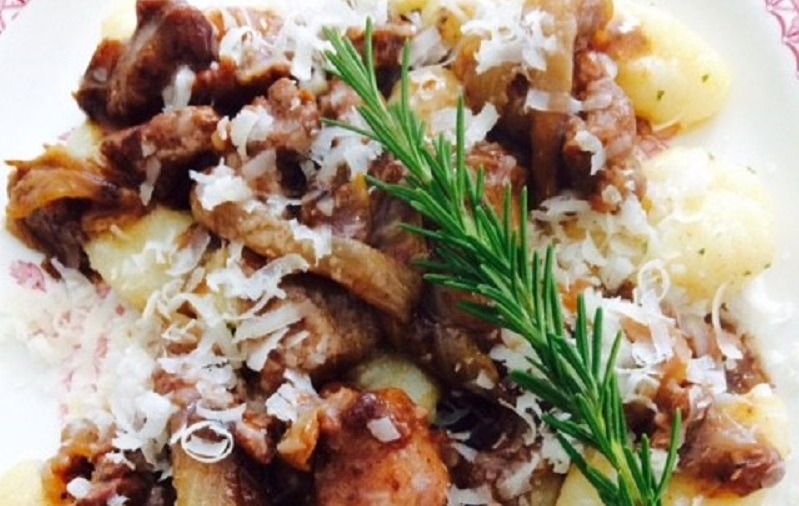 This is a deeply satisfying dish that has all the hallmarks of perfect Italian comfort food. A slow-cooked lamb stew with lots of melting onions served with buttery Italian dumplings and lashings of Parmesan.
It's important that you give the lamb the required time on the hob, it will be worth it in the end.
Serves 6
For the Lamb:
720g of diced, Irish lamb
4 yellow onions,(608g) peeled and sliced.
2 tbsp flour (30g).
3 tbsp olive oil.
4 cloves of garlic, (19g) peeled and sliced.
1 chicken stock cube, crumbled.
250mls of water.
3 tbsp balsamic vinegar.
Salt and pepper.
Method:
Set your oven to 160 degrees.
Turn the lamb in the flour, season and shake off the excess.
Heat the olive oil in an ovenproof pot over medium-high heat. When gently smoking, carefully add the lamb and the onions, cook on the hob for 15 - 20 minutes, turning occasionally to make sure everything caramelises evenly.
Add the garlic after 15 minutes or so, then add the balsamic vinegar, water and the stock cube. Bring to a simmer, cover and put in the oven for 1 hour.
For the Gnocchi:
1 packet of gnocchi,
2 tbsp of butter (80g).
A large chunk of Parmesan, (80g) grated.
A little chopped rosemary, thyme or sage.
Salt and pepper.
Method:
Put the butter in a largish pot and place on a medium heat, Cook the butter gently for 3-4 minutes without stirring, it will spit and fizzle along the way but that's ok. When the butter starts to turn nutty brown, remove from the heat and throw in the herbs then set aside. When ready to serve, cook the gnocchi as per packet instructions but the simple rule is when they rise to the surface they are cooked.
When draining, lift the gnocchi out of the pot with a slotted spoon and place into the warm butter, this will ensure that a little of the cooking water is added to the butter to form an emulsion.
Season and divide onto warm plates with the lamb Ragu on top, sprinkle generously with the Parmesan and serve.
Connemara Lamb, marinated in Port and Honey from Currarevagh House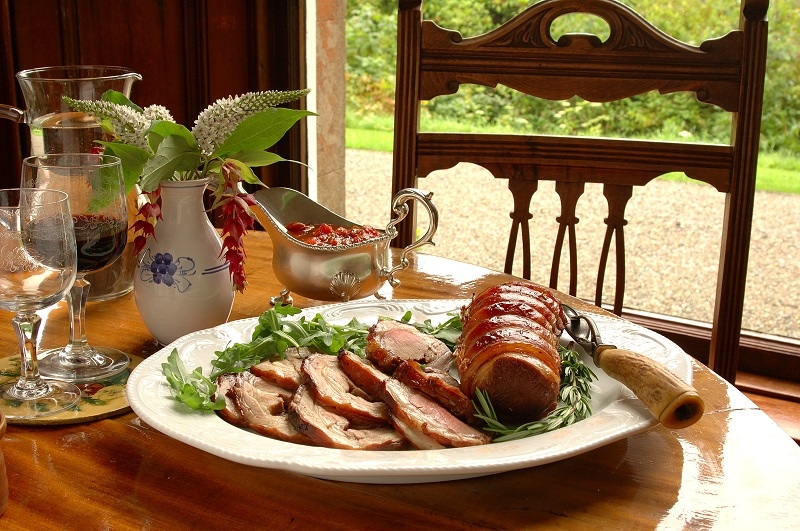 Connemara is renowned for its lamb and Currarevagh is supplied by local butchers in Oughterard. One full rack should be sufficient for nine people, so this recipe can be adapted accordingly. Get your butcher to bone the rack for you so that the marinade will permeate the meat easily. The minted chutney is an unusual alternative to the traditional mint sauce as an accompaniment.
Ingredients: (serves 9)
1 full rack of lamb (weight before boning about 5.5lb/2.5kg), boned
Marinade:
7 fl oz/ 200 ml/1 cup soy sauce
7fl oz/200 ml/ 1 cup port
7fl oz/200ml/ ¾ cup honey
5fl oz/ 150 ml/ 2/3 cup fresh orange juice
1 tbsp/ 1¼ US tablespoon balsamic vinegar
1 sprig of rosemary
Salt and freshly ground pepper to taste
Tomato and Mint Chutney:
15 fl oz/ 450 ml/ 2 cups brown sugar
15fl /450/ 2 cups red wine vinegar
2 14oz / 400g tins of plum tomatoes
2 Bay leaves
1 Bunch fresh mint, chopped
Method:
First make the chutney: Place all the ingredients, except the mint, in a saucepan. Bring to the boil slowly, stirring to dissolve the sugar, then reduce the heat and simmer very gently for about one hour or until it has reduced in volume by at least half. Remove bay leaves, stir in the mint and season to taste. This is best served hot, although it is also good cold.
To prepare the lamb: Mix the marinade ingredients and marinate the lamb in the fridge overnight.
Preheat a very hot oven, 220 C/ 425 F/ gas mark 7. Meanwhile, roll the meat neatly and tie with a string at 1 inch / 3cm intervals and then cut in half, to ensure even cooking. Place the meat in a large roasting tin and pour the marinade over it. Roast for 20 minutes and then leave to rest for a further 20 minutes or until you are ready to slice it. The meat will be tender and pink so, if it is preferred medium to well done, it should be left in the oven for a further 10-20 minutes. Slice and serve with seasonal vegetables and the Tomato & Mint Chutney.
Ring of Kerry Lamb Rack with Pickled Courgette, Baby Carrots, Salted Beetroot, Candied Pecans, Goats Cheese Mousse and Sage Cream from Carrig House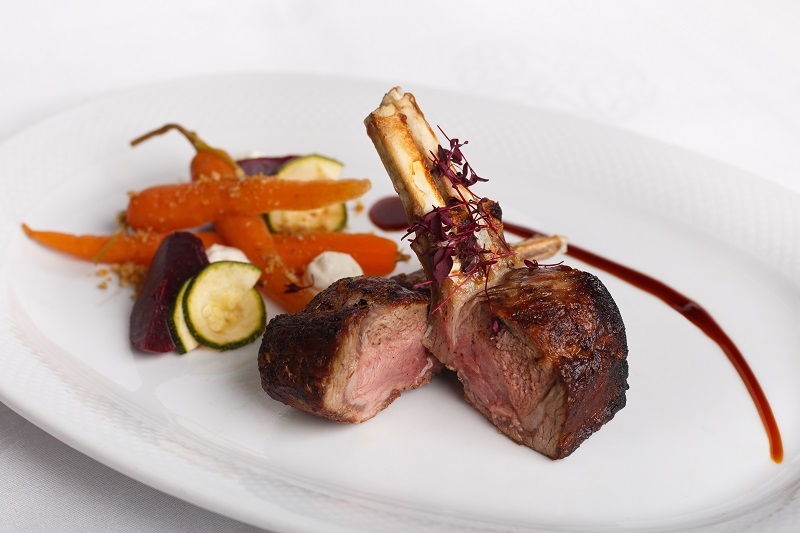 Ingredients:
1 eight-bone lamb rack trimmed
20g rosemary
garlic bulbs
seasoning
Picked Courgette:
½ courgette, thinly sliced
100ml white wine vinegar
100g caster sugar
100ml water
star anise
bay leaf
1/2 tsp coriander seeds
Baby Carrots:
200g baby carrots
400ml fresh orange juice
seasoning
Salted Beets:
3 baby beets
180ml apple juice
1tbsp coarse sea salt
Candied Pecans
100g caster sugar
100g pecans
Goats Cheese Mousse:
100g goats cheese st. Tola curd
30g créme fraiche
Sage Cream:
1/3 cup sliced shallots
2 tbsp sage
3/4 cup white wine
2/3 cup cream
Method:
Preheat Oven to 200°C (400°F) Gas Mark 6.
Cut the lamb rack into 2x4 bone pieces - season. Put in a container with garlic and rosemary and some olive oil and leave to infuse.
Candied Pecans:
Put sugar in a heavy-based pan and allow to go to a golden caramel colour. Add pecans and stir. Remove from the pot and our onto parchment paper. Allow to cool completely and roughly chop
Goat's Cheese Mousse:
Place goats cheese and créme fraiche in a bowl and beat well. Place in a piping bag and refrigerate
Courgette Pickle:
Boil up white wine vinegar, caster sugar, water, star anise, bay leaf and coriander seeds. Allow to cool completely and pour over courgette slives. Set aside to pickle.
Baby Carrots:
Boil orange juice. Wash carrots well and add to the boiled orange juice. Cook until al dente.
Set aside, keeping warm in the juice.
Salted Beets:
Wash beets well then cook in the apple juice until just tender. Peel and slice and season with sea salt. Set aside
Lamb:
Once infused, place lamb in a hot pan and sear well, place in the oven and cook for 8-10 minutes for pink lamb. Remove and allow to rest
Sage Cream:
Put shallots in a pot with a drop of oil and allow to caramelise. Add sage and white wine. Reduce by half and then add the cream and simmer. Season to taste.
Plate and enjoy
You might also enjoy:
7 Traditional Irish Recipes from Ireland's Blue Book
Traditional White Soda Bread Recipe from Ballymaloe House