The Ice House:The Bartra Suite

The Heritage rooms and suites marry the best of old and new. In the Bartra, Moy, Ox and Quay Heritage rooms and suites, the timeless furnishings and character filled design details lend these rooms a home away from home feeling but the extras take it to the next level. With monsoon showers, antique sinks and cedar wood baths in every room, this is one 4 Star Mayo hotel that you simply won't want to leave.
Castle Leslie: Desmond Suite

Desmond, as well as his stories, was always charming and larger than life. He stumbled his way through his education and finally ended up in Trinity College, Dublin. He joined the air force where he admitted to doing very little. However, as time went on, dinners at Castle Leslie Estate were consumed while listening to tall stories about his time as a dashing Spitfire pilot.
Desmond went on to marry an actress, Agnes Bernelle. They lived a thespian life in London and raised three children in between night clubbing with the likes of Mick Jagger and Marianne Faithful. During that time, Desmond wrote many novels including an international best seller about flying saucers.
After marrying his second wife Helen, he moved back to Castle Leslie Estatealong with two new daughters Samantha and Camilla. Here he became the country squire and concentrated on turning the Estate into a heavenly place to ride horses. He retired to the south of France but his heart always belonged to the green lake of Glaslough. He passed away in 2001.


The Merrion Hotel: Lord Monck and Lord Antrim Suites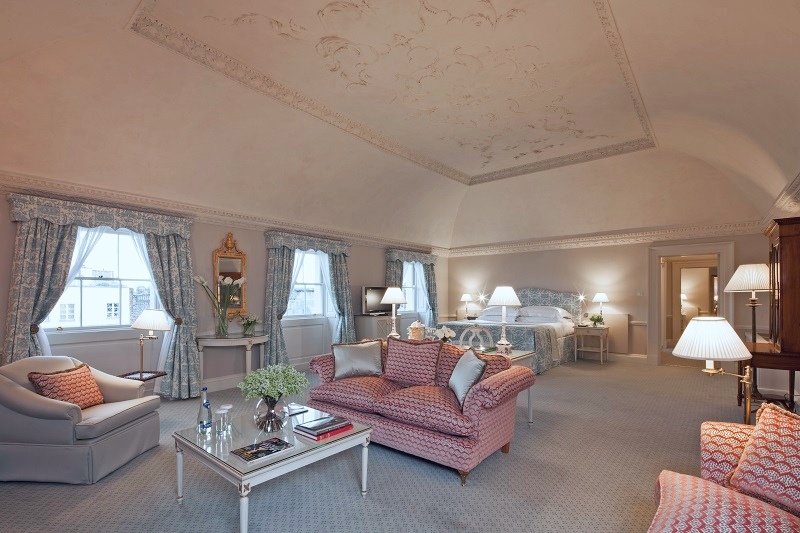 The Lord Monck and Lord Antrim Suites are the finest five star hotel suites in Dublin city centre. These spacious suites are located on the upper floors of the former No.22 and No.23 Upper Merrion Street and are filled with natural daylight. The Lord Antrim Suite looks out over Government buildings, while the Lord Monck Suite has views over The Merrion's private landscapes gardens.
The Wineport Lodge: The Champagne Suite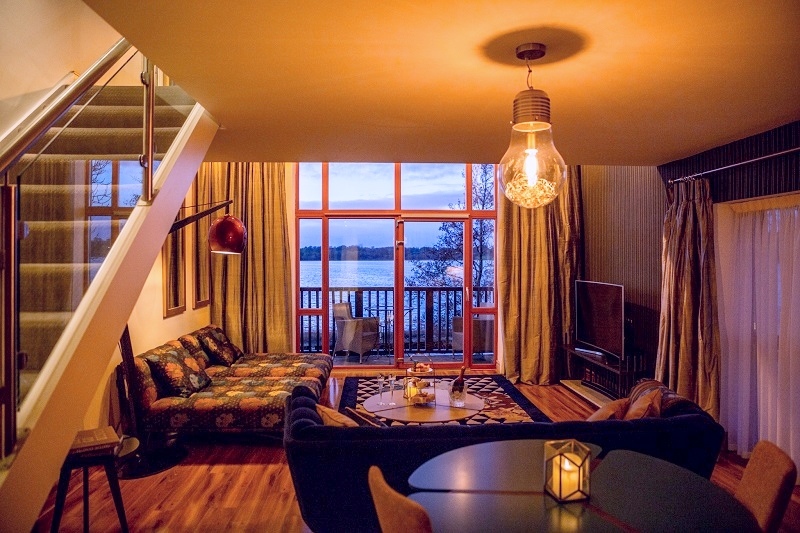 The Champagne Suite is one of a kind. Wineport Lodge's very best duplex suite has amazing double height windows, a spacious mezzanine floating bedroom with super king size bed and a gorgeous, light-filled large bathroom suite with monsoon shower and a fabulous cocoon like cradle bath.
Luxurious velvet and silk textures, a colour palette of sensuous midnight blues with gold accents and stunning furnishings by Roche Bobois create a space that's easy on the eye and soothes the soul.
Longueville House: Vineyard Suite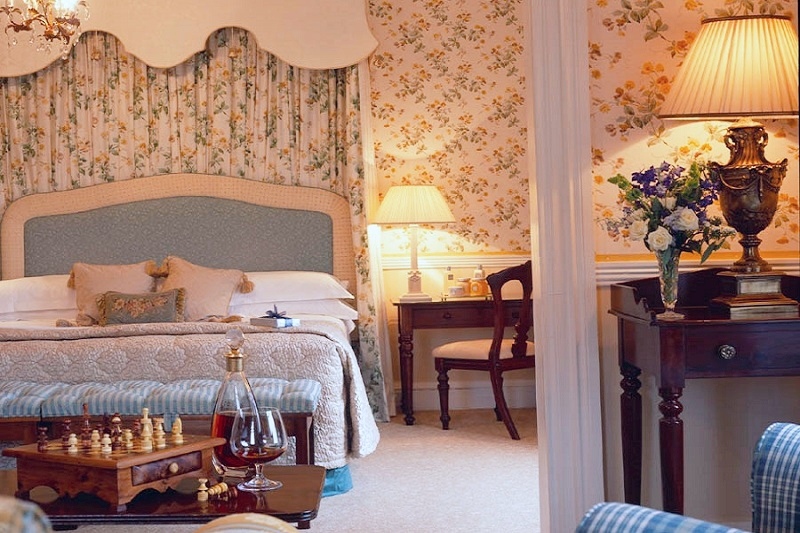 A Spacious, comfortable room with king size bed, separate sitting area, stylishly decorated in traditional country house style and free from the intrusion of televisions. It faces west overlooking the vine pergola and north overlooking the courtyard at rear of house. It has a large marble bathroom with walk in shower and seperate luxury sized bath. Located on the first floor. All of the bedrooms and suites are located on the first and second floor of house
Gregans Castle: The Martyn Suite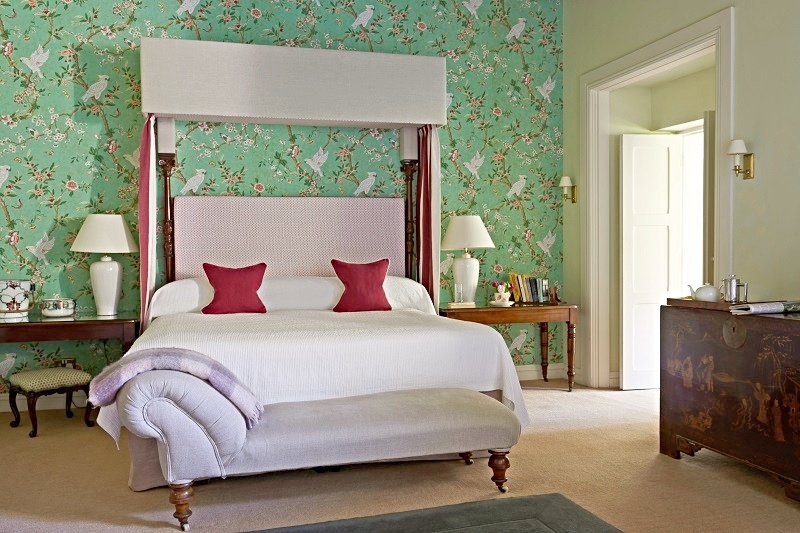 Unearth your inner literary fantasist with a stay in the magnificent Martyn Suite at Gregans Castle Hotel. One of the 3 main luxury suites in the hotel and dating from 1750 this suite was originally the great kitchen of the house retaining to this day it's giant cut stone fireplace with it's keystone of the Martyn coat of arms. In the 1940s it was turned into a restful oak ceilinged drawing room with a romantic private courtyard garden and during this time welcomed the two giant creative luminaries, JRR Tolkien and CS Lewis, who during the early 1950's were external examiners at University College Galway. These two men regularly sat by the very same enormous fireplace in this suite while staying at Gregans Castle as guests of the Martyn family after long days spent exploring the magical Burren landscape to examine it's unique flora and cultural history. Now a spacious romantic four poster bedroom with it's own light filled sitting room, the Martyn suite is the epitome of genuine Irish country house style and a secluded oasis of peace and comfort with the same idyllic rose filled courtyard garden as enjoyed by the two writers and a perfect setting to inspire your own work of genius.
Bushmills Inn: Master Distillers 1608 Suite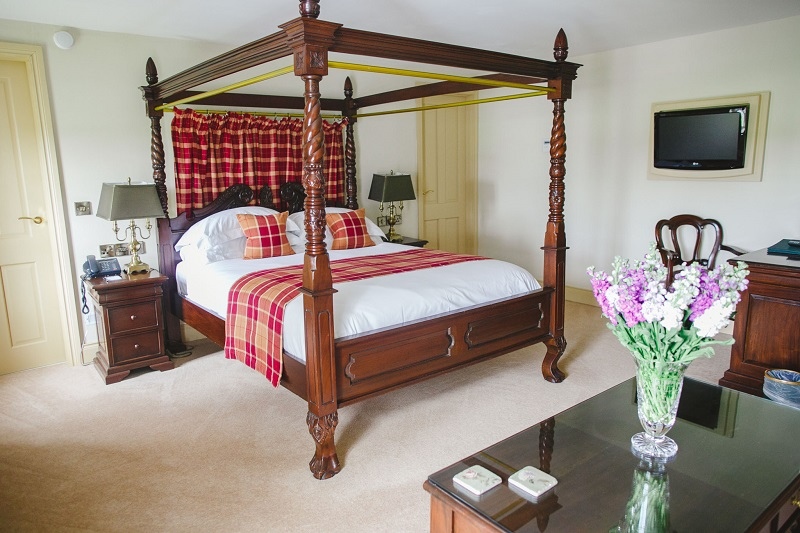 Each of Bushmill's 41 rooms and suites has been individually designed with unique character and charm to provide a sanctuary for all guests. They are all named after Irish whiskies and the feature Master Distiller's 1608 Suite (the year when Bushmills Distillery was first licensed to produce whiskey) is the ultimate Bushmills Inn experience with unrivalled views across the River Bush. An elegantly decorated bedroom with a four-poster bed, crisp cotton linens, a snug duvet, Ralph Lauren fabrics and a bathroom with slipper bath and luxury Elemis toiletries. A separate living area, with a Nespresso coffee machine, plump sofas and music system, is beautifully finished in soothing tones. Why not open a bottle of bubbly and drink in the views from the balcony?
Glenlo Abbey: The Presidential Suite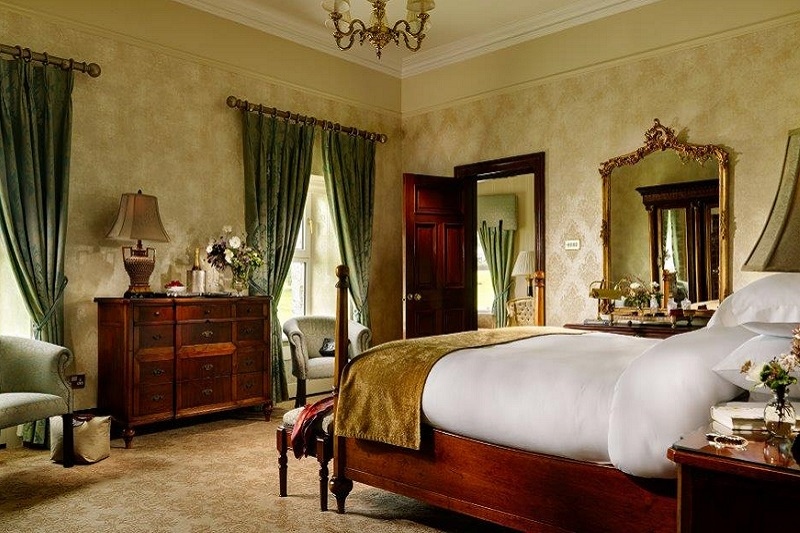 Glenlo Abbey is a luxurious 5 Star Hotel located just minutes outside of Galway city, The Presidential Suite is located in the main house, retaining many of the original features such as high ceiling and sash windows, and consists of a welcome lobby, large bedroom with an interconnecting living room and adjoining roof terrace. Escpae to an oasis of pure relaxation with fine fabrics and textures in warm natural tones that complement the beautiful Connemara landscape.
Ballyfin Demesne: The Lady Caroline Suite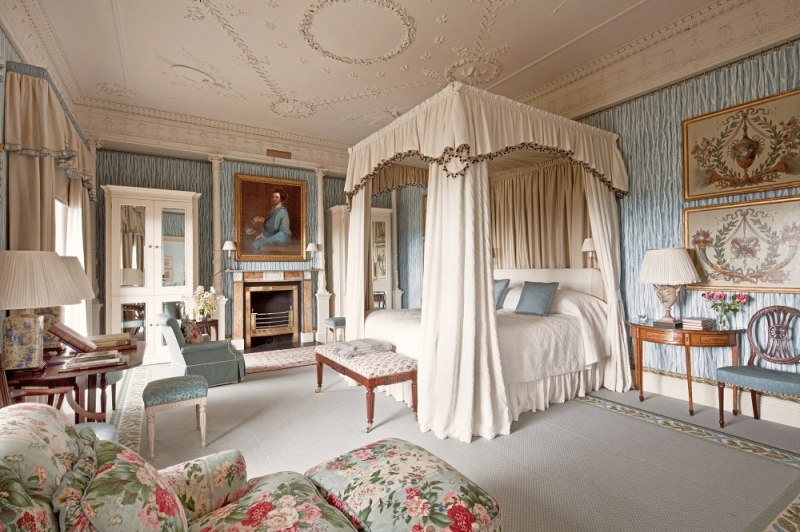 Ballyfin Demesne, at the foot of the Slieve Bloom Mountains in Couty Laois, has 8 extravagent suites, all individually designed to mirror the unique style of the original house.
The Lady Caroline Coote Room is among the most pleasingly elegant bedrooms at Ballyfin. The decoration with a vivid, electric blue wallpaper transforms the room into a suggestive tent-like structure. It perfectly reflects the interest in textiles seen in interiors of the Empire period. The suite overlooks the beautiful grounds of the Ballyfin estate.
Cahernane House Hotel: The Herbert Suite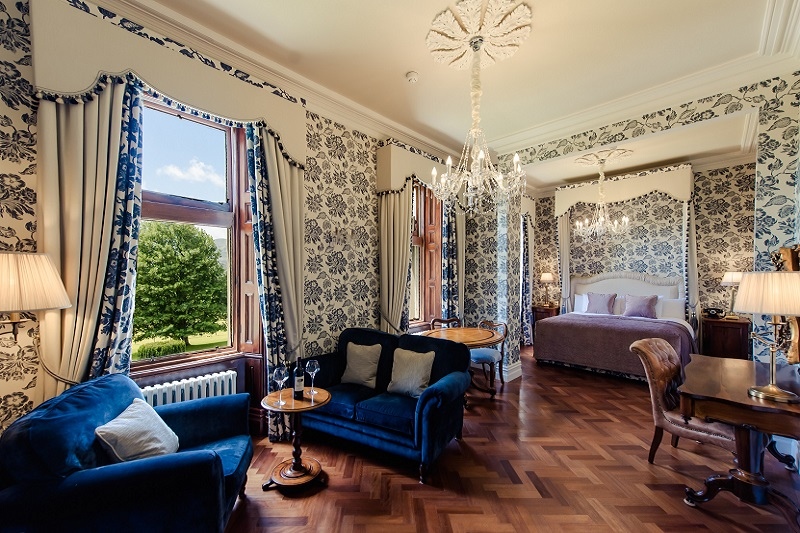 Cahernane House Hotel is an elegant historic country house in Killarney, County Kerry, with an 8 bedroom Manor House, 28 room Garden Wing and now a new coach house with an additional 8 bedrooms. The Herbert Suite is at the heart of Cahernane House Hotel, with high ceilings, bay windows, and anviable views of the gardens to the mountains of the National Park beyond. Situated on the first floor, the suite includes a spacious lounge area with restful sofas, writing desk and antique furniture. The king size bed and plush furnishings ensure a blissful night's sleep.
You might also enjoy: