Four Fabulous, Fresh Fruit Recipes for Summer from Ballymaloe House
If you're looking for a fresh summer dessert to serve up at a garden party, BBQ or just a warm summer evening then look no further than these fruity recipes from Ballymaloe House
Elderflower Lemonade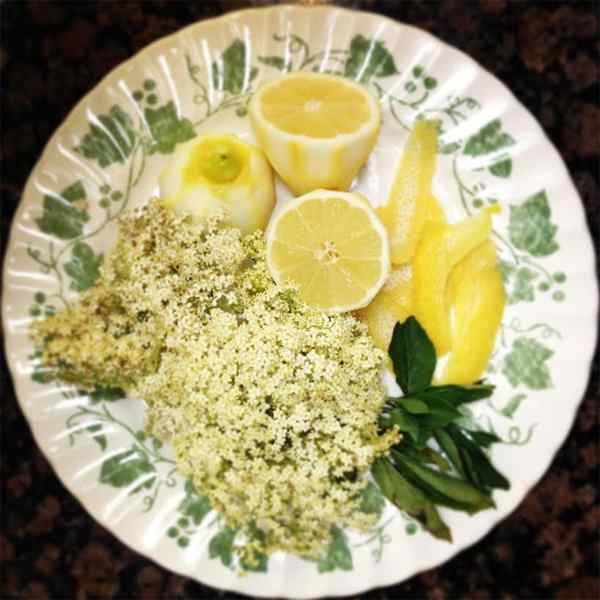 Ingredients:
For the Elderflower Syrup
Makes 400ml (14fl oz)
225g (8oz) sugar
300ml (10fl oz) water
20 elderflower heads
To make the stock syrup: Put the sugar, water and elderflowers into a saucepan. Bring to the boil. Boil for 2 minutes then allow it to cool. Store in the fridge until needed.
For the Lemonade:
3 lemons
225ml (8fl oz) elderflower syrup (see recipe)
750ml (1 1/4 pints) water
ice
elderflower heads
Juice the lemons. Add the syrup and water. Mix and taste. Add ice and elderflowers to garnish.
Yoghurt and Cardamom Cream with Sugared Strawberries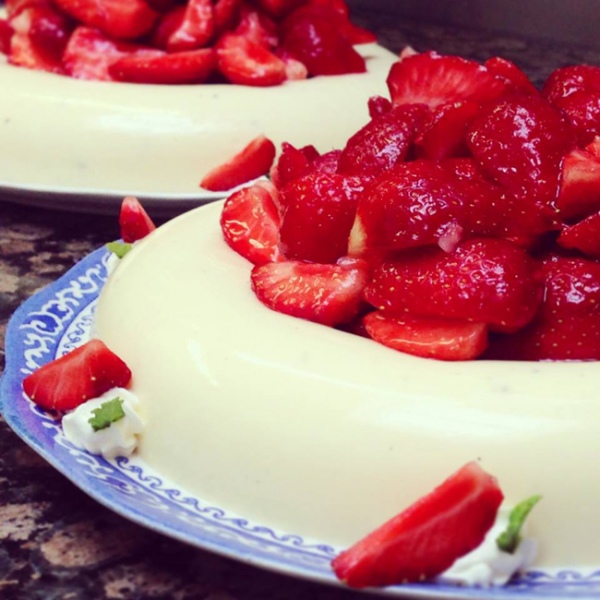 Ingredients:
425ml (15 fl ozs/scant 2 cups) natural yoghurt
225ml (8 fl ozs/1 cup) milk
150g (5 ozs/generous 1/2 cup) castor sugar
200ml (7 fl ozs/scant 1 cup) cream
1/4 teaspoon cardamom seeds, freshly ground - you'll need about 8-10 green cardamom pods depending on size
3 rounded teaspoons powdered gelatine
450g (1lb) strawberries, castor sugar and mint leaves to garnish
Method:
Put the milk, sugar and cream into a stainless steel saucepan with the ground cardamom, stir until the sugar has dissolved and the mixture is warm to the touch. Remove from the heat and leave to sit to infuse while you dissolve the gelatine. Sponge the gelatine in a small bowl with 4 tablespoons (4 American tablespoons + 4 teaspoons) of cold water. Put the bowl into a saucepan of simmering water until the gelatine has melted and is completely clear. Add a little of the infused milk mixture and stir well and then mix this into the rest. Beat the yoghurt lightly with a whisk until smooth and creamy, add into the cardamom mixture. Pour into a well-oiled ring mould or 8 individual moulds. Allow to set for several hours, preferably overnight.
To Serve:
Just before serving, slice the strawberries lengthways, sprinkle with a little castor sugar and toss gently. Spoon the sugared strawberries into the centre of the ring mould over the top of the yoghurt and cardamom cream. Decorate with sprigs of fresh mint or lemon balm. * To crush cardamom seeds, remove the seeds from 6 or 8 pods and crush the seeds in a pestle and mortar or between 2 sheets of silicone paper with the bottom of a saucepan.
Fresh Strawberry Shortcake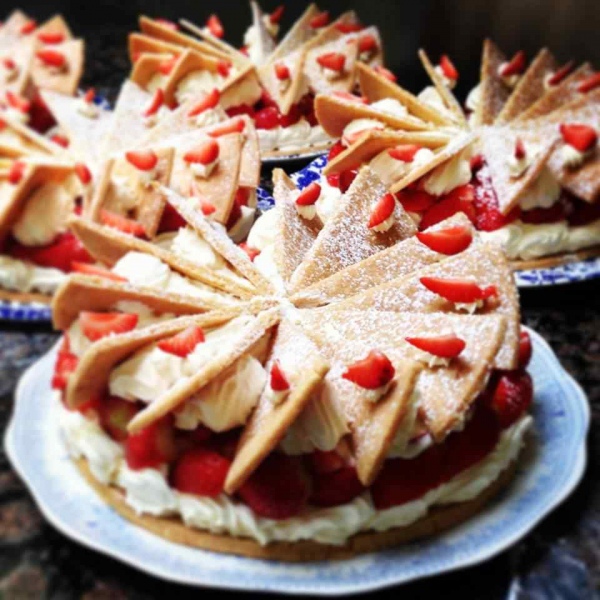 Ingredients:
6 ozs (175g/1 1/4 cups) flour
4 ozs (110g/1 stick) butter
2 ozs (50g/1/4 cup) castor sugar
1/2 lb (225g) strawberries
8 fl ozs (250ml/1 cup) Chantilly cream - whipped sweetened cream
1 teaspoon icing sugar
1/4 teaspoon pure vanilla extract
6 - 8 whole strawberries and fresh mint leaves to garnish
Method:

Rub the butter into the flour and castor sugar as for shortcrust pastry. Gather the mixture together and knead lightly. Rest for a few minutes if you have time.
Roll out into 2 circles 7 inches (17.5cm) in diameter, 1/4 inch (7mm) thick. Bake in a preheated moderate oven 180°C for 15 minutes approx or until pale golden. Remove and cool on a rack. One circle may be marked with a knife into wedges while still warm, to facilitate cutting later.
Shortly before serving the sandwich with chantilly cream and halved sugared strawberries. Sieve icing sugar over the top and decorate with rosettes of cream, whole strawberries and fresh mint leaves.

Note: Individual strawberry shortcakes may be made with 3-inch (7.5cm) discs of shortbread.
Cut the strawberries lengthways and brush with red currant jelly if available.
Raspberry Fool
Ingredients:
450g/1lb/4 cups raspberries
340g/12oz./1 1/2 cups sugar
120ml/4 fl. oz./1/2 cup water
470ml/16 fl.oz./2 cups whipped cream
1 egg white
Method
Liquidise and then sieve raw fruit. Dissolve sugar in water. boil for 1 minute and leave to cool. It should set to a jelly. Boil again, if it does not. Mix to taste with fruit and add whipped cream and stiffly beaten egg white.


Find more fantastic recipes from Ballymaloe on their website
You might also enjoy:
3 Refreshing Summer Pimms Recipes
Ballymaloe's Honey Mousse with Lavender Jelly
Ballymaloe's Lemon Meringue Pie Recipe