The Wild Atlantic Way is a 2,500km stretch of coastline between Cork and Derry on Ireland's west coast, covering many popular Irish tourist attractions and showcasing some of Ireland's most breath-taking natural scenery. It is one of the most popular tourist driving routes in the country and had been on my bucket list for longer than I was proud of. Finally, in September 2019, the plan was made, the car was packed, and I was on my way.
If I learned one thing from my adventure along the Wild Atlantic Way is that distances in Ireland are longer than they appear. While I wanted to cover as much of the famous driving route as possible within our 5 day limitation, H (friend and superb driver) and I were advised not to attempt too much, lest we spend all our time on the road.
And we were right to heed the advice, and even with this in mind we spent a lot more time in the car than planned. We bumped along tiny, winding roads for hours, got caught with a 4x4 barrelling towards us in the opposite direction, and had to reverse half a km before it could safely pass us, and waited patiently, just outside Skibbereen, as a herd of cows passed in front of us, crossing from one field to another.
This all being said, I learned to love the time spent on the road as much as that spent wandering and sightseeing. Each bend brought before us more stunning scenery, cliff views, golden beaches, gorse-covered misty mountains, rocky terrain speckled with sheep, and, like a child at Disneyland, I was enchanted by every bit of it.
Day 1
Hitting the Road
We left Dublin early on a sunny Friday morning, the car packed with umbrellas, raincoats, sunglasses and factor 50. Bases covered, we were off.
We crossed the country through Kildare, Laois and Tipperary, stopped briefly to take a ferry across the river in Cobh, and then stopped to take a quick stroll around the colourful village of Kinsale, which I lamented we could not spend more time in. Mostly though, the day consisted of driving, more driving, a periodic exclamation of "cows!" from one of us, every so often, and then a bit more driving. The road between Cobh and Skibbereen (our first stop) was beautiful, a combination of coastline, countryside and picturesque villages.
Overnight – Liss Ard Estate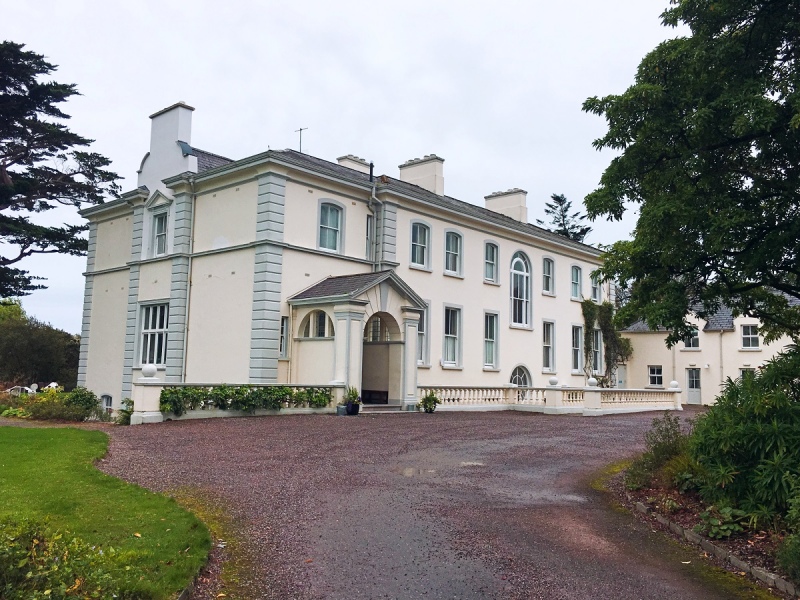 After 6 hours on the road, it was a wonderful relief to arrive at Liss Ard Estate. The house is set on 163 acres which include woodlands, a lake and a piece of land art intriguingly called the 'Sky Garden'.
First, we checked into our gorgeous Garden Mews room. The decoration is not at all what you would expect from an Irish manor – clean and minimalist with sliding panels separating the main room from the bathroom. It felt like the perfect place for a relaxing night away, or something like a yoga retreat, and definitely ideal for two tired ladies after half a day spent on the road.
We relaxed with a glass of wine by the fire before dinner. Having had nothing to eat since leaving Dublin that morning we were ravenous. Everything on the menu sounded delicious but I decided on a starter of cured mackerel followed by the indulgent-sounding fillet steak with a beef dripping fondant potato. I nearly wept tears of joy when it was placed in front of me. Afterwards, full to the brim and unable for dessert, we retired to our cosy beds, excited for day two.
Day 2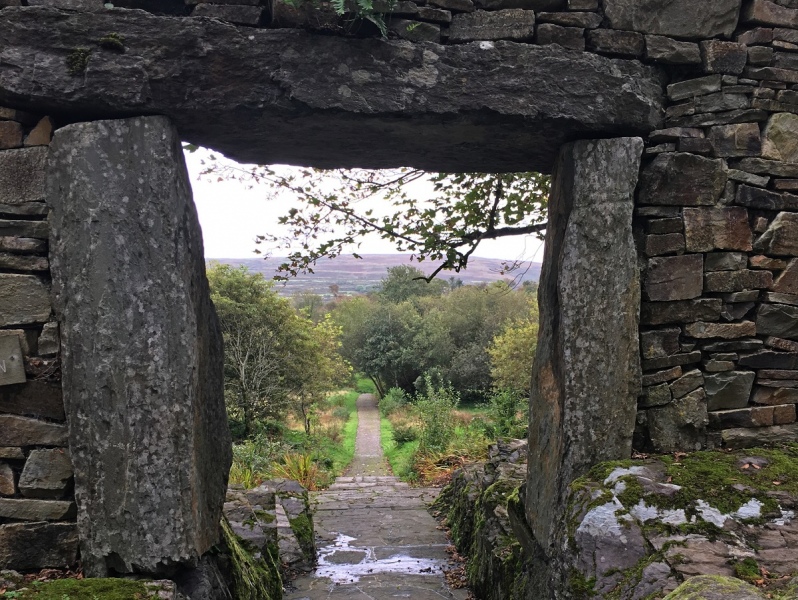 We woke early to have breakfast and explore the estate. A ramble through the peaceful woods brought us to the famous Sky Garden. Designed by James Turrell, the Sky Garden consists of a large oval-shaped, grassy crater, with a stone plinth placed at the centre. It is designed in such a way that when the visitor lies face up on the plinth, looking straight up, the edge of the crater creates a perfect frame of the sky above.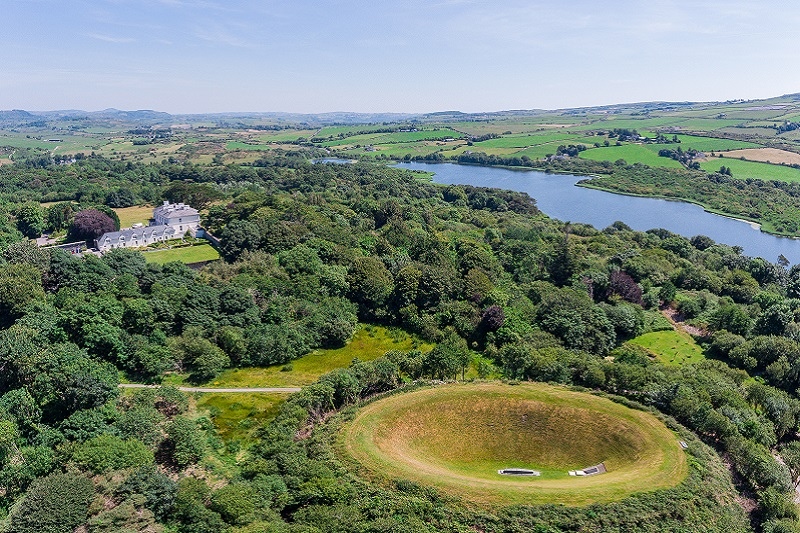 We explored further through the woods, stumbling across the Lakeside Lodge, which would be an idyllic place to stay and get away from it all, overlooking the lake and the rolling hills of the surrounding countryside.
Finally, we accepted that it was time to get back on the road and on with our trip.
Crookhaven
Our next stop was the tiny village of Crookhaven on Ireland's most south-westerly tip, and about an hour from Liss Ard Estate. It has a full-time population of just 59 people, but this swells in the summer months with holiday-home-owners that are undoubtedly drawn to the beautiful waterfront location and gorgeous views.
We stopped off, and it was pouring with rain. This may have slightly muted the aesthetic but took nothing away from the charm of the village, which gives the feeling of being on the edge of the earth, surrounded by water on a small peninsula, almost cut off from the rest of the island. After popping into O'Sullivan's (one of the two village pubs) for a quick bite, and having a look around the few shops that were open, we continued on our way.
Mizen Head
Mizen Head is the most southerly point in the whole country and not far from Crookhaven, so, in spite of the rain, we were keen to have a look.
We explored the visitor centre, which had plenty of interesting information and offered some nice views, however, we decided not to pay the entrance fee to the bridge walk and signal tower. While we tried our hardest to muster an "it's only a bit of rain" attitude, we couldn't quite manage it. I could imagine how awe-inspiring the place must be in better conditions though, and resolved to return in future,
Overnight - Killarney Royal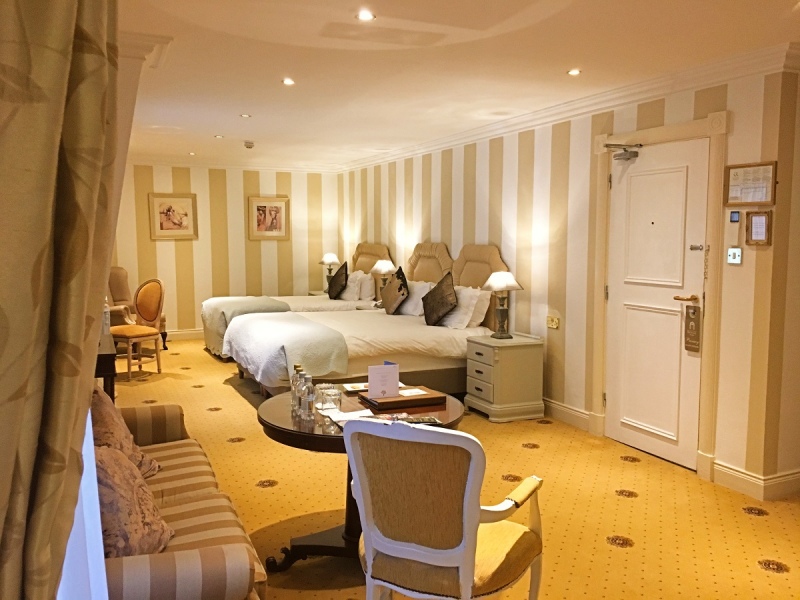 Oh, and we were spoiled! I can't imagine any place more welcoming than the Killarney Royal after a day spent sightseeing in the rain. Dripping all over the lobby, we sipped a complimentary glass of whiskey while Malcolm and Claudia told us all about the hotel and Killarney itself. We went up to our room to make ourselves presentable before dinner, and honestly, I could have foregone dinner just to stay a little longer in the room. Sumptuously decorated in gold and cream and with the softest bed that I've ever flopped down upon.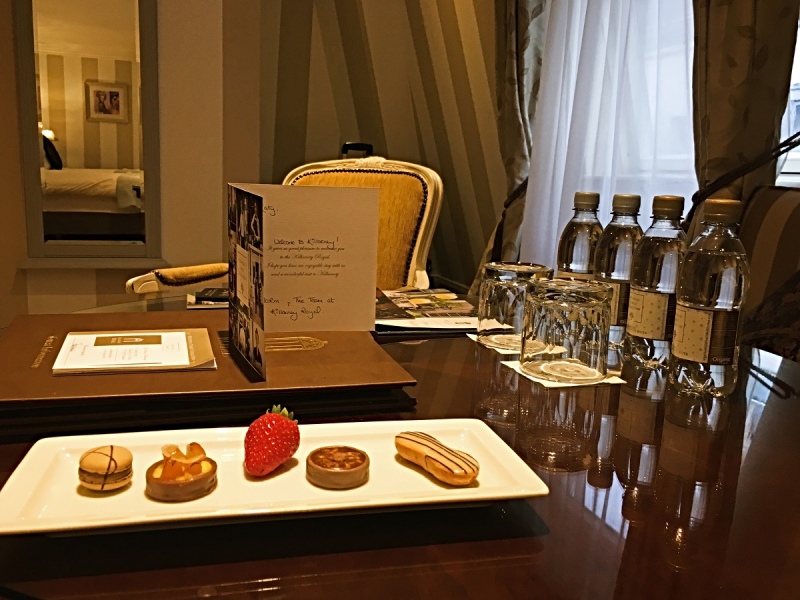 We dragged ourselves away for dinner and I'm so glad we did. The Candle Room restaurant is elegant while still feeling relaxed. The food was delicious. I chose crab to start with, followed by seabass that came with the most buttery mashed potato! I was already stuffed but I have never turned down a sticky toffee pudding in my life and wasn't about to start.
As we were there on a Saturday night, we headed out to explore the town after dinner to find a bit of live music. We weren't disappointed. Killarney is perfect for an evening out - energetic and lively, big enough to provide plenty of choice but small enough to stroll around with ease.
Day 3
We rose early for breakfast, eager to make the most of our time in Killarney, and aware of the long drive ahead of us to County Clare. Breakfast was also served in the Candle Room and there was a huge choice of delicious juices, fruit, bread, pastries and cold meats and cheese laid out on a big table for guests to help themselves. Cooked breakfast was also available and my fuel of choice was Irish smoked salmon with scrambled egg, which was delicious and set me up for the day ahead.
Killarney National Park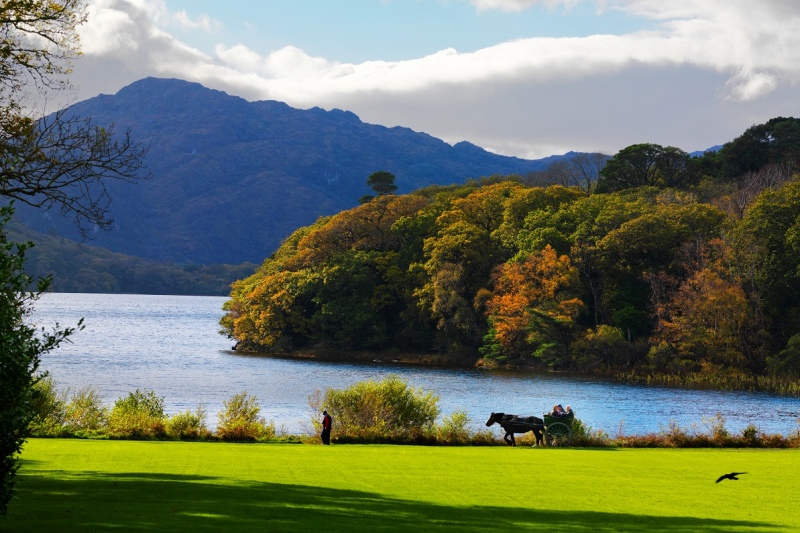 After breakfast, we blew off the cobwebs exploring Killarney National Park. It was idyllic, with the mountains and lake in the background and the wide-open expanses of green space and woodlands. After the rain the day before, it was like we had gotten on a plane and flown south a few hours, as the sun shone down on us. After a long walk that took us about 10km around the park, we were back on the road, heading for Dingle
It's hard to describe how gorgeous the scenery on our route was. We made a quick stop off at Inch Strand because after seeing it from the road we couldn't not. The beach was huge and completely flat, stretching out in each direction, the sun bouncing off the sand and the water. It was just beautiful.
Dingle
Dingle is one of the most colourful villages I have ever seen. The sky was a bright blue, and the sea a darker one, with the sun sparkling off the surface.
As we were only there for a short stop, we didn't go on a Fungi-spotting expedition but rather strolled easily around the village, had a look in the various craft and souvenir shops, and shared a plate of chips from a seafront food truck. If there is anything better than hot chips eaten sitting on a wall looking out on the sea, I don't want to know what it is.
The drive from Dingle to Doolin took about 3 and a half hours so it was evening by the time we arrived and already dark. We were a little slow off the mark booking accommodation in Doolin. However, we found a B&B not too far outside of the village, which suited us perfectly.
Doolin is a lively place, and with the cliffs so nearby, it's hard to imagine an evening where the pubs aren't full of toe-tapping Guinness drinkers, enjoying a trad session. Having arrived late we headed out to explore, torches in hand (apart from the main street and the lights from the houses, there are no street lamps or other sources of light. The night was moonless and I couldn't see my own hand, even inches from my face.) We visited McGann's Pub for a bit of traditional music. It was packed with tourists and locals alike all enjoying the music and convivial atmosphere. I got the feeling, sitting there, that this is exactly what tourists coming to Ireland are looking for, and I can see why.
Day 4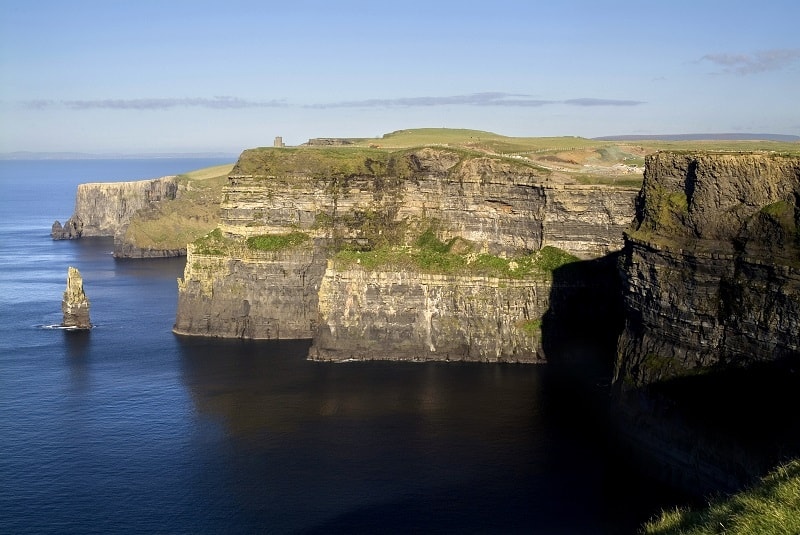 Cliffs of Moher
My main reason for undertaking this trip was to visit the Cliffs of Moher. The cliffs are one of Ireland's most popular tourist attractions with over 1.5 million visitors a year. And for good reason, the cliffs are incredible to look at, rising 200 metres from the ocean, sheer and imposing, and stretching for miles in either direction.
Unfortunately for us, the weather refused to cooperate that day, and the rain pelted down. Unlike with Mizen Head, there was no question of staying in the car. While my friend took a quick glance out over the cliffs, oohed and ahead for a few minutes and snapped some photos, before deciding to check out the visitor centre. I, ever stubborn, decided to get whatever I could from the experience and trudged squelchily up the path to explore. I didn't get far, once I had climbed over the stile separating the paved pathway from the natural one along the cliff edge, the terrain became so flooded and slippery I had to turn back after a few hundred metres. Slippery mud and cliffs didn't seem, to me, to be a great combination.
The visitor centre was packed when I got back inside, the downpour having force many to retreat inside. The visitor centre, though crowded, was worth a visit. There's a nice birds-eye interactive video of the cliffs, lots of additional information, and of course a gift shop and tea rooms where you can warm up (or dry off).
Burren Perfumery
Still soaked to the skin after our visit to the cliffs, we were craving comfort, and found it at the Burren Perfumery. Getting there takes a bit of effort – countless windy roads that seem to get narrower and narrower and make you think that there couldn't possibly be a thriving business at the end of these.
The Burren Perfumery is an Irish family business that creates beautiful organic products, including skincare, candles, perfumes, soaps and even herbal teas. They also create lovely gift sets, perfect to bring home from your trip. They also have tea rooms on the premises, which serve up homemade and organic cakes, and scones, sandwiches and soups. I enjoyed a pot of tea and the largest individual portion of carrot cake I have ever seen. That being said, it was so delicious that I almost polished it off. The only thing that stopped me was the thought of dinner at Rosleague Manor to come.
Father Ted House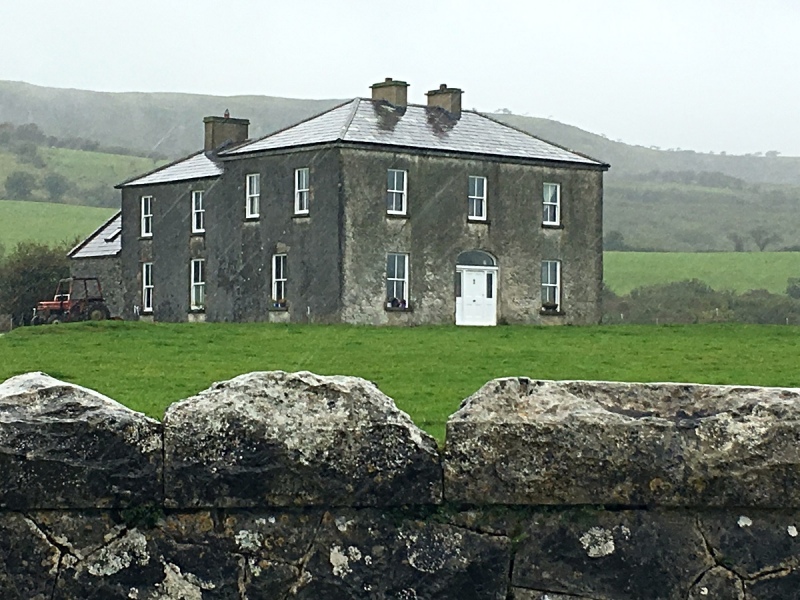 Of course, we stopped here for a picture. The name of the property is actually Glanquin Farmhouse, and apparently, if you contact the owners in advance, you can visit the house and they'll even make afternoon tea for you! This seemed a bit intrusive though, so we contented ourselves with appreciating it from the road.
Rosleague Manor
I was smitten with Rosleague Manor as soon as I saw it from the road – a pretty pink house overlooking the sea. Our room also had a sea view and was beautifully decorated in keeping with the time period of the property.
We arrived at Rosleague Manor earlier than any of the other hotels we stayed in, likely due to our desire to spend a couple of hours of the day feeling warm and dry. After changing, we found our way to a firelit drawing-room and had a blissful hour playing chess and enjoying a pre-dinner drink.
Despite the enormity of the slice of carrot cake I had consumed mere hours earlier, I left barely a scrape of my four-course dinner on the plate. I started with the creamiest carrot and coriander soup, followed by crab claws drenched in butter and then duck for my main.
Day 5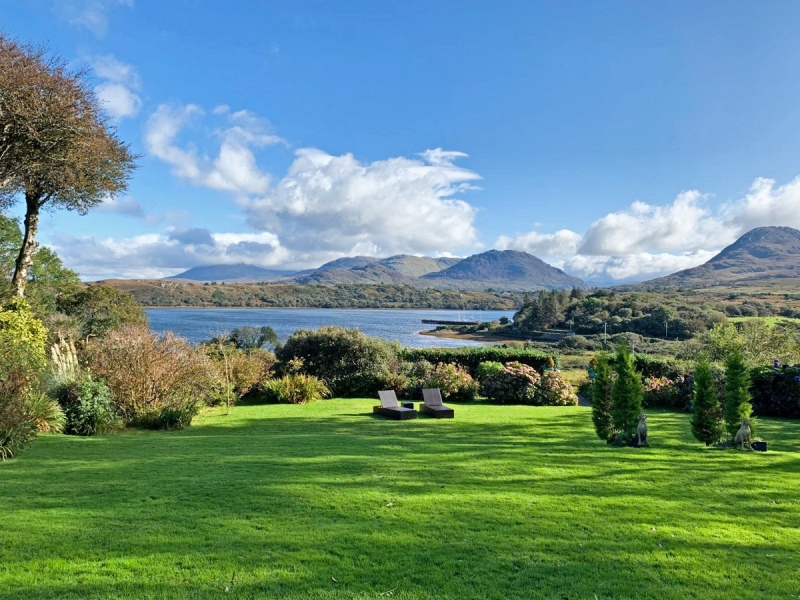 I woke up early to glorious sunshine and took advantage of this to explore the grounds of Rosleague. There are several little trails you can choose from, each winding its way around the property – down to the beach, up past the resident pigs and through the woods. After a few minutes on one of the trails, I was joined by Tyson, the black lab, who escorted me to some of his favourite spots on the property. After my walk, it was time for breakfast. A huge table in the dining room was laid with all sorts of cereals, breads, muesli and accompaniments, and there was a hot breakfast menu as well. It was lovely to eat breakfast next to one of the floor-to-ceiling windows looking out over the grounds, sea and mountains and the perfect last meal of our trip.
Kylemore Abbey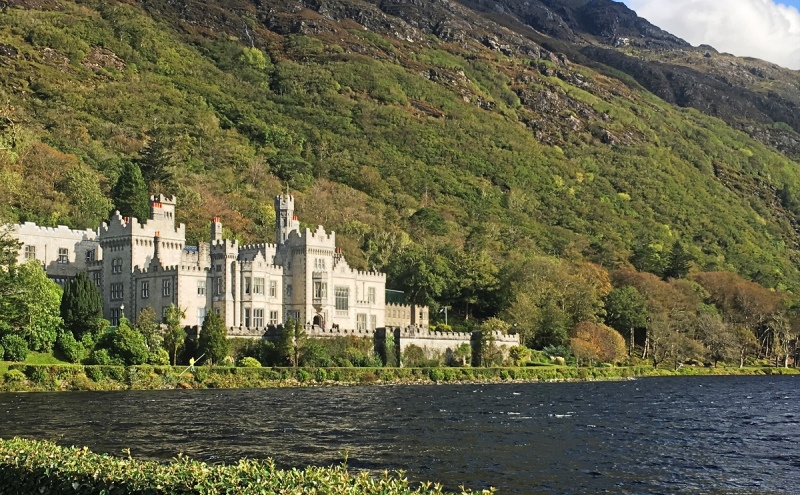 The last stop on the road was Kylemore Abbey, just a short drive from Rosleague. The sun was beating down on us and we experienced the beauty of Connemara in a completely different way from the day before. Where in the rain the landscape had had a mysterious and ethereal quality, in the sunshine the mountains, lakes, fields, rocks and gorse radiated a thousand different colours and looked like an oil painting.
Kylemore Abbey is just as magnificent as photographs of it depict. H and I took a stroll around the grounds, enjoying the sun, visited the wishing stone, took a self-guided tour of the house (though there are guided tours available) and finally, headed over to the other end of the property where the Victorian walled gardens are. Finally, it was time to leave and head back to Dublin.
This concluded our brief but busy trip along Ireland's Wild Atlantic Way. I feel like you could spend weeks exploring this route and there would still be more to see. One happy part of this being such a short trip, is that we only made it halfway along the Wild Atlantic Way. There are still about 600 km left to explore north of where we turned off the head back to Dublin. The route north from Galway is much less travelled but includes gorgeous places such as the surfing town of Bundoran, the cliffs of Slieve League, Malin Head (Ireland's most northerly point and the best place to see the Northern Lights) and the historic walled city of Derry. But that's for the next trip!