If there is one thing that Ireland has always done well, it's breakfast. The Irish Breakfast is known worldwide for being indulgent and hearty and even a little extravagant, consonant with lazy Sundays spent reading the papers, finishing a pot of tea and immediately making another to stretch out the morning in a relaxed and unhurried way.
Other breakfast items popular in Ireland include scones served with butter, cream and preserves such as jam and marmalade, porridge or oatmeal, boxty (Irish potato pancakes), and then dishes borrowed from further afield such as eggs benedict and buttermilk pancakes.
Irish country house hotels have always taken great pride in providing a sumptuous spread for their guests to enjoy each morning, with tables laden with cold meats and cheeses, cereals, homemade granola, home-baked breads and scones, homemade preserves and fresh juices. And with the wonderful produce being offered from local farms, smokehouses, cheesemongers and fish markets, there is little need to look far for tasty, sustainable ingredients. We've put together a list of some of the Irish country houses and hotels doing it right when it comes to the most important meal of the day.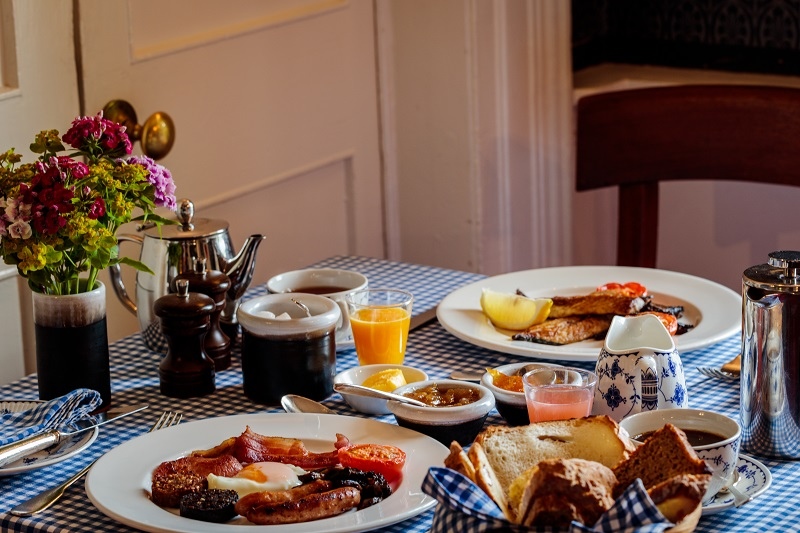 Ballymaloe House
Breakfast at Ballymaloe is a treat not to be missed. Perfect in its simplicity, celebrating seasonal flavours – summer fruits and berries in the summer months, and apples and pears in the autumn. A long table sits filled with cereals, fruit salads, seasonal fruit compotes, poached fruits and fresh, natural yoghurt from the Ballymaloe Cookery School Farm. Even the cereals are made on-site, including homemade granola and Ballymaloe's own nut and grain Muesli served with Labneh and local honey.
The items featuring on the cooked breakfast menu are also locally sourced, with local rashers, sausages, and black and white pudding, kippers from Sally Barnes Woodcock Smokery and a selection of breads baked on-site at Ballymaloe. The full Irish breakfast - served with toasted home-baked bread (which is begging to be spread thick with creamy Irish butter), will surely set you up for the day.
Marlfield House
Breakfast at Marlfield is served in the Conservatory Restaurant, an elegant sunlit room overlooking the gardens. Guests are invited to help themselves from the impressive breakfast buffet, which includes a selection of local artisan cheeses, a baked loin of ham glazed with mustard and honey, fresh fruits, locally produced natural yoghurt, poached seasonal fruits, homemade breads, scones, preserves and fresh juices.
If looking for something hot to feast on, the menu is full of breakfast classics and sprinkled with a few more innovative options. Scrambled local free-range eggs are served with local smoked salmon, and the full Irish includes free-range eggs served to guests liking, bacon, sausages and pudding, mushrooms and tomatoes. Creamy mushrooms are accompanied by perfectly poached eggs and sautéed spinach and served on toast, while those with a sweet tooth will love the French toast served with sweet, sticky maple syrup and crisp, salty bacon.
Herbs and vegetables come from the kitchen gardens at Marlfield, with chutneys and preserves made from autumn garden produce. All meats, fish, eggs and dairy are sourced from local Wexford producers, with the free-range eggs sourced from neighbours Samuel and Maurice Allen's happy hens!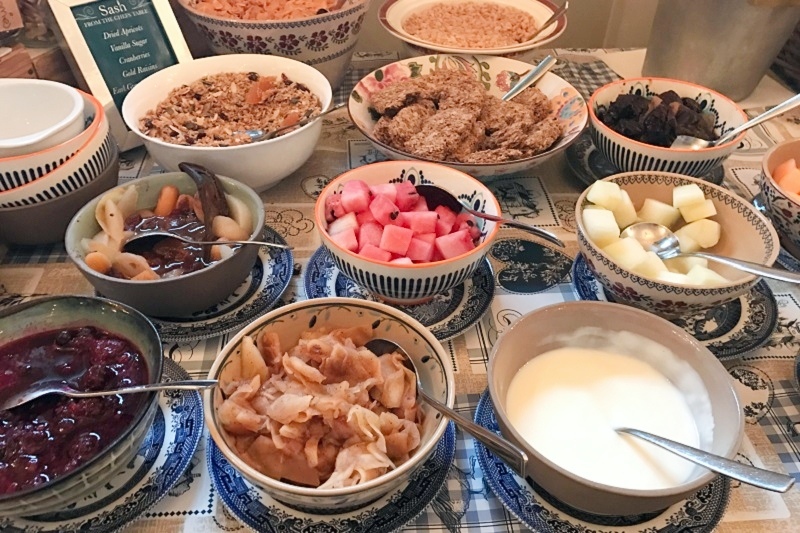 No. 1 Pery Square
No.1 Pery Square is a chic townhouse situated in the heart of Georgian Limerick. The celebrated restaurant, Sash, appropriately named for the period style windows, serves up delicious, seasonal and locally inspired dishes to hotel guests and local patrons alike, and breakfast is no exception.
The team at No.1 Pery Square source the majority of their produce from suppliers local to Limerick, including meats and poultry from O'Loughlin's Butchers and Pat O'Connor's Butchers, and Fruit and Vegetables from Limerick's Milk Market to name just a few.
Mouth-watering dishes not to be missed include organic Irish porridge oats, served to the guests liking, Irish kippers served with rocket, mustard and lemon and eggs florentine served with wilted spinach, poached egg and potato farl.
What is a potato farl?
It's an Irish potato cake. A farl is made when a round of baked bread or scone is then cut into four quarters, each quarter making up the farl.
Potato farls are made by mixing mashed boiled potatoes into a mix of flour, butter, salt and a little milk, shaping into rounds and cooking on a pan or griddle. Often used as a bread substitute, they are delicious spread with butter, or when heaped with almost anything else on your plate!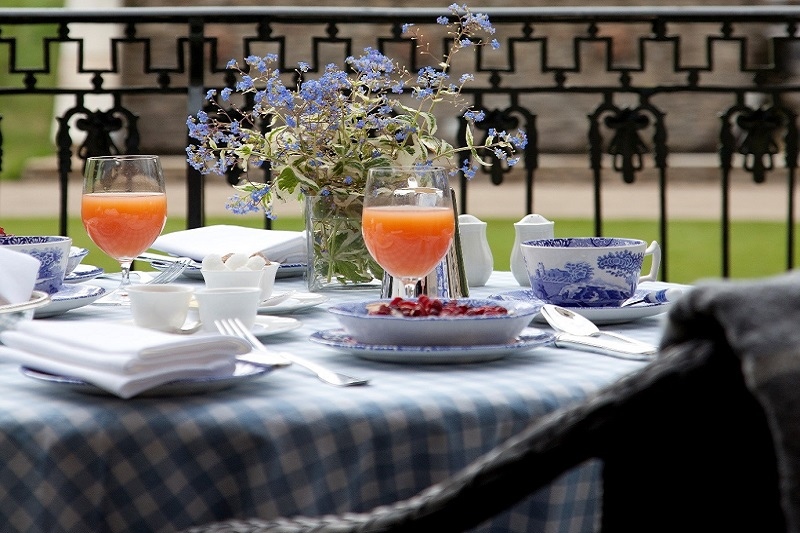 Ballyfin Demesne
Ballyfin Demesne promises the ultimate in luxury for every moment of your stay, and breakfast is no exception. Guests can choose where to enjoy their breakfast, whether in the dining room or out on the terrace in fine weather and each beautifully crafted dish is served on Italian Blue Spode china.
Ballyfin is committed to using the very best ingredients that are local, natural and seasonal. Herbs and vegetables are grown within the walled gardens, and all of Ballyfin's eggs come from their own organic chickens that live on the estate. Even the decadent duck eggs are supplied by Ballyfin's own Butler, Lionel Chadwick. Meats are sourced from local farmers and producers
The chefs at Ballyfin handmake their own granola and muesli, and breakfast buns, Irish soda bread and traditional brown bread are baked daily in the kitchens. The menu is a delicious smorgasbord of classic dishes prepared with a luxury twist, such as eggs benedict with Limerick ham and truffle hollandaise sauce, the "Ballyfin Butty" with dry, cured Pork Belly and a fried egg served on soda bread, or the delicious-sounding fried duck egg with creamed barley and crispy pork belly.
Top tip for farm-to-table fans:
At Ballyfin, as an added farm-to-table experience, guests can collect their own eggs before breakfast, for the chef to prepare and serve.


Castle Leslie Estate
At Castle Leslie, a selection of delicious treats awaits you at the buffet table – a range of fresh juices, fresh and poached fruits, compotes, yoghurt and granola, as well as pastries, brioche and banana bread, meats, cheeses, and smoked salmon.
As if that wasn't enough, Castle Leslie offers an extensive selection of hot dishes prepared to order. Whether you're an egg aficionado or have an insatiable sweet tooth, there will surely be something to satisfy.
Eggs Royale, consisting of a warm muffin, poached Connelly's eggs, Keenan's smoked salmon, sauce Hollandaise and lemon or warm buttermilk pancakes served with seasonal fruit compote and maple syrup are just two of the mouth-watering dishes on offer.
Castle Leslie source as much of their produce and ingredients as possible from the surrounding County Monaghan, a seriously under-sung hero of Irish produce. Local suppliers include Lac Patrick Dairies, Arthur Mallon, BD Foods, Larmers Butchers, Sillis Green Veg, Connellys Eggs, all local to Co. Monaghan and Keenan's Seafood in Co. Antrim.



Coopershill House
A romantic and historic family-run Irish country house situated on a 500-acre private estate in picturesque county Sligo, Coopershill delights guests with its understated grandeur, combined with warm hospitality, beautiful surrounds and delicious homegrown and homemade food.
Delicious floral honey comes from Coopershill's own beehives and is just perfect drizzled over the homemade porridge or yoghurt. The sourdough and soda bread are also baked fresh in the kitchens and are just waiting to be slathered in Coopershill's preserves. Freshly squeezed orange and grapefruit juice and fresh-pressed apple juice from Rooskey are served each morning and a fresh fruit salad, packed with homegrown and locally sourced fruits provides a fresh, fruity start to an indulgent feast.
The Full Irish breakfast served to guests' liking includes homemade potato bread, fresh eggs from neighbours Anne O'Donavan, Ballaghaderreen black & white pudding, and sausages and bacon from award-winning butcher Adrian Sheerin. Organic Irish smoked salmon, cheeses and kippers are available on request.
Black Pudding
Love it or hate it, black pudding has earned it's right on any Full Irish breakfast plate. Black Pudding is a type of blood sausage made from beef or pork blood, suet and some kind of cereal, and is one of the oldest types of sausage, dating back to the 15th century.
At one time, served as a complete meal, black pudding is now more commonly eaten with breakfast, it's deep, rich umami flavour perfectly the perfect complimented by a runny egg yolk, and hot buttery toast.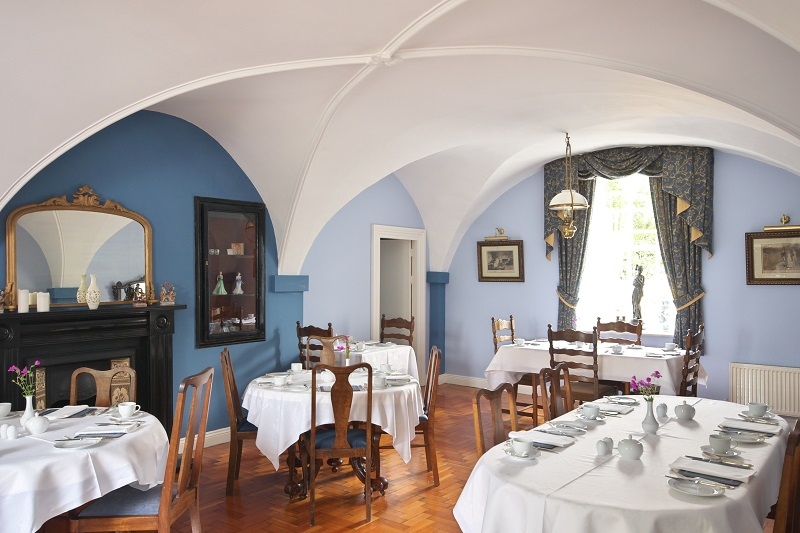 Viewmount House
Alongside breakfast menu staples such as porridge with cream and honey, the Full Irish and freshly squeezed orange juice, Viewmount House is also pushing the boat out with innovative creations like their boxty benedict.
In what sounds like the most delicious breakfast hybrid dish ever created– the chef at Viewmount combines the classic American eggs benedict, with Irish boxty. Boxty is a potato pancake, made by finely grating potato and frying it in small rounds. It is similar to a hash brown. Replacing the English muffin traditionally served as the base for eggs benedict, the boxty adds another dimension of texture and heartiness to an already indulgent breakfast dish.
Other delicious breakfast treats include hot smoked salmon from Rogan's of Rathowen served with scrambled eggs from O'Halloran's, and proprietor Beryl's homemade granola served with fruit and natural yoghurt.
Viewmount also sources their meats from Irish producers including Castlemine Farm in Roscommon, and McGettigan's in Donegal.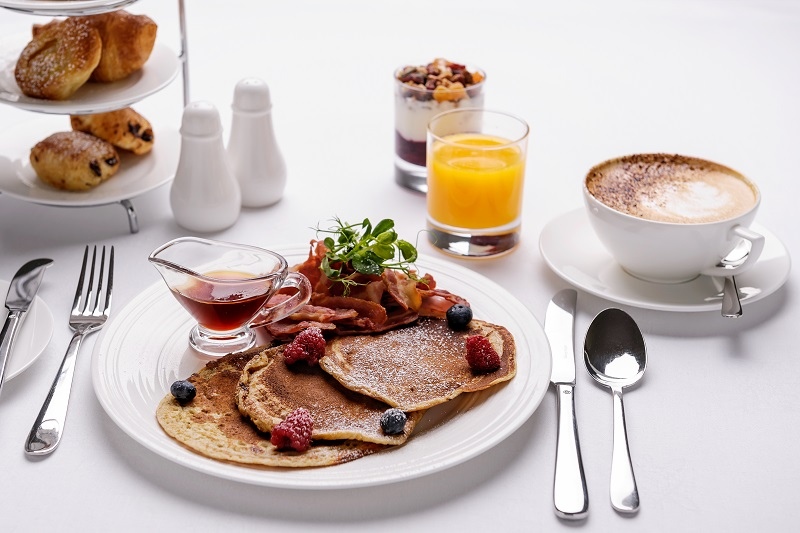 Butler House
Breakfast at Butler House is served daily between 8 am and 10 am and is worth getting up for. A generous buffet table is laden with fresh fruits, local-made natural yoghurt, homemade oatmeal, homemade granola, homemade bread, scones and homemade preserves.
Cooked to order dishes are also available, such as baked eggs with Goats Bridge smoked trout, cream and chives and trout caviar; buttermilk pancakes with crispy bacon and High Banks Orchard Apple Syrup.
The juice selection at Butler House is unrivalled, with the choice of juices changing with the seasons according to what is available locally and from the gardens. Juices available on the current menu include Pressed Apple and Pear, and Carrot and Moon Coin Beetroot.
The sausages served come from their own artesian butler using local organic pork along with cured bacon and pudding. Jams, marmalades and chutneys are all made in house in the kitchen. A selection of fruit come from the kitchen garden and orchards when in season.
Linger over a cup of tea or coffee from their extensive selection, leaf lazily through the paper, or just sit and gaze out on the gorgeous grounds.
You Might Also Enjoy:
Time For Tea - The Blue Book's Top Afternoon Teas
10 Great Places to Dine Alfresco in Ireland