Roasted Duck Breast with Parisian Potatoes, Carrot Puree and Fondant, Asparagus & Blackberry Jus from Hayfield Manor, Co Cork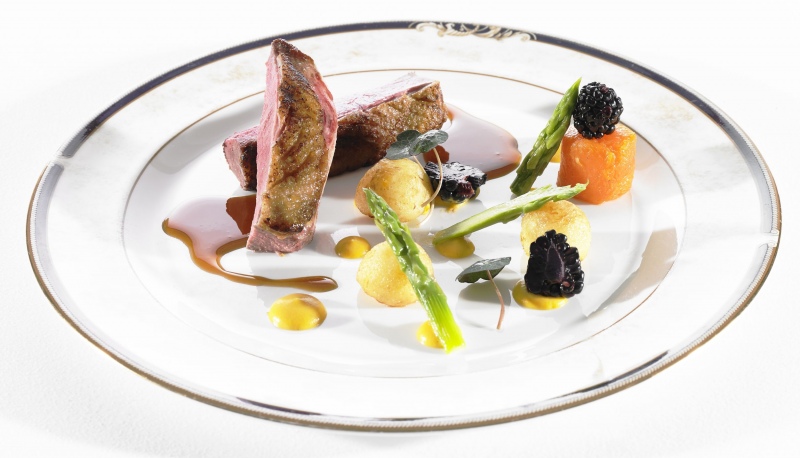 Ingredients:
2 Duck Breast
2 Rooster Potatoes
2 Sprigs of Thyme
100g Duck Fat
2 Carrots
400ml Chicken Stock
100g Butter
4 Asparagus
200ml Veal Jus
8 blackberries Nasturtium Leaves
Method Parisian Potatoes:
Peel the potatoes and scoop out with a Parisian Scoop (melon baller).
Steam potatoes for 3-4 minutes until the outside is a little soft.
Place the steamed potatoes onto a tray with the 100g of duck fat and sprigs of thyme.
Roast the potatoes in the oven at 180 °C for 10 minutes until they are crispy on the outside and soft in the centre.
Carrot Puree:
For the carrot puree, chop half of the carrots and place in a small pot.
Add 100g of butter to the pot and just enough water to cover the carrots. Season the carrots a little.
Cook the carrots until they tender and puree in a blender until smooth.
Carrot Fondant:
Peel & cut the carrots into 2cm in length. Place in small shallow pan, flat side down with 100g of butter. Cook on medium heat for 2 minutes. Add chicken stock until carrots are submerged and simmer on medium heat until tender.
Duck:
Score the skin side of the duck breast, ensuring not to cut into the flesh. Place the duck breasts skin side down into a cold pan, turn heat to medium & allow to cook for 7 – 10 minutes on medium heat until all fat is rendered out and the skin is crispy. Flip the duck breasts over onto the flesh side and cook for another 2 minutes. Place the pan in a pre-heated oven at 180 °C for 3 minutes. Remove from oven, cover with tin foil and allow to rest for 5 minutes. You should then have a beautiful pink duck breast.
Asparagus: Prepare the asparagus by removing the woody end. Cook in boiling salted water for 2 minutes. Then sauté in a little butter.
Sauce: For the sauce, heat the veal jus in a pan and add the blackberries.
Plate the dish, half fresh blackberries and garnish with nasturtium leaves.