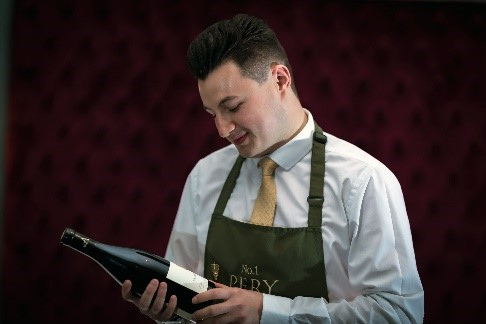 Gary, a true and true Limerick gent, holds the position of Sommelier, an essential component to the No.1 guest experience. At No.1 Pery Square Hotel, restaurant & spa owner Patricia is passionate about delivering a wine experience that offers guests a step away from the more well known wines and an opportunity to discover smaller producers, mostly European, organic and bio dynamic but not forgetting many great classics and the rarer and finer.
Gary's passion for hospitality came at a young age when he discovered the vast world of food and wine, his passion grew over the years sparking much interest in wine in particular, through tasting many different wines and learning about the history of the vineyards and the production process. Gary's interest and love of wine brought him to the conclusion that he would like to explore the career option of becoming a sommelier.
Gary trained as an assistant sommelier for 2 years in a 5 star restaurant where he learned the essential skills and style of service required at that level. He then moved to No.1 Pery Square as Sommelier in 2019. He has since completed his level 2 and level 3 in WSET and is now pursuing his diploma in WSET. Gary is a young lad with serious ambition and passion.
Outside of his professional life, he is an avid runner completing many ultra-marathons while also being a dad of one. Gary's passion for hospitality continues to grow more and more and he very much looks forward to his future in the Irish hospitality industry.
For further information:
Patricia Roberts, Proprietor of No.1 Pery Square
Phone: 061 402402
Email: info@oneperysquare.com