Whiskey Experiences with Ireland's Blue Book
The word "Whiskey" (or whisky as it is known in Scotland) comes from the Gaelic words uisce beatha which translates to "water of life". As the legend goes, Irish monks first discovered the method of whiskey distilling around 1000AD from their travels throughout the Mediterranean. The distilling process they learned was originally meant for perfume but when they took it home they found a way to use it to distil a drinkable substance. The first recording of Whiskey in Ireland was around the start of the 15th century and the oldest claimed surviving distillery in the world is Old Bushmills in Co. Antrim which first obtained its licence in 1608. (Glenlo Abbey website www.glenloabbeyhotel.ie )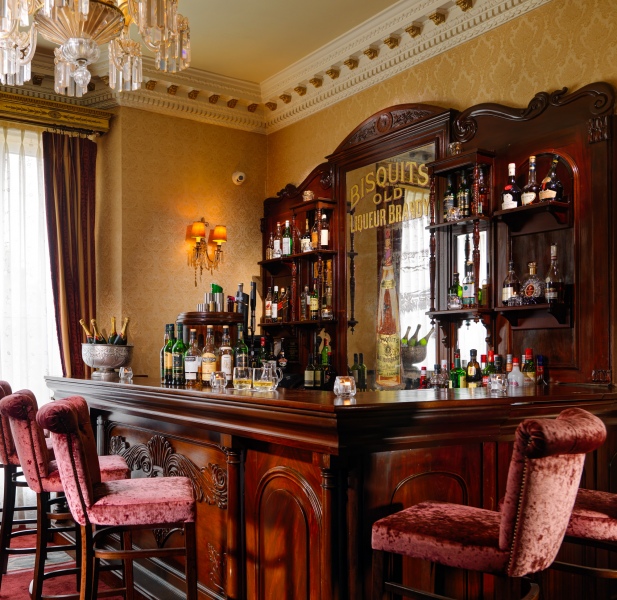 Whiskey Tastings at Glenlo Abbey, Galway
Whiskey Tastings in Glenlo's Oak Cellar Bar gives guests the opportunity to trial and be guided through a selection of three Irish whiskeys. Guided by Glenlos Whiskey Connoisseur, who will give a little history, details about the distillery and the ageing process and discuss the merits of each. Tastings are approximately an hour in duration and advanced booking is recommended.
Classic Whiskey Tastings: €55.00 per person
Premium Whiskey Tastings: €75.00 per person
For more information click here or call Glenlo directly on +353(0)91 519 600.
The Jameson Whiskey Experience at Ballymaloe House, Co. Cork
Enjoy a delicious Whiskey cocktail before your five-course dinner in one of the charming Ballymaloe dining rooms and a glass of the very special Midleton Very Rare after dinner. During your stay enjoy a visit to the Jameson Distillery Midleton only 10 minutes from Ballymaloe House. Today, every drop of Jameson enjoyed anywhere in the world is produced in Midleton. Take a hosted tour of the distillery which brings the fascinating story of Jameson's rich heritage to life. You learn about the hard-working people and field-to-glass processes responsible for the whiskey that bears John Jameson's name.
Guests will receive a voucher from the hotel during their stay. Simply present this voucher at the Jameson Distillery Midleton and they'll look after you from there! Vouchers must be redeemed during your stay at Ballymaloe House
This unique break includes; One-night B&B at Ballymaloe House, a Pre-dinner Jameson whiskey cocktail, a five-course dinner, a Midleton Very Rare after dinner and a Tour of Jameson Distillery Midleton (as detailed above)
From: February 2019
From: €245 per person
For more information or to book click here or call Ballymaloe House on +353(0)21 465 2531
Whiskey Tasting with John Moriarty at Park Hotel Kenmare, Co. Kerry
"Give an Irishman lager for a month, and he's a dead man. An Irishman is lined with copper, and the beer corrodes it. But whiskey polishes the copper and is the saving of him." Mark Twain, Life on the Mississippi.
Having studied on Islay(Scotland) and the Middleton Academy with a qualification in distillation and a member of the International Board of Distillers John Moriarty is considered a leading authority in both Scotland & Ireland on the history, evolution and edification of Whiskey or Whisky for our Celtic cousins! John has also assembled one of the finest whiskey collections anywhere in the world. Tastings with John are a mix of the whiskey chronicles from Poitin to today's world market discussing diverse offerings from India to Sweden. Johns easy style heightens one's palette and nose in identifying the nuanced tastes and fragrances or reflecting the long distillation process influenced by peat and wood as this luxuriant spirit emerging both slowly and suddenly from this complex living experience
€30.00 Per Person (Min 4 persons – Max 16 persons)
For more information please click here or to book please call Park Hotel Kenmare on +353(0)64 664 1200
It goes without saying that Bushmills Inn knows a thing or two about whiskey, seeing as it's only a stone's throw away from the home of the world's oldest Whiskey Distillery, and has an extensive offering of the finest whiskey. The Bushmills Whiskey Distillery is the oldest in the country. It's been running for over 400 years and has gained a distinguished reputation since its opening in 1608. Bushmills Irish Whiskey is the most sought-after whiskey from the distillery and for a good reason! It's an excellent way to celebrate Irish heritage during your stay at The Bushmills Inn.
For more information on Bushmills Inn, please click here, and for the Bushmills Old Whiskey Distillery, please see https://www.bushmills.com/
You might also enjoy:
Irish Coffee Recipe from Aherne's Townhouse
5 Dreamy Things to Do, Drink and Dine on in Dublin
Chocolate Irish Black Stout Cake Recipe from Newforge House