Ireland's Blue Book asked Muriel Bolger, author of 'Dublin-City of Literature', to put together a short literary tour of the entire island of Ireland. Thank goodness Muriel likes a challenge...
Ireland's Literary Heritage
by Muriel Bolger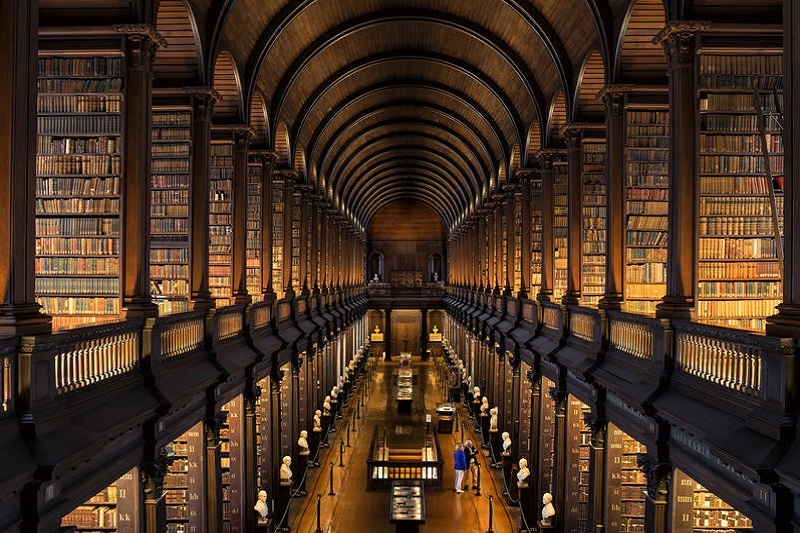 The Irish are a gregarious lot and if they can't find anyone to talk to they write!
Dracula and Dorian Gray, Gulliver and Godot, Leopold Bloom and Eliza Doolittle are the creations of Dublin writers and such characters led to the capital being declared as one of only four UNESCO Cities of Literature in the world.
It is the birthplace of Beckett, Behan, Joyce, Shaw, Swift, Wilde, Yeats and of these Beckett, Shaw and Yeats were all awarded the Nobel Laureates for Literature. More recently other names have joined the roll call of Dublin scribes and include Colum McCann, Joseph O'Connor, Maeve Binchy, Roddy Doyle, Anne Enright, Sebastian Barry and countless more.
It's fitting that the capital has its own Writers' Museum and a Dublin Writers' Centre where a Guinness Book of Records record was recently broken for the most number of writers reading in the one place from their published books.
However, Dublin doesn't hold all the literary cards. No matter where you go in our country you'll never be far from the home, town or village school that inspired and shaped our countless writers, poets, essayists, playwright and novelists.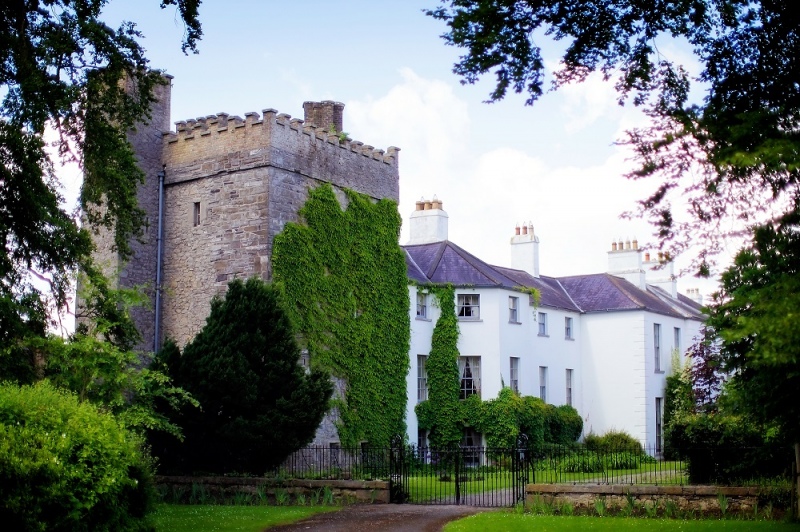 Stay nearby: A choice of accommodation awaits you on your visit to Dublin, from the stylish 5 star Merrion Hotel or The Wilder Dublin, both in the heart of Dublin City and just a short stroll from St Stephen's Green, to Barberstown Castle, located in the beautiful green countryside and only a short drive from the city. If you would like something more coastal, the petite King Sitric Restaurant & Townhouse in the picturesque village of Howth is the perfect option.
Kerry prides itself on having spawned Maurice Walsh, Bryan McMahon the Schoolmaster, John B Keane, and Brendan Kennelly. It was one of Walsh's stories that became the classic movie The Quiet Man and one of Keane's that became The Field. The county is known internationally for its annual Listowel Writers' Week.
Stay Nearby: Carrig Country House in Killorglin, the Killarney Royal Hotel, Cahernane House Hotel in Killarney, the Park Hotel Kenmare The Lansdowne Kenmare are five beautiful houses to stay in while visiting Kerry.


In Limerick, you'll find that its literary daughter Kate O'Brien's works have been eclipsed by the success of Frank McCourt's dreary and controversial portrayal of his native city in Angela's Ashes.
Stay Nearby: No.1 Pery Square in the heart of Limerick city, and The Mustard Seed, Ballingarry, just a short drive from the city centre.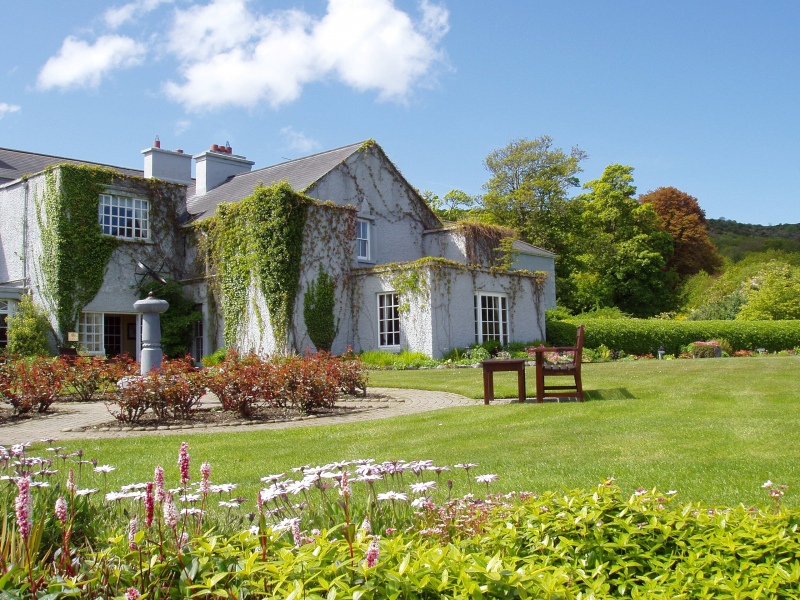 In County Clare, a humble hedge schoolmaster, Brian Merriman, is commemorated every year at the Merriman Summer School. He may or may not have been a prolific writer, but it's for his long poem Midnight Court, or Cuirt an Mheán Oiche, that he is best remembered. It was in Clare that a chance meeting between Edward Martyn of Tullira Castle, Lady Augusta Gregory of Coole Park and W.B.Yeats, would eventually lead to them co-founding the Abbey Theatre in Dublin. Lady Gregory was not only a sponsor and benefactor but also the author of forty plays. Sadly the house at Coole is gone, but the famous Autograph Tree survives. There you can still make out the carved initials of writers Augustus John, J. M. Synge, W.B. Yeats, who carved a donkey too, John Mansfield, George Russell (AE), Sean O'Casey and Douglas Hyde, who became Ireland's first president. Years later Edna O'Brien's The Country Girls trilogy scandalised not only Clare people, but the nation at large, and was banned by the sensor for some time.
Stay Nearby: In Clare, you can choose the beautiful Gregans Castle Hotel, Ballyvaughan.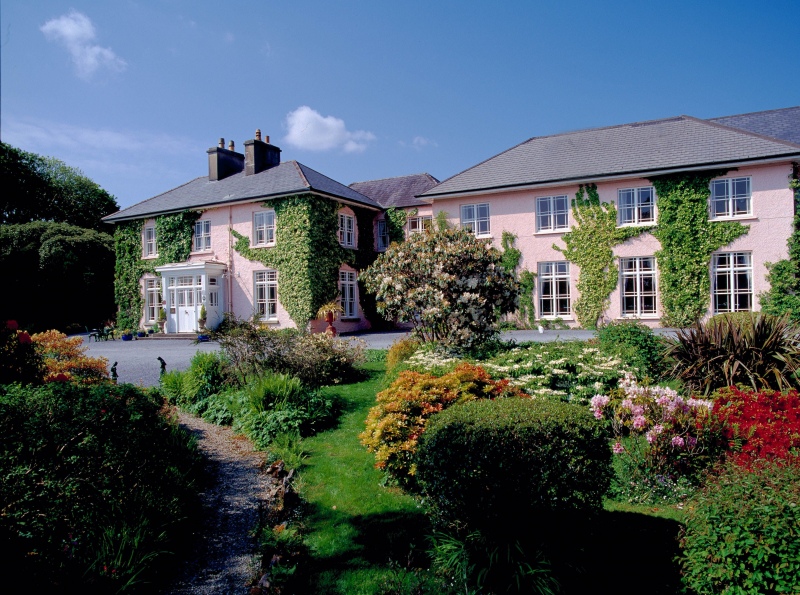 Galway's sons, Walter Macken and story-teller Padraic O Conaire were master storytellers. Now a hotel, Renvyle House in Connemara was once the home of surgeon and writer Oliver St John Gogarty and a hub for gatherings of the literati of his day. Regular guests included Lady Lavery, John Pentland Mahaffy, Oscar Wilde's tutor, artist and poet brothers Jack and WB Yeats. Connemara was later to attract poet Mayo born Richard Murphy, who had studied English at Oxford under C.S. Lewis of Narnia fame. The controversial writer of A Whistle in the Dark and The Sanctuary Lamp, Tom Murphy came from Tuam, where he taught school for a while.
Máirtín Ó'Direáin and Liam O'Flaherty belonged to the Aran Islands, which lie off the Galway coast. Pat Mullen's Man of Aran captured the austerity and reality of island life and its fishermen, as did John Millington Synge in his Riders to the Sea. He spent several summers on the islands. Lady Gregory rejected his first play, but undaunted he wrote six more in six years, including The Playboy of the Western World, which caused riots when it opened in the Abbey Theatre.
Stay Nearby: In Galway, choose between Currarevagh House, Cashel House Hotel , Rosleague manor, or Delphi Lodge all located in Connemara. Glenlo Abbey Hotel is another great option if you would like to be located near the city centre.
Mayo is proud of its novelist George Moore of Moore Hall. During the Great Famine, his family ran a horse in the Grand National in England and won the €10,000 prize money, from which they bought a cow for everyone on the estate.
Stay Nearby: The idyllic Clare Island Lighthouse located on Clare Island just off the coast of Mayo, Belleek Castle or The Ice House near Ballina or finally Enniscoe House, just 20km from Ballina town.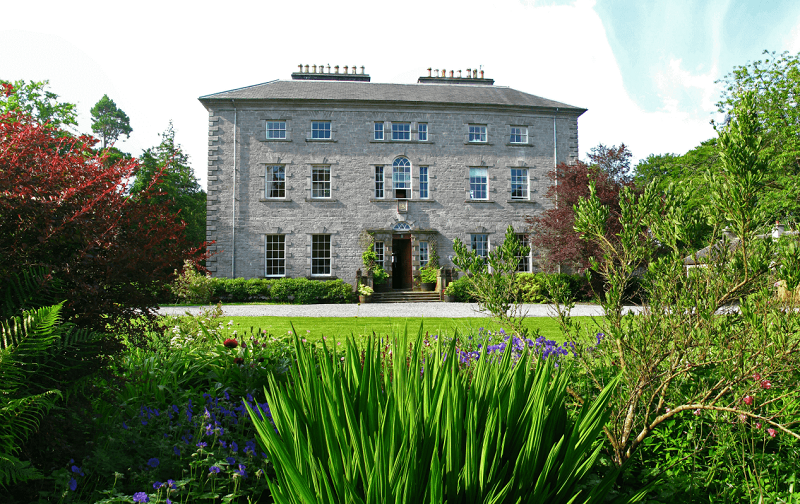 Sligo is rightly referred to as Yeat's Country and although he's a Dubliner by birth his Sligo mother imbued him with her love of the place. He's buried in the tiny graveyard at Drumcliff close to his beloved Ben Bulbin. Neil Jordan, filmmaker and novelist and Academy Award winner for Best Original Screenplay with The Crying Game is also a native.
Stay Nearby: In Sligo, stay at Coopershill House.
Donegal 's literary heritage dates back to the 17th century and a work penned by a quartet of Franciscan monks in Gaelic and Latin, The Annals of the Four Masters. A few centuries on Dungloe-born Peadar O'Donnell came to prominence for many things, among them for his writings and for being the editor of the literary magazine The Bell from 1946-1954.
Stay Nearby: Rathmullan House or Castle Grove Country House, both located near the stunning shores of Lough Swilly.
Derry has plenty of reasons to celebrate. Author Joyce Cary saw two of his novels being made into films: The Horse's Mouth starring Sir Alex Guinness and Mister Johnson starring Pierce Brosnan. Poet and writer Seamus Deane's Reading in the Dark was shortlisted for the Booker Prize, and of course, Derry has poet Seamus Heaney, one of Ireland's four Nobel Laureates for Literature.
Stay Nearby: Bushmills Inn, Ardtara Country House, Bishop's Gate Hotel
Neighbouring Tyrone numbers many well-known names among its own, going back to William Carleton in the 19th century. There was writer and broadcaster Benedict Kiely and his Yeat's Ireland, Omagh-born Brian Friel of Philadelphia Here I Come and Dancing at Lughnasa fame, Buncrana playwright Frank McGuinness, who wrote Observe the Sons of Ulster Marching towards the Somme, and satirist Brian O Nolan, At Swim Two Birds. He wrote variously as Flann O'Brien, The Third Policeman, and An Beal Bocht as Myles Na gCopaleen.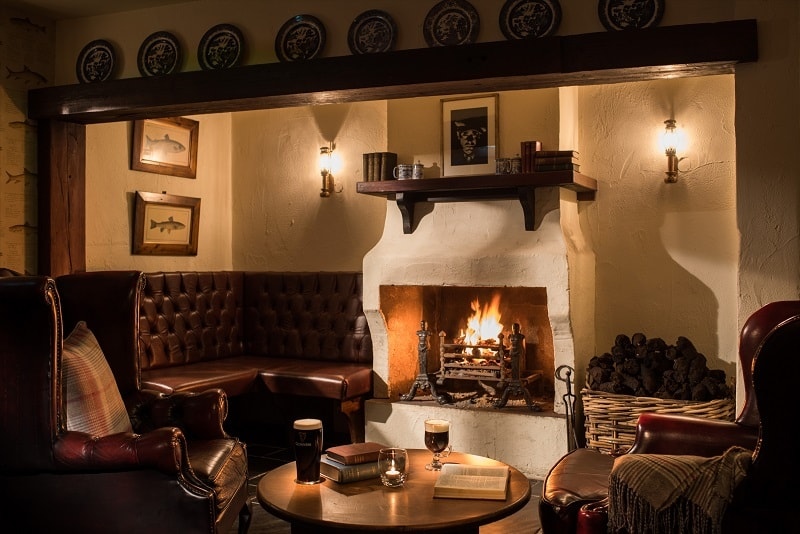 Antrim and, in particular, Belfast, can list off poets Samuel Ferguson, John Hewitt, Derek Mahon, Michael Longley and Louis McNiece, as well as writer C.S.Lewis of The Chronicles of Narnia books and three times Booker prize nominee, Brian Moore. He gave us The Lonely Passion of Judith Hearne.
Stay Nearby: Bushmills Inn and The Old Inn
Scriptwriter Wesley Burrowes hails from Down, and there's a tenuous link in this county and the Bronte sisters, whose father lived and taught at Drumballyroney. Armagh gave us George Russell, or AE as he liked to be known. He was a poet and writer and edited the Irish Homestead for almost twenty years. RTE presenter and novelist John Kelly was born in Fermanagh, and Oscar Wilde attended Portora Royal School there.
Stay Nearby: Newforge House in Co. Armagh and Ghan House located in Co. Louth.
Mention Patrick Kavanagh and everyone immediately thinks of the stony grey soil of Monaghan that he immortalised in his poetry. Wherever there's a singsong you can be sure to hear his Raglan Road being tortured. Monaghan is also famous for its artists' retreat – the Tyrone Guthrie Centre at Annamakerrig in Newbliss ­– and for Patrick McCabe and The Butcher's Boy, Shane Connaughton brought fame and fortune to his homelands in Cavan when his book Playboyswas shot on location in Redhills and starred Albert Finney and Aidan Quinn.
Stay Nearby: Castle Leslie Estate located in Co. Monaghan.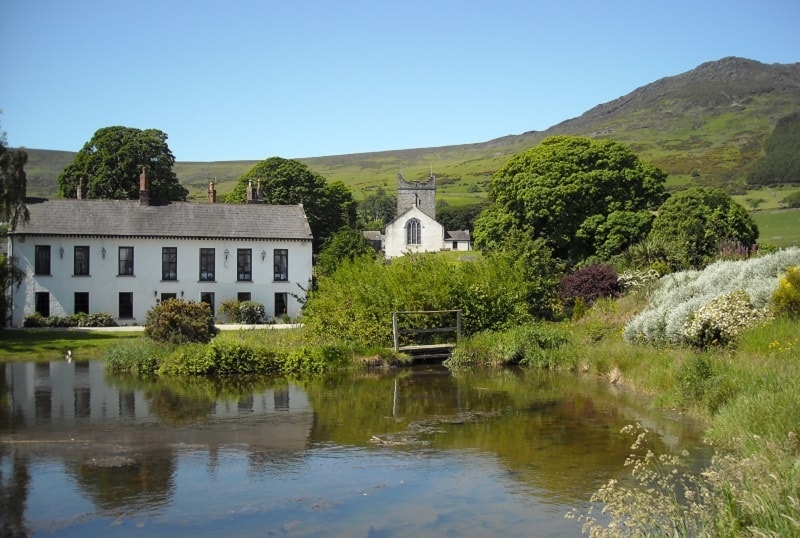 Leitrim gave us the much acclaimed John McGahern, who wrote Amongst Women and That They May Face the Rising Sun while Louth is immortalised in the ancient Irish tale An Táin, which was translated into English by Dublin poet, Thomas Kinsella. In his short life, Meath war poet Francis Ledwidge enjoyed the patronage of writer Lord Dunsaney of Dunsaney Castle, who wrote over fifty novels in his long one. Mary Lavin was another of his protégées.
Stay Nearby: Ghan House near Carlingford in co. Louth or Tankardstown House near Slane in co. Meath.
Moving into the midlands, Offaly is where playwright Marina Carr calls home. Anthony Trollope spent several years there, as well as writing detailed accounts of his travels through Tipperary. When local lad John O'Leary moved to Dublin where he held salons, where writers, poets and nationalists congregated. Frequent visitors were Katherine Tynan, Douglas Hyde, Thomas WH Rolleston and his sometimes adversary, WB Yeats. Longford is the birthplace Oliver Goldsmith, of She Stoops to Conquer fame. He was educated in a hedge school at Lissoy. Pádraic Colum was also a native. A little away at Mostrim, Edgeworthtown became the home to English-born Maria Edgeworth, prolific letter writer and author of children and adult books.
Douglas Hyde, Ireland's first President was an Irish scholar, poet and essayist who came from Castlerea in Roscommon. Wit, raconteur, writer-artist and songster Percy French is celebrated with an annual summer school held at Castlecoote House. Playwright, actor and poet Bill MacNevin came from Carlow, while poet and writer Eoghan O'Tuairisc and writer wife Rita Kelly migrated to this county to live by the canal.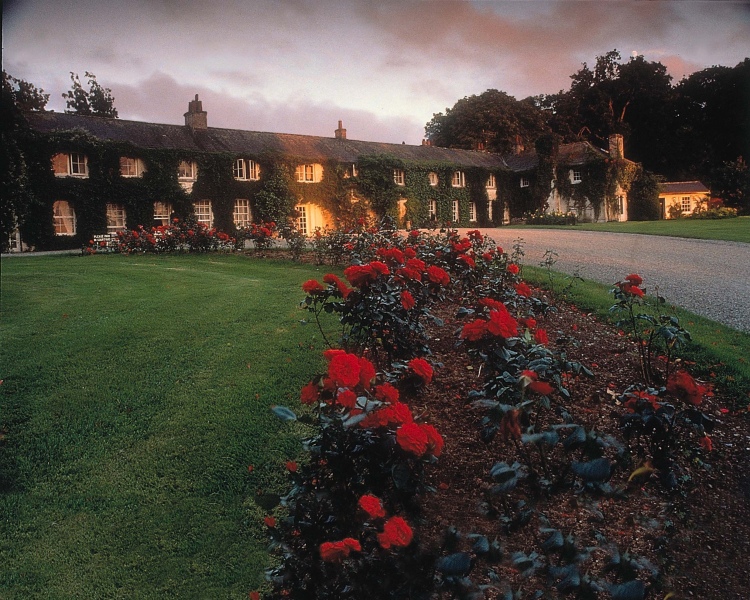 It seems that our writers moved about a lot, and still do. Molly Keane and Emily Lawless both moved away from Kildare. Wicklow is the adopted home of Dubliners Lee Dunne, and playwright Bernard Farrell. It was also a favourite hideaway of John Millington Synge and seemingly later the unhappy abode of poet Francis Stewart and his wife Iseult Mcbride, whom Yeats had wooed in his later life. Kilkenny was the birthplace of playwright Dónall Mac Amhlaigh, Thomas Kilroy and Francis McManus, in whose honour Radio Telefis Eireann run an annual short story competition.
Stay Nearby: Barberstown Castle in Co. Kildare, The Wicklow Escape, Rathsallagh House and Hunter's Hotel in co. Wicklow and Mount Juliet Estate or Butler House in Co. Kilkenny.
Everyone loves Frank O'Connor and his short stories, especially First Confession, but Cork also lauds William Trevor, Seán Ó Faoláin and Canon Sheehan. Ó Faoláin wrote ninety stories over sixty years.
Stay Nearby: Ballymaloe House, Blairscove House, Longueville House, Aherne's Townhouse, Liss Ard estate, Fernhill House and Gardens, Perryville House and Hayfield Manor.
We know that Teresa Deevey, a playwright from Waterford, was also prolific. She was also one of the few women of her time to have one of her plays, Reapers, staged at the Abbey Theatre.
Stay Nearby: The Tannery located in Dungarvan, Co. Waterford.
However, Colm Tóibín is the toast of Wexford, a much-feted and decorated contemporary writer, author of The Master, The Blackwater Lightship, and Brooklyn. His global successes, and that of others like him, show that Ireland's literary tradition is in no danger for the foreseeable future.
Stay Nearby: Dunbrody House and/or Marlfield House in Co. Wexford.
About Muriel Bolger:
Muriel Bolger won the Travel Extra Travel Writer of the Year 2007. She was the editor of 'Irish Interiors' magazine for twelve years and is a columnist with national newspapers.
She wrote three guides on Dublin: Darting About, Dublin's Magical Museums and Statues & Stories and also contributed to Ireland: Glorious Landscapes.