September 2018: Ireland's Blue Book is delighted to announce wins for the Park Hotel Kenmare, Co. Kerry, The Mustard Seed, Co. Limerick & Belleek Castle, Co. Mayo at the 2019 Georgina Campbell Awards which took place in Dublin on 25th September 2018.
Representatives of the very best in Irish hospitality gathered at Bord Bia for the announcement of the 2019 Georgina Campbell Awards. The Awards are an annual celebration of excellence associated with the trusted Georgina Campbell's Ireland independent hospitality guides and are Ireland's longest-running independent food and hospitality awards. They are highly respected by the industry.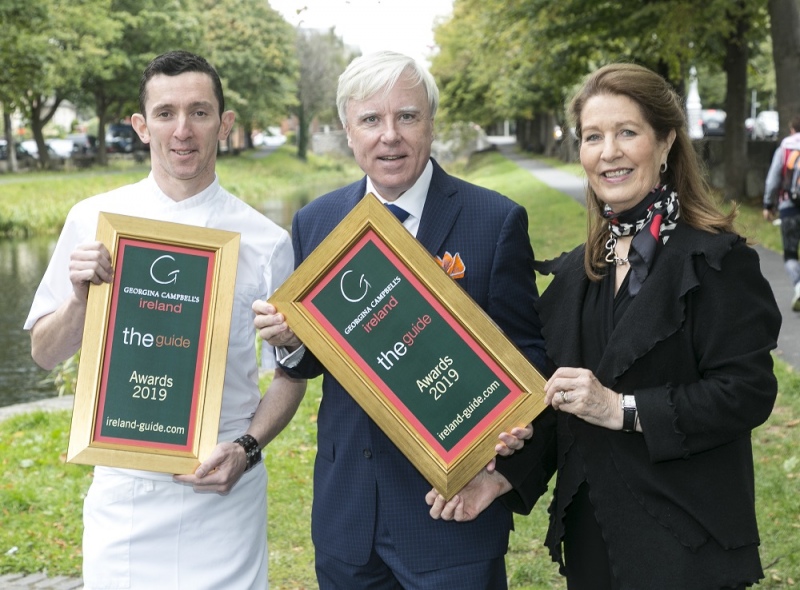 James Coffey of the Park Hotel Kenmare won the coveted Chef of The Year Award. James was described by Georgina Campbell as a "classically trained chef who has quietly led the kitchen team in one of our most famous and well-loved hotels for the past five years."
John Edward Joyce of The Mustard Seed, Limerick was titled Host of the Year 2019, praised by Mx Campbell as 'the genial host par excellence – and his long association with the house, and the area, makes him the perfect guide, ensuring that the very best time is had by all."
The Jack Fenn café at Belleek Castle, Co. Mayo won Café of the Year 'considering the atmospheric surroundings, great food, friendly staff and outdoor seating - it was a runaway success from day one.'
Commenting on this year's Awards, Georgina said "The pace of change, rising standards and the sheer volume of great new businesses opening - especially in Dublin and other cities - has made the selection process tougher than ever this year. But it is always exciting to see newcomers to the hospitality industry who understand the importance of standards and want visitors - domestic and from abroad - to enjoy Irish food and hospitality at its best.
For more information on the Awards, please see http://www.ireland-guide.com
About Georgina Campbell
Georgina Campbell is one of Ireland's leading food and hospitality writers and current President of the Irish Food Writers' Guild. Her practical and down-to-earth approach has earned many fans for her cookery columns and cookbooks, and the same honesty has applied to her comprehensive and critically acclaimed, independently assessed guides to Ireland's best places to eat, drink and stay.
About Ireland's Blue Book
Ireland's Blue Book is a collection of Irish Country House Hotels, Manor Houses, Castles and Restaurants. Located throughout the island of Ireland these charming and stylish hideaways are the perfect choice for your romantic escape or weekend retreat. Activities vary from golf, fishing, spas and cookery schools or just relaxing in warm and comfortable surroundings. With a choice of elegant Georgian Manors, Stately Castles, Historic Hotels, cosy Bed and Breakfast accommodation, Luxury Boutique Hotels and Designer Lodges, there is something to suit everyone's tastes and requirements.