Dublin, Sunday 9th September 2018;
Ireland's Blue Book is delighted to announce wins for Campagne Restaurant, Chapter One, Wineport Lodge, Ballymaloe House, and l'Ecrivain at the FOOD&WINE Magazine Restaurant of the Year Awards 2018 which took place in Dublin on the 9th of September.
The winners of the all-new FOOD&WINE Awards in association with Nespresso were announced at a gala luncheon, attended by Ireland's top chefs and restaurateurs from across the country and was hosted by broadcaster and publisher, Norah Casey, and comedian and presenter Barry Murphy. This year, a host of new categories were introduced to reflect the changing face of the Irish culinary scene and capture Ireland's food revolution.
It was a dual win for Kilkenny's Campagne Restaurant and Chef Garrett Byrne, winning both Best Restaurant and Best Chef Leinster, respectively. Chapter One, was recognised as The Best Restaurant in Dublin and L'Ecrivain Restaurant achieved the title of Best Restaurant Bar.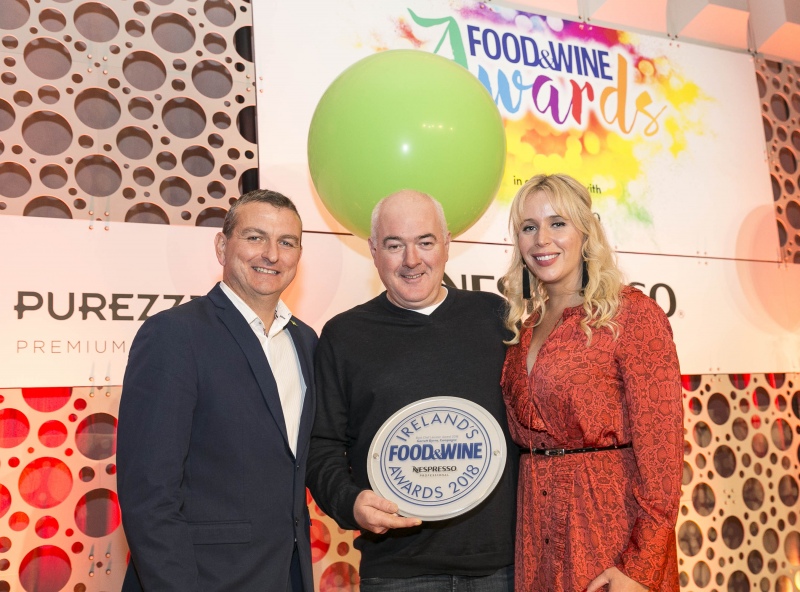 Country Houses & Hotels were also recognised with Ballymaloe House, Co Cork awarded the Farm & Sea to Plate Award and Wineport Lodge achieving the Best for Romance Award.
Speaking on the awards, Dee Laffan, acting editor of FOOD&WINE said "I feel that this year's awards truly reflect the changing restaurant scene in Ireland and the diversity of talents, cuisines and new faces to our industry. I am delighted to have joined FOOD&WINE in time to be here to honour our award winners at the event this year. These people deserve recognition, and more, for being true ambassadors of Irish food; their passion and dedication has led them to these awards today and we're delighted to celebrate with them,"
For more information on the awards, please see https://foodandwine.ie/food-wine-awards-2018-winners
About the Awards
Now in its 18th year, The FOOD&WINE Awards in association with Nespresso are considered the most prestigious and authoritative culinary awards in the Irish calendar. Recognising the best Irish restaurants and culinary talent, diners from all over Ireland were invited to nominate their favourite restaurants and chefs, with the top entries going forward for deliberation by a national culinary panel of judges, made up of industry experts and national food critics.
About Irelands Blue Book
Ireland's Blue Book is a collection of Irish Country House Hotels, Manor Houses, Castles and Restaurants. Located throughout the island of Ireland these charming and stylish hideaways are the perfect choice for your romantic escape or weekend retreat. Activities vary from golf, fishing, spas and cookery schools or just relaxing in warm and comfortable surroundings. With a choice of elegant Georgian Manors, Stately Castles, Historic Hotels, cosy Bed and Breakfast accommodation, Luxury Boutique Hotels and Designer Lodges, there is something to suit everyone's tastes and requirements.