July 2018: Ireland's Blue Book is delighted to announce that Richard Corrigan, of Virginia Park Lodge and the Corrigan collection has been awarded Independent Restaurateur of the Year at the 2018 Catey Awards, which took place on Tuesday 3rd of July in London.
The Catey Awards are a UK award ceremony for the hospitality industry presented by The Caterer Magazine. Catey winners are the business leaders, innovators and household names of the industry, so winning a Catey Award is the crowning glory of any hospitality career.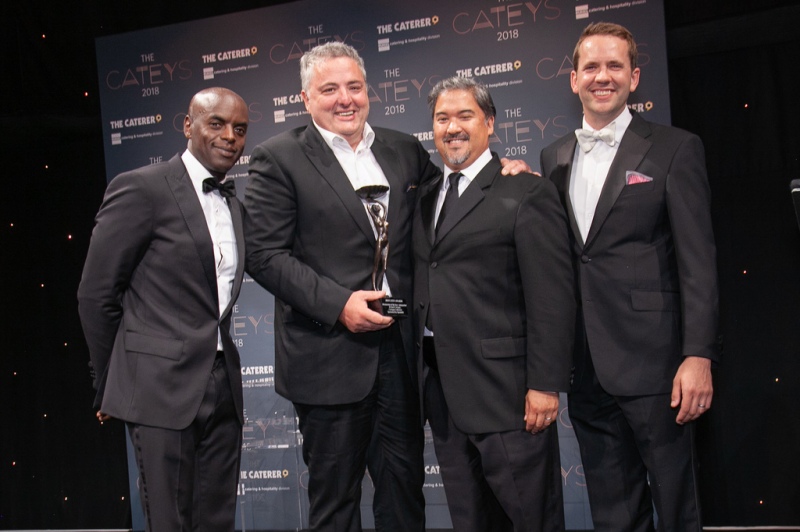 Richard Corrigan, of Virginia Park Lodge & the Corrigan Collection achieved recognition as Independent Restaurateur of the Year. Corrigan was described by the judges as "inspirational", "passionate", and "a force of nature", he was even dubbed 'Mr Hospitality' by one of the judges.
Corrigan has enjoyed an illustrious career spanning several decades, which has involved opening numerous restaurants, gaining a Michelin star, cooking for the queen, and television appearences on countless occasions.
Most recently, Corrigan bought Virginia Park Lodge, a beautiful 18th century in Co. Cavan, where he boasts a self-sufficiency and sustainability ethos. It was at Virginia Park Lodge that Corrigan married his wife Maria 28 years ago.
For more information on Corrigian's Award win, please see https://www.thecaterer.com/articles/532015/cateys-2018-restaurateur-of-the-year-independent-richard-corrigan
About Richard Corrigan:
Richard Corrigan has cooked all his life. He's opened numerous restaurants, gained a Michelin star, run the catering at a dog track in east London, cooked for the queen, appeared on television on countless occasions and recently toured America hosting a show there. Richard went on to open Lindsay House in Soho, London, and won a Michelin star there in 1997. He then bought and refurbished Bentley's in 2005, an oyster and seafood restaurant just off Piccadilly. He went on to open Corrigan's Mayfair in 2008. In 2014 Richard bought this dream 150-acre estate the Virginia Park Lodge, where he married his wife Maria 28 years ago.
About Caterer Magazine and the Catey Awards:
The Caterer is the leading multimedia brand for the UK hospitality industry. Since 1878, it's been helping operators build better businesses and better careers, as well as providing suppliers with a platform to showcase their most innovative products and services. It is the only hospitality media brand with a pan-industry focus, with extensive coverage of hotels, restaurants, foodservice, pubs and bars. The Catey Awards began in 1984, and have become firmly established as a celebration of all that's great in UK hospitality. The Cateys showcase innovative brands and trail-blazing people from across hotels, restaurants, foodservice and pubs & bars. Winning a Catey is so significant because recipients are nominated, selected and rewarded by their peers.